Preface:
Today's patch is a combination of planned updates I started about a week before launch when the Early Access build was locked in, and a number of requests I've received on steam, twitter, email, and discord.
See what's coming to Gunlocked in the month of May, here: Indiedb.com
Pick up a copy here: Store.steampowered.com
And/or join the discord here: Discord.gg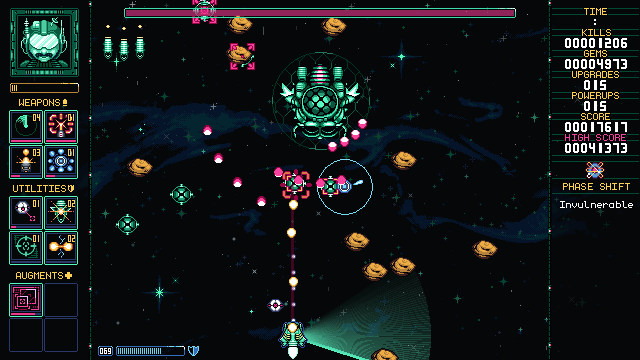 An updated boss, new UI elements, powerup descriptions and more highlight today's patch
Patch 0.12 Notes:

Graphical Updates
The player's ship will now tilt in the direction they'e holding
EMP explosions have been updated with a new animation and particle effects
A railgun impact effect will now trigger on targets
Scouting drone now produces an animated, blue target so as not to be confused with other negative effects in the game that can harm the player
The Gravity Wave effect has been updated
The EMP Pod enemy has a new animation
The enemy explosion effect has been updated with more frames and details
Smaller ships and missiles have been given their own explosion effects
Powerups now trigger a burst effect when collected
Animation has been added to the Phase Shift and Auto-Repair powerups
The Hive Queen boss has been updated with a new sprite, new animations, and new sounds
When a boss is about to appear, a new arrow effect will show roughly where that boss will appear.
Asteroids now shatter into smaller particles when destroyed
The pilot's have been given a facelift. New details and added personality help separate and highlight their unique styles. Their portraits are now visible in the side bar, above your equipped upgrades.
A new alternate background has been added. It will be randomly selected at the start.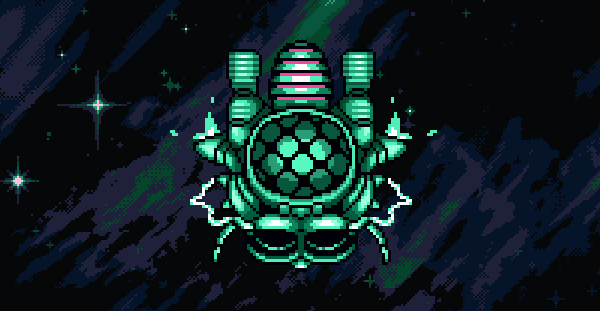 New boss sprite, and alternate background art. Each boss will have a set of backgrounds tied to them.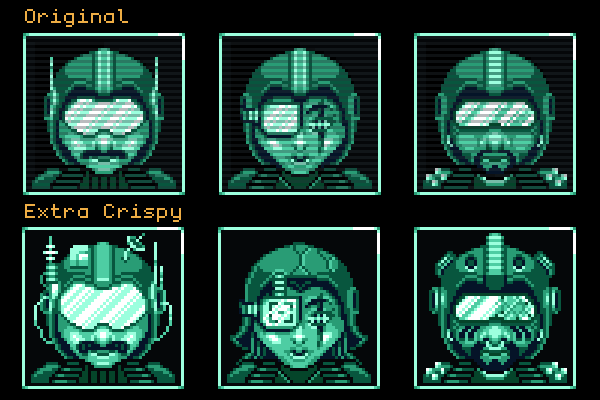 Pilots have had their features exaggerated and highlighted to create more unique personalities. You'll also be able to see your pilot at all times in the updated user interface. More pilots are in the works!

Features
Added the particle fx control to the options. It defaults to low, and there is currently no difference between high and low. When turned off, all non-essential fx will be reduced or removed entirely. As more effects are added, the high and low settings will become significantly different. I would not recommend turning fx off unless you're having performance or visual issues.
Mouse support for all menus has been added. I will likely clean this up in a future update, but everything should be functional for those that wish to play that way.
Arrow keys can now be used as an alternate to WASD

Balance
Shielded ships can now appear 2 minutes earlier than before (around the 4 minute mark instead of 6)
Disruptor recharge time increased by 10%

Quality of Life
Resume timer has been shortened to 2 seconds from 3
Updated disruptor description to be more in line with other texts
Added a powerup description to the right sidebar when you collect a powerup. This is a temporary solution for explaining how the powerups work in-game, and will eventually be replaced.
Badger's Auto-Turret text has been updated to be more in line with other texts.

Bugs
The Railgun beam was extending past its target when destroying the target, causing a confusing visual that might indicate it was damaging something else. This will no longer happen.
The railgun targeting timer will now properly reset when moving off of a target
Hive Queen damage threshhold will properly reset when vulnerable state ends. The Hive Queen can only take so much damage while vulnerable before resetting, but if the Queen resets from vulnerable time running out instead, the previous damage accumulated would carry over to the next vulnerable phase reducing the amount of damage she could take.
The railgun visuals should no longer become stuck in specific visual states when pausing
Trap timers should no longer continue while in upgrade selection/pause menus
Aimbot will no longer target enemies that have moved off the bottom of the screen