The GraviNULL team presents as promised: An update containing the re-balanced hz_laserblender map seen in the previous trailer which was left out of the 1.0 release. As well as some other changes!
Don't know GraviNULL yet?
Check out this beta trailer:
Why should I get excited over this 1 map?
Maybe this video will help!
Screenshots
Or for those of you who prefer simpler eye candy:
How to play?
Want to know the controls before playing?
Just push some of these buttons: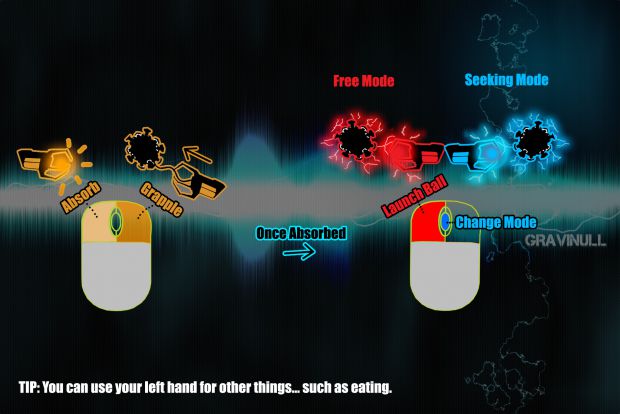 Or for something more advanced, check out this.
Download the mod!
You only need one of these files, take a pick!
Want to host a dedicated server?
While you download:
Please consider this, when there's no one playing, servers will eventually switch to a hazard/race map(if there's one in the rotation) and will stick to hazard/race only. Should you find no one in the servers, be aware that these are playable just fine on your own, so hop on the servers, other people will be looking at the server list to see if there's people playing and they'll join eventually.
This will get servers filled up while you can still have fun and play while you wait for them to be filled.
What's new?
A quick copy paste from the readme.txt:
- Changed:
* Map change system:
# Now includes race maps in selection;
# Selects hz/rc maps at random;
# Will now rotate only hz/rc maps while server is empty;
* Map: gn_nexus:
# Spawns in the lower/upper area's now face up/down correctly;
* Red mine charge time(towards end of its life only);
* Sped up overal health regeneration;
* OnGrappled and OnGrappleReleased outputs for all entities that can be grappled;
* "Target" selection of absorbing mines and selecting a target for the seeking mine now both select based on both range and distance from crosshair instead of just range;
* trigger_push, now has the option to have a "Set Speed", this is activated by changing the new speedControlScale variable, the higher it is, the faster the player will start moving in the set direction and speed, at a high setting acts as an airbrake(don't see too high or player will have a hard time getting out);
* Increased mine launch kickback strength;
* Grapple "stretch" system, now grants slightly less speed when grappling shot mines, more strength can be given in a real stretch situation where it's most needed;
- Removed:
* Health regeneration penalty when getting hit by mines that deal less than 25 damage;
Looking for forums?
You can find those here.
Official servers hosted by: