Hello and welcome back to another Forgotten Hope 2 update.
Today we have a few screenshots of some equipment that has been provided by allies or stolen from enemies. But before we begin, we have a short message.
We are always looking for more help. At the moment we are particularly in need of people who can do animations or sounds, however if you think you can help us in some other way don't hesitate to apply. More information on the application process can be found here.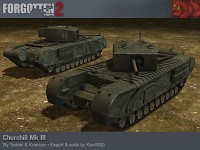 Within 3 months of the start of Operation Barbarossa, the first British aid to the Soviet Union had been delivered. The Arctic Convoys carried aircraft, raw materials and tanks. Starting in 1942, the Soviets were provided with 301 Churchill tanks, of which 43 were lost before they arrived. Trials conducted with the newly arrived tanks showed mechanical problems, and the opinion of these new tanks was low.
The Soviets received 2008 Universal Carriers from Britain and Canada. They were primarily issued to scout and reconnaissance units. While they were provided along with Bren guns and Boys rifles, these were often replaced with domestic weapons. About 3300 M3A1E1 Scout Cars were provided to the Soviets. This was a modification of the standard design, fitted with a Soviet made Buda-Lanova diesel engine. They were used as reconnaissance, command and prime mover vehicles.
In most cases the vehicles recieved kept the paint schemes that they arrived wearing, with Soviet identifying markings added on top.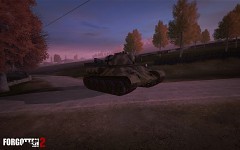 The Germans captured a great number of T-34 tanks during their advances into the Soviet Union. A great many of these were pressed into service, both before and after receiving modifications (most usually fitting cupolas from damaged Pz III or IV). Since using the same shaped tank as the enemy is a risky move, the T-34s were painted with many large visible crosses.
This is just some of the new captured and lend lease equipment in Forgotten Hope 2.
---
Our winners for this week's screenshot competition is Matthew_Baker. You can view the winning submission here.
We are now accepting entries for the week of September 29th. If you think you have the best FH2 screenshot, post them here.
---
That's all for this week, but be sure to come back next time for another update. Until then, feel free to visit our IRC channel, our public forums, and/or our Twitter and Facebook pages to discuss this update and other news.