Alright everyone, please stay together now... the tour of the facility is about to begin...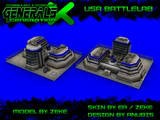 I guess I don't have to remind anyone not to touch anything, this is afterall a weapons research center, and if you don't behave you may be going home with fewer limbs...
*group chuckles*
Well let's get on with in shall we...
On your right you can see the latest version of the crusader MBT, the crusader 2A6
The new model boasts advanced sensors and better armor protection.
Next we have the famed Paladin MKII
about 90% of the tank has been rebuilt from the ground up, and is currently the most advanced battle tank in the world ...
Now if everyone will step into the next room I'm sure you'll find this next unit quite impressive.
*group walks into room*
This is the Alpha Aurora
*group gasps*
The Aurora Bomber used currently by the USAF is actually, a powered down prototype of this...
This is the original Aurora design, created by one of our top scientists a long time ago. Instead of a regular jet engine the alpha aurora uses what we call a GN drive, which is basically a small particle accelerator. Back then the military called the design to radical so we had to make a more conventional version of the aurora, which is the one used today. However due to rising oil prices, they finally decided to give it a try as the power cell powering the GN drive doesn't need recharging.
This model is currently being field tested by General Alexander herself. It has not yet been confirmed if the other US generals are gonna use it too...
END OF PART1
look out for part 2 in the next update