Greetings GenX fans, it's been a long time since our last update so let's get on with it shall we. This month were showcasing more USA stuff, starting with a new model and skin for the King Raptor.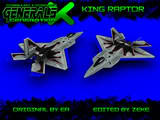 Among all the world, the US airforce reigns supreme, and the best among them are those that bear "The Emblem of the King". - Lt. Milo "The King" Evans, King Squadron Ace Pilot. On the outside you can't find much differences between normal raptors and king raptors, aside from it's emblem. King raptors greatly out perform their predecessors on all categories. As such they are only given to the best pilots in the US airforce. Next up we have a new model for the USA Sentry Drone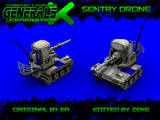 These small remotely operated recon drones can now be purchased directly from a US Command Center for early scouting. Next we have new models for the USA Ranger and Missile Defender.
As the result of a contract with ZTech Industries US soldiers now come equipped with the new Hawkeye(tm) safety visors as standard equipment. Aside from being bullet and glare resistant, These high-tech visors have everything from thermal imaging, digital communication, up to target information and target acquisition. The Hawkeye connects wirelessly to electronic optical sights on the soldiers weapon, allowing the soldier to see what the gun sees. Long time users of this system often prefer using Hawkeye's optical sights as opposed to the regular sights on their weapons as it allows then to fire from precarious positions, like from the hip for example.
Lastly we have the USA Armory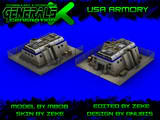 This building holds all the latest weapons for all USA infantry divisions. Here you can find all US infantry based upgrades, it also acts as a prerequisite for pathfinders and other tier 2 infantry. Well that's it for this month's update, see you in the next update.