Hello all!
We've got a general update today.
Revision is currently on track for completion in late 2013. We aren't getting any more specific than that right now so don't ask; it is done when it is done, and that looks like sometime late this year.
-------
We've rebranded our development team as Caustic Creative. This doesn't really affect Revision in any way; we just thought it was a little bit interesting.

-------
Trasher's current focus is on remodeling the Ocean Lab environment. He's done quite a bit in that regard, even making a few homages to the venerable System Shock 2. Our goals for the Ocean Lab makeover are to add additional paths through the environment while improving the architectural identity and general atmosphere. The original environments, despite acting the part of being a bit waterlogged and dysfunctional, were not uniformly atmospheric in their own right. That's changing.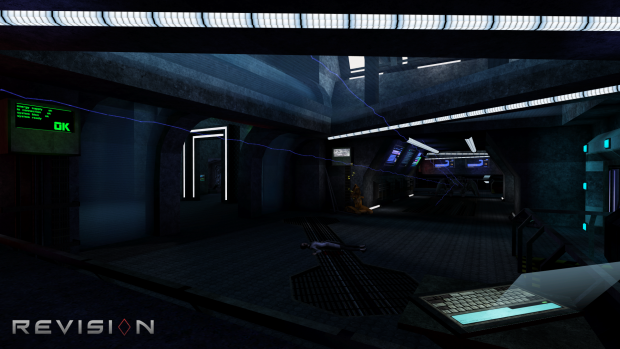 -------
As for the music side of things, we're chugging along merrily. Some of you might have noticed that recently, for a brief period we had uploaded one of our UNATCO tracks. We've since taken it down though because we've gone back to further revise and improve it. That tune may reappear on ModDB in its new state as time goes by; we've chosen to remove the now-obsolete version so as to avoid falsely advertising this project. We want to be at our best with Revision and frankly, that wasn't it. One of our goals with this new soundtrack is to do the original score justice while bringing a newer, richer sound to everything; in some cases that means taking the original music far enough to make it our own. Occasionally we become so involved in the process that we forget to spend that extra bit of time getting some perspective on the sound we're crafting. That perspective is crucial to getting it right.
One of the neat things about the way we're structuring the Revision OST is that because each visit to UNATCO is a different level, each visit can have its own individual music. We're taking full advantage of that; there are three variations of the UNATCO ambient music planned, and each becomes progressively darker and richer as the plot develops. This isn't the only place where we're adding new details and music either.
One more thing about the Revision score, since there seems to be some confusion: We have never intended to overwrite the original score by Alexander Brandon and company. Instead, our music will install alongside the original music. While the game will default to using the new OST, if you find that it is not to your liking all you will need to do to revert to the original is remove the newly installed music files. That's it. I recognize that while our efforts at doing that score justice will resonate with some, everyone has different tastes. In that spirit we're working to provide this easy and relatively straightforward option for those people that find themselves preferring the old material.
-------
Lastly, Revision Demo v1.3.1 is nearly here; if all goes well you should be seeing it in the downloads section in the next few days! Yes, this is the bugfix release we were talking about six months ago. Yes, we know it has been a long time coming, and yes, all the pieces are in place for it to finally be pushed out the door.
-------
That about covers it! You may now return to your regularly scheduled programming.