This is it. This is the moment we've all been waiting for. You wanted to play it, and I wanted to sit back, relax and finally not have the pressure of dealing with making this anymore. Of course, I can't do that. My mind is still shouting at me to make more and more, and I'll probably come up with a later release with even more chambers if people really want it.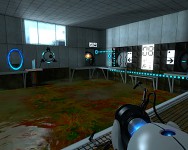 The mod is available as a 7-Zip archive here and as a Zip archive here from ModDB, or from gammaenergy.net (type "Download"). The only difference is that the 7-zip archive is about 40mb smaller but requires the free 7-zip to open it, while the Zip version is larger and in a more familiar format to the general public. Windows users can download and extract the gamma_energy folder to the steam\steamapps\sourcemods folder, which is probably in C:\Program Files. I'll post instructions for Mac OSX users after I've been able to do it successfully myself. Looking through, it seems there might be a more elegant way to do it than these instructions for Portal Prelude now, but I'm not entirely sure.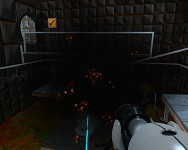 This whole mod should take you a few hours to complete. It's roughly the same difficulty as Portal, but at times can be a bit more challenging. It's certainly easier than Portal Prelude. You won't need to crouch-jump (except maybe in the advanced chambers) and techniques not used in Portal are introduced gradually. You probably don't need to run out and beat Portal to brush up on your skills before attempting this. However, I've tried to make the advanced chambers pretty darn advanced. I have not been able to beat Work Quickly - Advanced without using the bullet-time cheat. (host_framerate 200 for those so inclined) My brother has, so therefore it's possible.
I really don't know what else to say at this point. This is the first major project I've ever really done, so I'm honestly somewhat nervous to see what comes of it. Above all though, enjoy yourselves out there while I have a well-needed meal, shower, and rest from this project.