Welcome to the Social Modding Club,
We are a group of gamers that play all the great online mods which sometimes don't have huge user bases. Please join or track the group, enjoy the events, and post your own events and gaming requests in the forum. I have also setup a Steam group that will mirror the gaming events posted here to help bring more gamers together. Below you will find information about the upcoming events for this week:
---
Date: Wednesday, March 3rd 2010
Time: 5pm until 8pm EST
Mod: Smod Troopers
Download: LINK
Smod Troopers is a HL2 mod that provides a multiplayer version of Smod 40. There are 4 classes that each have unique abilities and weapons with levels that require a combination of each to complete. It just released Beta 0.9 to the public so what better way to celebrate than to fill up the servers and enjoy the fruits of their labor.
---
Date: Saturday, March 6th 2010
Time: 2pm until 5pm EST
Mod: GraviNULL
Download: LINK
GraviNULL is a new HL2 mod that drops players in a zero gravity situation with a modified gravity gun providing the only means of movement. It allows you to grapple onto mines and fling your body through the environment while trying to punt these same mines at enemy opponents. If it sounds like crazy fun that's because it is! Join us this Saturday to celebrate the newly released public alpha. Also the developers may stop in to give some lessons to those who want to learn from the masters. So check back in the comments for server IPs and more information!
---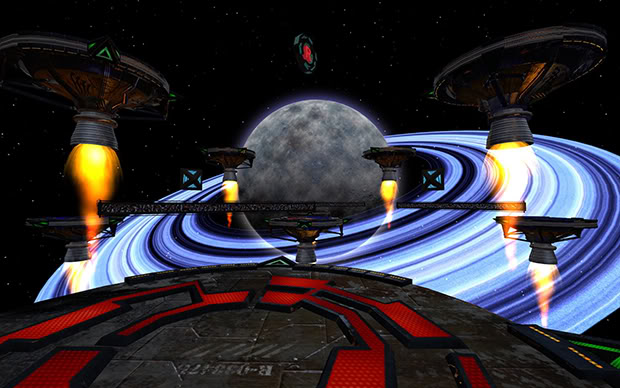 Date: Sunday, March 7th 2010
Time: 2pm until 5pm EST
Mod: Ricochet: Source
Download: LINK
Ricochet: Source is a HL2 mod that tasks players with jumping between neon-lit platforms suspended above an abyss while shooting discs at one another in an attempt to push each other into the depths below. They just released their newest update to a1.1 so lets all show some appreciation and try it out together this Sunday. Hope to see everyone online this week even if only for a game or two!