Like I promised [last week], this week I will talk about my decision to radically change the way achievements work in last update and the next one. If you've been following this weblog for a while, you may remember that I [announced achievements] last summer. Reader Jothmein suggested that I should hide the conditions for the achievements, so that it, for example, only says 'shake it baby', while the player has to figure out you need to 'shake a tree' for himself. It's an idea that I fell in love with immediately - I could already see people discussing the achievements on forums, giving eachother hints on what to do, etc. Think of it as an [Augmented Reality Game], more or less. And as Jothmein said, giving explicit instructions destroys the element of discovery and exploration a little bit. Long story short, I did the achievements this way in the hopes that people would get more out of the game.
Interestingly, although I didn't really use it in the past, I can actually see whether this works as intended. For every player, his or her progress is saved online, which means I can see which achievements players completed and which they didn't. Lately I've been paying close attention to this, which led very surprising results (to me): most players only completed the basic achievements you get 'by accident' by doing basic things while playing, but almost nobody completed the more interesting achievements. Apparently, players aren't paying attention to the achievement system at all. Okay, I thought, maybe I should make the achievements more visible within the game. So far, they were only fully visible on the website, so I added an achievements tab and pop menu with more info.
But then I did another, even more important discovery. Some players have completed like 8 or 9 achievements, others have only 2 or 3, but there is NOTHING IN BETWEEN. I interpret this as follows: the players with a lot of achievements (relatively) are the ones who are the real fans (I indeed recognized their names from places like [the forums] and [Facebook]); they've watched all videos, read all blogposts, etc., and then it's possible get relatively far. The 'normal' interested player, however, has no clue about what to do, and logs out quickly, confused about how to proceed. This actually matches really well with other signals I've received over the past few weeks: I've met quite a few people ingame who where in desperate need of some hints on 'what to do now', I got some confused emails about how to get started, and I can see people reach olvand.com after googling things like 'Olvand wiki' and 'Olvand tutorial'. Again, this doesn't go for everybody, but it's the case for enough people to worry.
So to sum up, nobody seems to do anything with the achievement system, and players who don't do extensive research don't understand what they're supposed to do in the game. Two related problems with, I think, the same solution: remove the mystery around the achievements and fully integrate them into the game, so they can be used as some kind of tutorial. This is how I plan to do that: besides the new tab and popup menu I added last update, I'm adding a progress bar, which I hope will give people some kind of uncontrollable desire to fill it ....

...prettier notifications when you've completed an achievement...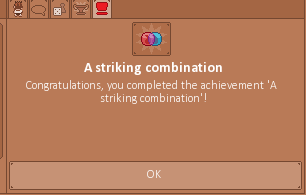 ...and, to help people who are still confused, I'm even adding hints...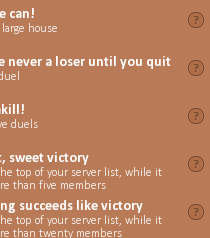 And on top of that, I'm adding four new achievements. Two of them are related to the new minigames I've added recently, but the other two should make it a little more clear how to go underground, and what to do there.
And on a final but very related note, although quite a lot of people responded to [the blogpost asking for tutorials], as far as I know nobody has made one yet. Which is a pity, because there's a high demand, as you now know. If you want to have a tutorial used by a lot of people, this might be a great opportunity! And don't worry, I'll make sure a lot of people will actually see it :).
If you want more development, see [twitter] or [facebook]. If you want to be a tester, you can subscribe on [olvand.com].