First and foremost, welcome back.. I hope you've had a nice week, I haven't! Did you all enjoy last week's preview? I never got a lot of feedback. Please tell me if there's anything.

There's a lot of things that have happened since last Friday, but first I'll show you something that's been requested; In-game video! Here you go: - (I know it's not the greatest of videos', but It will have to due).
I've also got a new Title Track for Morrowind Rebirth. The track is "written" by, Composerguy. (https://www.moddb.com/members/composerguy) What's your thoughts?
Also pretty cool I got mentioned at Rockpapershotgun.com , Rockpapershotgun.com & Rockpapershot.wordpress.com. There's a lot more interest than I anticipated.
I had hopes to show you some pictures of a new Main Menu, but it will have to wait, sorry. Progress is good so far. I've actually got another guy helping me out with some interiors, kudos to him. Perhaps we'll work togheter on part two, who knows.
- Suran, Gnisis, Caldera, Ebonheart & Seyda Neen is 99 % done. Balmora, Dren Plantation & Pelagiad is about 70 % done. I hope to finish the cities soon enough, lot's of other things I got to attend to.
- Souther part of Bitter coast is 99 % done, Ascadian Isles 70 % done, large areas of the West Gash not accounted for. The area affected is much larger than you think!
- Overall Progress is somewhere around: 80 % for Morrowind Rebirth: Part 1, release is due sometime in Mar 2011. Part 2, end of summer.
At last but not least, a small teaser-shot, showing you some pretty berries.. comberries! I've always hated the old mesh & texture, fortunatly Rhymer at the Bethsoft Forums came as a shining knight and saved the day. A big thanks to him for his efforts & for letting me include his work.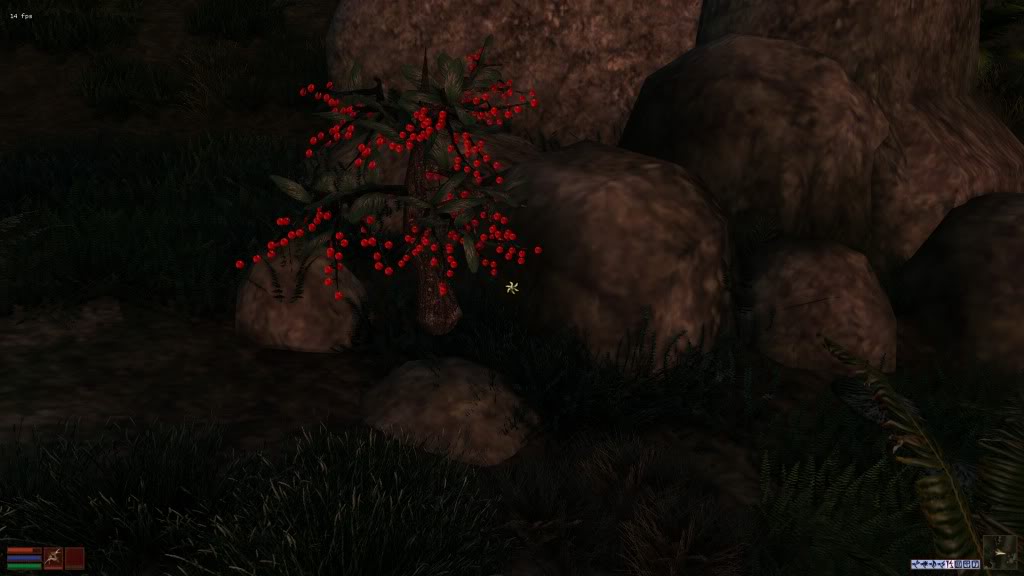 Have a great weekend everyone!
Trance