The Freeworlds: Tides of War mod team has been busy over the past few weeks fixing bugs, building an economy and, of late, creating more of the mission systems for players to enjoy (ie. Battle of Yavin). Below, you'll find the latest video of this new mission system Deety has designed called, "Battle of Bilbringi." Essentially, this mission will feature a gigantic ongoing battle between the New Republic and the Empire full of huge capital ships, hundreds of laser beams and a whole lot of fun!
In other news, Qi, our resident Economy Guru, has completed the first alpha prototype of our economy and it contains over 1000+ trade runs. He strove to make this economy as canonical as he could to further the immersion factor of the mod and we all really think you will love what he's done. In addition to this, Qi is working on a web interface that will allow players to view the changes in commodity prices based on what is being traded on the server. However, I will release more information about that when the graphical interface is near completion.
Lastly, I wanted to show you all the new Pirate factions Deety has created based on what systems you're in. Below is an image on how the territories will be seperated: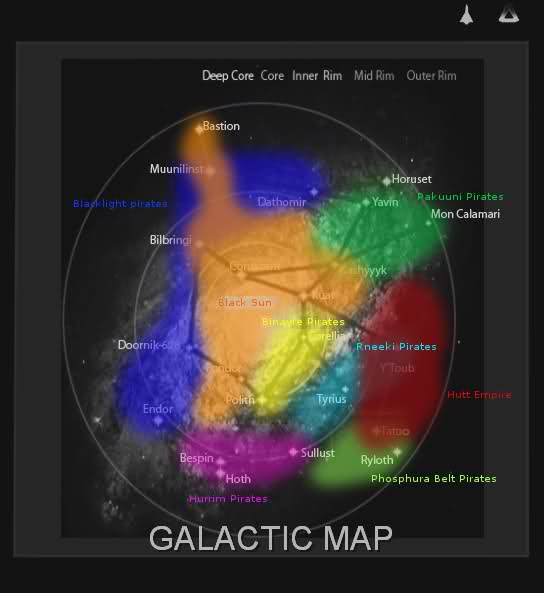 Thanks again everyone for following this mod. We've really appreciated the ongoing support and compliments. If you're new to this mod page, I encourage you to check out what we've been up to the past year and a half and check our video page. It holds some really great footage and you can see how far we've come in a relatively short period of time.
And, since it's that time of year with the Mod of the Year awards taking place, if you like what you've been seeing, please give us a vote. :)
Thanks again everyone and happy holidays,
Sushi