Howdy peeps, to continue our showcase of weapons in Fray, here are some concepts for guns and other death rays that will be available in the game. And what kind of scifi game would Fray be without some cool futuristic weapons?
Before moving on, we would like to announce that we we will be in Cologne for the GamesCom, so if you are there and want to meet, tell us by mail or on twitter!
Unlike the AROS weapons (that we showed here), which had a military feel, here are weapons designed by the two other corporations that are present in Fray, MagTyde and Cronacorp.

The MagTyde weapons have an industrial purpose, such as for mining and terraforming, and have been modified to be used in combat.

Ultrasonic Pulser:
Used in mining complexes across the globe, Ultrasonic Pulsers alter the atomic structure of semi-dense materials, allowing workers to quickly shape rock and metals. The portable version of the pulser is less powerful than its industrial counterpart, but it is enough to destroy a human target.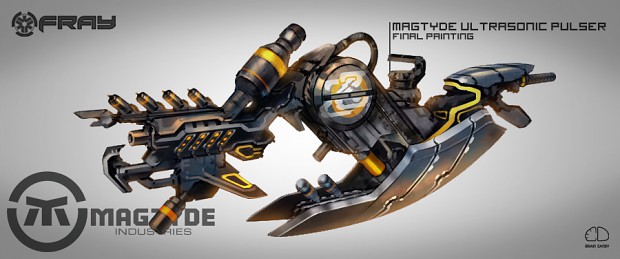 Quake
Magtyde advertises this device with the catchphrase « The power of a seismic truck in the palm of your hand », the quake glove allows the player to propel a deadly shockwave all around the user, damaging any enemy surrounding him.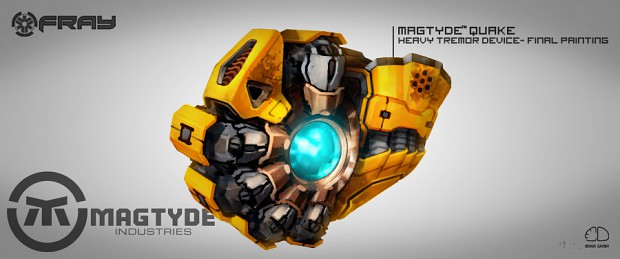 Mine Layer
Originally designed for rapid terrain survey, by propelling fist sized sonar beacons, the MagTyde Mine Layer was modified to carry high explosive charges that detonate when in close proximity with another human being.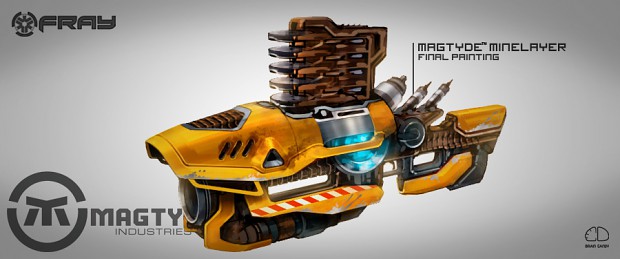 Cronacorp is a privately owned scientific and advanced technologies company that works on cutting edge products for military and mainstream customers, such as transportation, wireless neural hubs, protection suits and even beauty products. Their weapons division, CronaLabs, however works only on the newest and deadliest products available to mankind.

Absolute Zero:
A particle moderator is placed around a chamber containing a liquid approaching 0°K, slowing matter down. It is then propelled from the chamber at the speed of sound, instantly freezing any element in its path.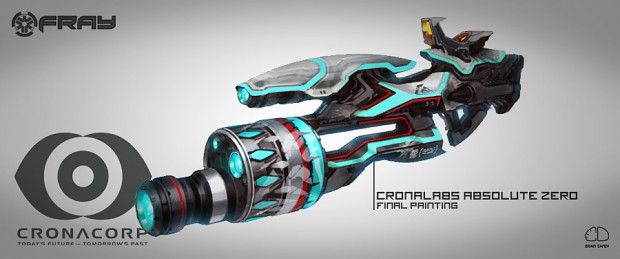 Solar Ray:
A fusion reaction in the user's backpack creates a miniature contained sun. With a complex system of mirrors and prisms, the photons generated by the reaction are gathered and shot out a frontal device, burning a target with intense energy.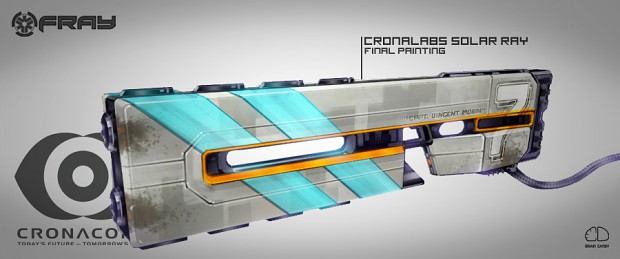 Thanks for reading, we hope you enjoyed these weapons, we still have quite a few more in store! If that is the case, don't forget to follow the game!
Cheers,
Brain Candy