Fray: Reloaded Edition, is an updated and expanded version of Fray, integrating player feedback, improving the gameplay and mechanics, as well as adding new content and functionalities.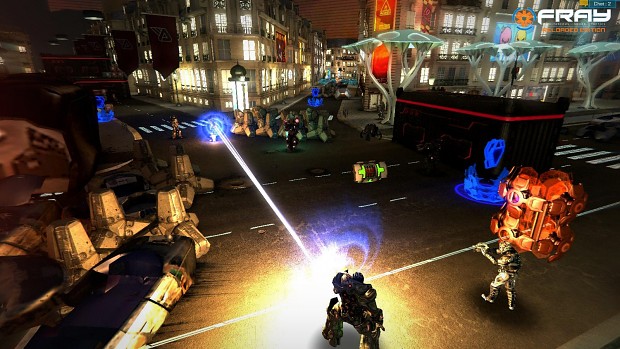 When we released Fray back in June 2012, we knew the game was still rough, but we did not expect it to be as rough as it turned out to be. Although we knew the game would still need a few months of work, seeing our financial situation at the time, we had no choice but to release the game as is. In retrospect should we have done this? No, of course not...
The release was plagued with technical issues, and although we tried to correct the problems in the most efficient and timely manner, the damage was done.
As an independent game studio, things couldn't have gone worse, as we realized the quality of the release was sub-par to say the least. Our goal was never to put a product in this state in players' hands, and we are terribly sorry for any inconvenience we have caused.
Since, we have been working around the clock on a game we believe to be truly fun and original, pouring all our heart and soul into making this the experience you deserve. This is our first game and we made terrible mistakes, but we have learned and grown from this and want you to believe in us. We know this is a good game and that you will enjoy what we have been creating.
We have been correcting our mistakes ever since, with Fray: Reloaded Edition, the result of both player feedback and our own ideas. We changed the server software and UI, and added a training map as well as some small missions for solo play. We also rebalanced the classes and weapons, added new special effects, and polished the game as best as we could to deliver the experience we promised initially.
With Fray: Reloaded Edition coming November 12th, we will make amends with players who bought Fray in June, by offering them a free Steam game key and the game's OST, as well as giving new players a chance to play the game through a demo version that will be out alongside the release. We hope that players and critics will give us a second chance with the exciting and original multiplayer turn based strategy game that we will complete on November 12th.