Hello and welcome back to another update of Forgotten Hope. It's been a while since our last news but we are back today with some new content to show you. But before we get started we would like to welcome Benseras to our development team, who is responsible for today's map, Operation Cobra.
First off we have the P-51D Mustang which was kindly donated by clivewil of the Allied Intent Xtended mod.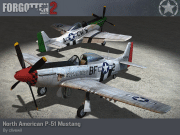 The P51D Mustang was perhaps one of the most well recognizable aircraft of the US military, and more so, the entire war. This iconic fighter plane was first introduced to the Royal Air Force in 1942 when the British government requested a new plane to be built by the United States.
The P-51 originally served a reconnaissance and escort fighter for British bombers, however it was not until the D version of the airplane was introduced in 1944 that it became so well known. Now powered by a British Packard V-1560 engine, and equipped with six .50 caliber M2 Browning machine guns, and a large assortment of bombs and air-to-ground rockets, the P-51D played a large part in securing air superiority for the Allies over the skies of Normandy.
P-51 Mustangs saw action all over WWII, and were flown by many countries as well, including the US, UK, France, and Australia. They were flown by the Allies right up until the end of the war, and in all, a total of roughly 16,000 P-51 Mustangs were produced.
Next up we have a bunch of new screenshots from the map Operation Cobra by Benseras. This map showcases the attempted breakout of Normandy after the initial D-Day landings, between the US 30th Corps and the German defenders.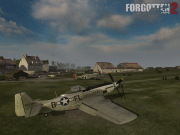 "Having been stuck in the Bocage of the Norman countryside for almost two months, Allied forces made their move. All attempts by the British and Canadians to push out of Normandy had all but failed. It would be down to the Americans to push onwards and shatter the German lines in the West of the beachhead. After a severe carpet bombing, Operation Cobra would launch with the US 30th Corps moving on the town of Hebecrevon. Little did they know that the German defensive line of Panther tanks had survived the bombing intact and were waiting for them..."

Operation Cobra screenshots
That's all for now, but be sure to come back later for another update. Until then, feel free to visit our IRC channel and our public forums to discuss this update and other news.