Dev stream #4 – Underwater scenery
ANDREJ KREBS, MITO HORVAT
This time Mito and Andrej joined forces and created underwater scenery, proof of concept demonstration of possible new models/elements in the Floatlands Game. From concept art to sculpted models to finished scenery, the visuals of a game can change a lot between concept art development and final Blender 3d model implementation in scenery.
Concept art for the beach and underwater biome
ANDREJ KREBS, MITO HORVAT
We've been preparing ideas and concept art for the beach and underwater biome that we are setting up. Although it will be one continuous biome that will stretch along the shoreline, we created different assets that will be on various distances from the shoreline, ranging from land that's away from water, to deep under water. The ocean bottom will be littered with interesting sea flora and even resources you'll be able to harvest. We explored different moods ranging from dark and gloomy, to bright and lively so we can decide on what we want it to look like.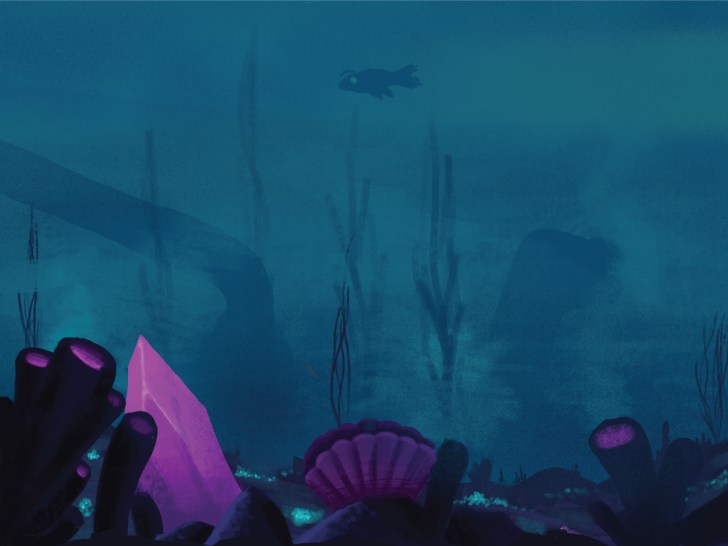 The beach will be where the players start their game, but they will not be able to go out to sea until they level up to a point where they are capable to go far out into the water, forcing them inland to explore and get familiar with the world first. Later the players will be able to explore underwater, find more resources and explore remote islands.
Underwater – Gameplay Wise
DOMEN KONESKI
The Underwater will serve as an interesting and difficult area to access since you are a robot, the water will also affect you in a negative way. Although with levels and skill trees planned, higher level players will have a true access to the Underwater. For new players we want them to focus on the Floating islands and the Main land and create a fear of going into the ocean for the first couple of levels and when they level up the world will get bigger for them – kind of removing a "hidden" barrier and introducing them to the last bit of the world.
We are also thinking about including new vehicles, but that idea is still something we have to figure out first (the impact on the gameplay can be drastic). The purpose of making The Underwater more difficult is for the player to find some huge chunks of resources in the deep water that are hard to obtain, but can improve late-game gameplay (players will start to explore waters when they are done with Floating islands and the Main land).
Still, The Underwater is still in the concept phase and we really want to make it as fun as we can.