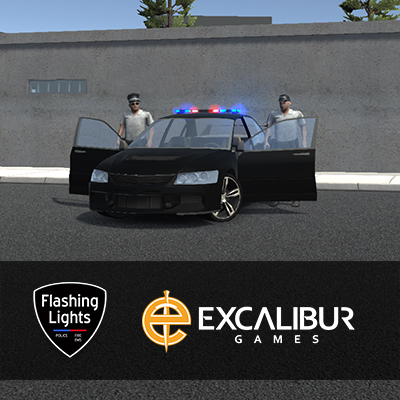 I'm happy to announce the Flashing Lights are now in cooperation with Excalibur Games! Their core focus is within simulations and they have worked with some great games including Jalopy, Euro Truck Simulator, Flight Simulator and Train Simulator. With their help we hope to deliver a higher quality game than I had originally planned. With their support and the community's involvement, I feel that we will make a great game together!
Excalibur Games website
Development progress videos:
- Person grab and guide function.
- Frisk function.
- Handcuff function.
- Arrest (register person).
- AI sit in back seat.
- Interaction menu while in vehicle.
- Vehicle door control now separate from getting in.
- Implementing features from previous prototypes
- New map
- AI and prop spawners
- AI interaction (ID, Wait, Follow)
- AI name database
- Fire
- Updated trunk