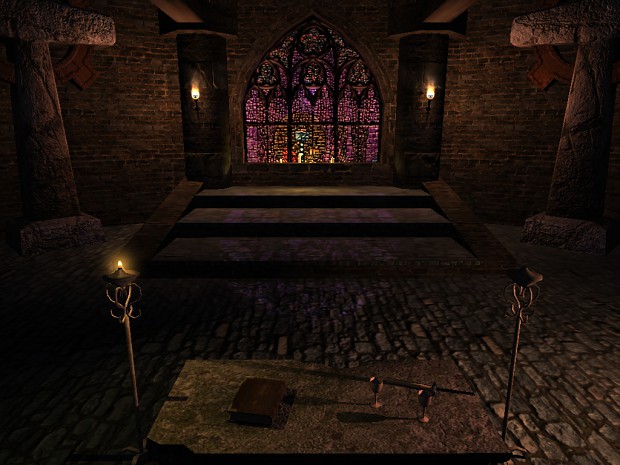 ---
In this mission you will visit a Builder outpost to steal some valuable books...
(It is the first in what I hope will be a series about Selis Woderose.)
---
This is the first mission in (hopefully) a series where you play as Selis Woderose, an orphan who was taken in by one of the thieves' guilds and raised, and trained to almost perfection in the arts of thievery. He now works for the guild, carrying out some heists for the guild, but keeps most of them to him self, to avoid paying guild taxes. A confrontation will eventually be inevitable.
I would like to take the opportunity to thank my beta testers: Aprilsister, Bikerdude, Chiron, lost_soul, and prjames. As well as Fidcal for his starting map, and Melan for his texture pack.
---
Mission Briefing:
I'll be going on a trip out of town today. At the foot of the mountains to the north lies an old Builder outpost, by the name of Flakebridge Monastery. It is no longer in use by the Builders and no one knows why. The Builders have never stated anything official about it, so little is known about what really happened there. Most rumors are either wild stories about undead monsters, or simply a Builder priest who has gone rogue, and broke off from the order. Either way I will have to be prepared for a challenge.
My target is not the usual gold or silver, but a book. It contains the unpublished works of Jerome Dunham, a musician whose last known location is the outpost. Furthermore the priest in charge of Flakebridge Monastery had or has a rare copy of the Builders holy 'Book of Amos'. This should fetch a nice price if I can get my hands on it.
---
Background:

Flakebridge Monastery was build more than two hundred years ago next to the village of Flakebridge. Overlooking both the road and river leading to the once wealthy region around Lake Coulter, the outpost soon flourished from tariffs and donations. Like many other Builder outposts, Flakebridge Monastery offered travelers a safe haven on their travels, provided that they could pay for it.
Little is known about what has happened there recently, but anyone who has gone near has not been heard from again. The few travelers that still need to get through choose the long way around through pagan infested lands.
---
* * *
---
Update:
Check out an interview with the author, Jesps, on the Features tab: