We just loaded GeneralBerts map for the first level into the engine, things are running fine apart from lack of textures, but we expected that.
We just need to do some modifications to the map to make it more user friendly, such as doors, zombie spawn points and various other things that could give away too much about the game, so I'll keep hush hush on those.
This means that soon, an Alpha will be released, I can't say how long because we still need a lot done on the zombie side of things, but level side everything coming along well. The final map should be complete by the end of this week, then we will have many preview images and videos to come.
AI is currently approx 15% complete and lighting is going to be done after that. I mean its best to have a zombie know where you are with a normal lit room than in the complete darkness right?
Physics will be done soon too, theres just some problems with the Physx SDK at the moment which I should have fixed soon, hopefully.
I've also put the next concept for the HUD up in the images section, this one shows more about the level the player is on compared to the last.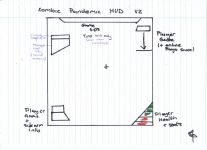 As you will see, the player scores are now in the top right, which will also show any other players scores in an online game. (This won't be in the Alpha, we are working on Solo only for now.). Then there is the current objective which is in the top left, this will explain what you need to do in order to progress away from insane hordes of zombies. Under that is any messages you may get along with the current round, and info on how many zombies you will be up against.
In the bottom right, the players health bar, starting at a nice green and descending to red, when the players health is low the red bars will pulse, along with the screen becoming blurred depending on the amount of health left. After taking no damage for an amount of time, the health will regenerate.
Finally is the current weapons ammo store, and side arm ammo, or secondary weapon.
All these parts of the HUD will be slightly transparant so the view of the screen is maximised. They will also have a zombie apocalypse feel to them.
The tips and hints bar will remain the same and will only appear when there is information available.
Many new updates over the next few days!