Mugalo space masters, may your ships be fueled and your warp engines spooled. Gonna throw some updates at you from three different directions, so there's no way you can dodge 'em all. And then we're gonna make a request of you at the bottom of the post.
Fight Me
We started tinkering with ground-level planet combat. You beam down to an abandoned planet, you see some dust porpinos skittering across the tundra. Over the horizon you see a mighty glondosus, lumbering beside the cliffs, calling for a mate. So you fashion yourself a few spears -- now's your chance to make a quick buck: a fine cut of glondosus meat can be sold to high-end restaurants frequented by space celebrities and athletes. Okay, there's like 43.7 spears on the ground. Yep, that's a bug.
We're trying to establish a somewhat dynamic form of ground combat -- you can create rudimentary weapons from the resources around you, in addition to bringing guns and armor. We're starting in the stone age, testing how a spear would be thrown, the distance it travels, it's trajectory, aim, and sound. And we'll build out from there. Check it out:
Serenade Me
You like space music? No? Oh. Well, we're too deep into this to turn around. Developing that ever-expanding repertoire of radio hits and ambiance music, we started reaching and collaborating with other artists form around the world. We work on the whole shebang -- music, lyrics, and editing. This has been an awesome experience so far, and we're definitely gonna keep this collab-train rolling. (Feel free to reach out to us on Facebook, Instagram, or comment here if you want to collab in any creative capacity!) Take a listen to some teasers of hits in our simulated universe.
Immerse Me
We started adding smaller details to the game play that add immersive elements. We made dark planets where you need light sources to explore, and subsequently added headlamps to spacesuits just for that purpose. Also made the animals wander less like weirdos, so their movements aren't obviously patterned and they wander with a little more fluidity.
Indulge Me
Not sure how many humans will get down to this last section, but if you do, then a huge, sincere thanks for your interest so far. Your curiosity, support, and/or judgement -- whichever compels you to read this dev blog -- are super important to us! You all form the biggest piece to this undertaking, and we are really grateful for all the support we've gotten so far.
I hate asking more of you, because your reading this already fills our souls with niceness, but we would truly appreciate your support in for Indie DB's "Indie Game of the Year" recognition. Indie DB is a popular game development blog for indie projects, and your vote would really raise awareness of our game.
Thanks again my friends. Mugalo.


Creatures are made up of molecules: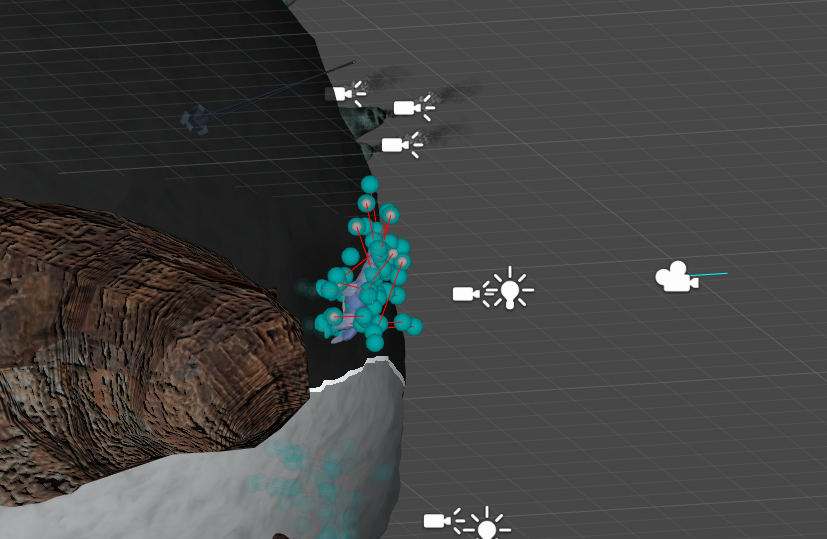 Rough draft UI for selecting a planetary landing party: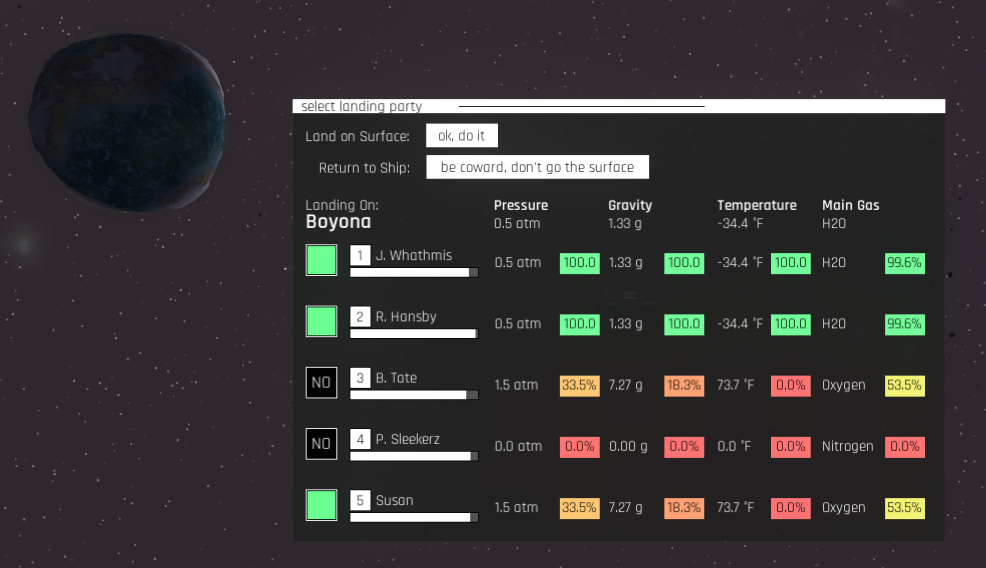 Exploring a dark planet... with a lot of spears: