Well, I probably have to apologize, because gathering everything for these news took a little more time than we anticipated. Nevertheless, the news is ready and we hope you will enjoy it's content.
The new website
First of all- we have a new website. The main theme/design has remained, but the whole core coding has been updated, therefore it should be looking a lot better for those users, who don't use Firefox, but rather prefer Internet Explorer and other browsers. Along with that it has completely new structuring, so feel free to browse the pages, click those links and you might find a lot of new and interesting stuff regarding the new gameplay of the mod (I will get to that a little later in these news).
The Beta2 Media section of the site is still more or less unfinished. The screenshots placed there are a bit outdated, but it will take time to gather the latest, so you will have to do with what you see in the news for now :)
Dark Flare Studios- what? and why?
As you can see on the main website, on the sidebar and on the team section, it says something about Dark Flare Studios. What is it? well, it is not an official game studio (at least yet), but rather the combined name, or the core of Stargate: Legacy, or the main group of developers that keep things going. For quite some time now we have daily worked together and since SGL is not the only project we will ever (or even atm) work on and since we have got to know each other and worked together well, then if we take on another project, we thought we might as well do it together. And that is why Dark Flare Studios was made, to keep track of all projects we work on together.
Some might think that such a studio will only slow down the development of SGL and, being completely honest, considering that we will also work on some other projects, It actually could slow it down a bit. But it was our decision to make and in the bigger picture by gaining recognition in other projects, we might attract some more talented people to SGL
Something from the coding department
Unfortunately, even though coding is one of the most important aspects in game development, unlike maps and models it is not something that can shown in news very easily. But still coders do a lot of good job and our coders are not an exception.
Freeman551 (the lead coder of this project) has been busy rewriting the SGL code from scratch, including only some bits from the old code, to increase the speed and optimization of the game and allowing the game to be expanded more easily, while our other coder Floss has been working on Client UI effects. Regarding new features, we do have some more unconfirmed details like addition of prone and possibly some other features released in Valves next SDK Code base, but we'll just have to wait and see.
Some nice models
Anyway, along with the work on the website our team has (obviously :P) continued the development of the mod. Our superb modeler Noodles has continued his work on the new weapon models and here you can take a look at his progress: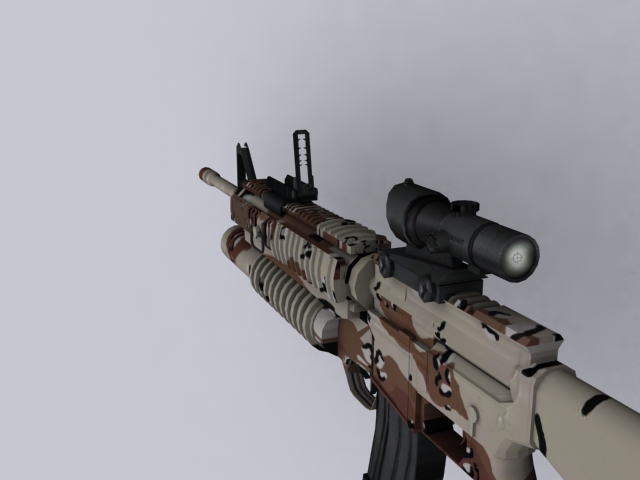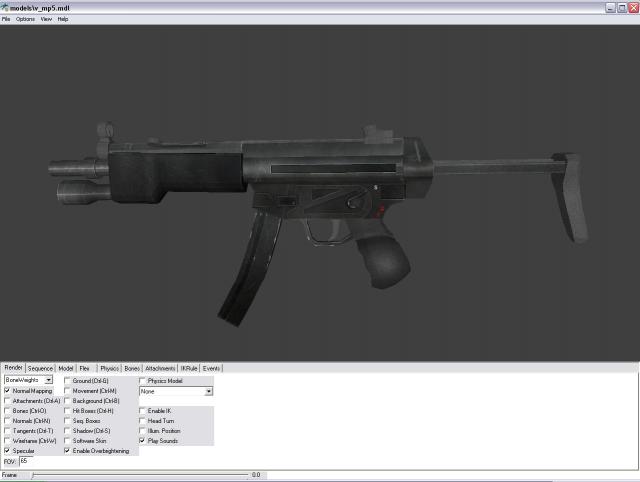 The textured versions of M16 and MP5 (still WIP)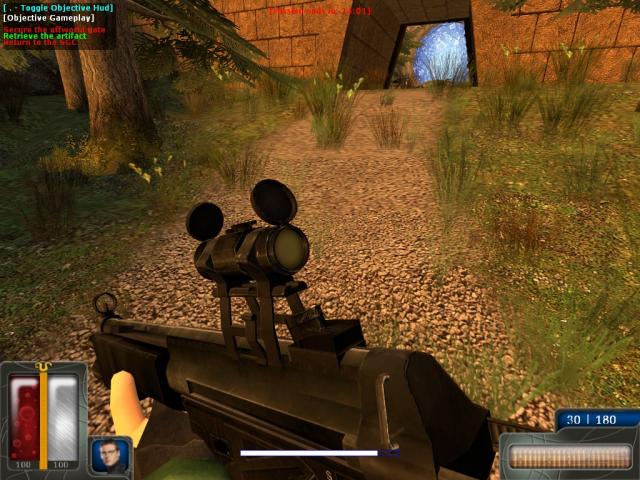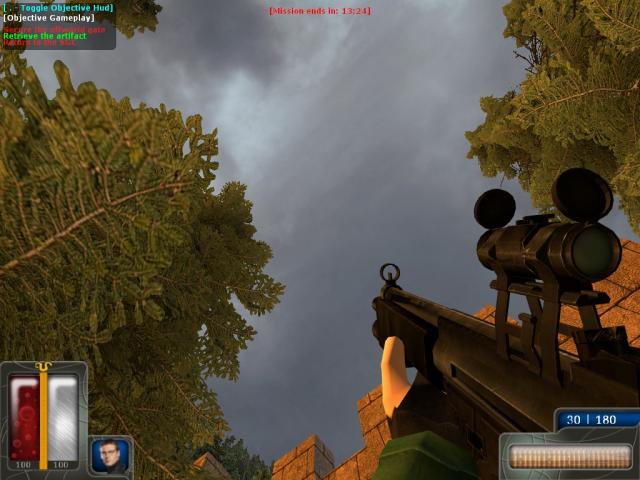 The scoped version of MP5 in-game (still WIP). Yes, MP5, just as P90 will have multiple loadouts ;)
Please note, that the map in the background is the old version of conquest, not the new one.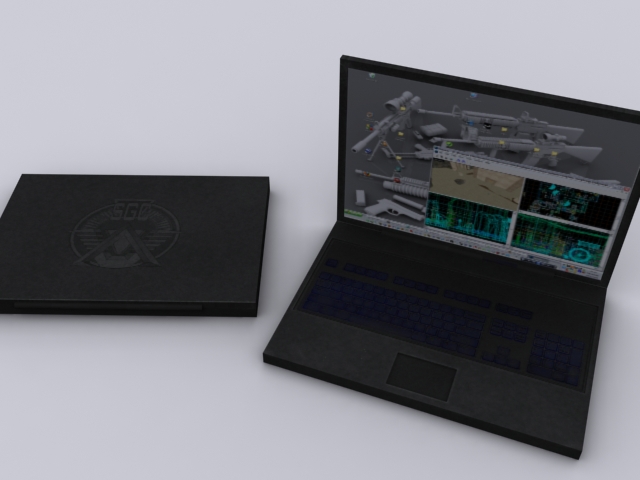 Laptop (also just WIP) that , at least for some players, can become an important part of the gameplay.
Loss to a greater cause
Another important news regarding our modeling department, is regarding our modeler Isick, who has recently accepted a job in a Game Development company. Even though due to lack of time he will no longer be able to directly help in the development of this mod, our development team would like to wish the best of luck to him in this new path as a Professional game developer
Before leaving Isick managed to finish up the Tau'ri player model body he was working on. Here you can see a quick render, it is missing the heads (no kidding :P) but soon the models will be completely done , so keep your eyes open for updates in future news.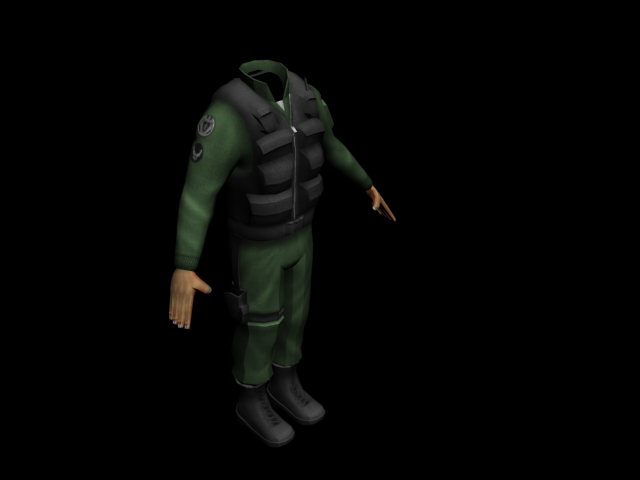 And now- the new direction of the gameplay
Yes, so you might be wondering about what it could be. Originally I thought about copy/pasting the content of our websites Beta2 page, but now the news are getting pretty long already, so I will just let you read it there :P
Assuming that you have read that, i will now give a short explanation. After seeing another Stargate mod release and observing mods and games in general, we came to a conclusion, that simply making a mod with nicely made models and maps will no longer be enough to compete with other mods (and i am no longer talking about Stargate themed mods, but mods in general). But with that said we also wanted to bring a bigger feeling of Stargate into the game. And so a decision to create classes as seen in the link above was made. About now, some people might start protesting, saying: "Wth? Hack doors? Activate traps by translating ancient tablets? What is this? I JUST WANT TO SHOOT SOMETHING!!"
And I can calm these people down right here, because doing all that will not be obligatory- missions will be completable even without it. But if you do decide to go further and along with slaughtering the enemy, hack a few doors and activate a few obstacles to slow down their movement, make them choose different roads that you can ambush, your team will have far greater chances of winning ;) And therefore we believe that it will bring a lot bigger accent on teamplay and tactics in this modification.
The work on implementing all these features has already began and we will provide you with a few videos showing it all in-action as soon as we can ;)
And some final notes
Well, that's about it for this months news. I think i pretty much told everything I intended to and that leaves me with just one last note. Even though I already suggested everyone browse the website, I'd like to specifically redirect people to About Us page.
STARGATE: LEGACY ABOUT US page
The page itself doesn't really contain information about the mods features and gameplay, we have different pages for that now, but it does contain a brief history of SGL that i wrote. I wanted to point this out, because after the first release, I got the feeling that not everyone who played the mod really knew the true purpose of it and the situation behind the development.
Eitherway, hopefully no one regret waiting for there news and last thing I have to say is Regards from Stargate: Legacy Development team.