FEATURES: Update 1

Hello everybody!
This update is made to give you a "Behind the Scenes"-look of the development of Sanctum until the eventual release. We'll post continuous updates until the game is released, so make sure to check back regularly!
This time we'll guide you through the reasoning behind two of the enemies in Sanctum. These two enemies are the standard Walker and the tougher Hoverer.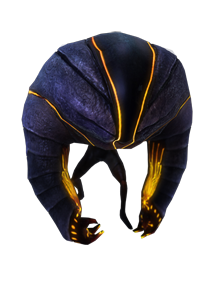 The Walker
The Walker is one of the normal enemies in Sanctum. What we wanted was a standard enemy without any special abilities. These would be used to introduce the game but also to give you a simpler type of enemy that doesn't require much to figure out.
The big stature of the Walker makes it the ideal enemy to mix in with other enemies. It is big enough to protect other, smaller enemies like the Runner but also small enough to be protected by bigger, tougher creatures like the Hoverer.

The Hoverer
The Hoverer is tough type of enemy with a twist. In regular Tower Defenses the tough enemies usually only have more HP and move slower. The FPS-element of Sanctum is a great opportunity when designing enemies, so we wanted to do things a little differently.
With the Hoverer we decided that positioning of the player and towers would beimportant. This in turn evolved into their little twist; they are immune to frontal damage.
Frontal immunity makes the normal effective strategy of keeping in front of the enemies while moving along with them obsolete. You have to adapt your tactics to be able to defeat the Hoverers.
There is another, more subtle challenge with the Hoverers. Because of their size and special ability they become a great danger if they enter your maze of towers together with other enemies.
If the Towers target the Hoverers the other enemies will be able to just walk past. Because of the special ability the Hoverer has the towers won't deal any damage half of the times they shoot!
You have to be careful and don't allow them to lead the charge!
These two have been a small preview of the enemies in Sanctum and the general thought process behind the different enemy types. As you might have figured out the Hoverer is a challenge that is mostly aimed at the player, but it isn't impossible for the towers to beat. If you have a good tower layout you don't have to worry about the hoverers but if you don't you have to pick your targets carefully.
Until next time, stay frosty.