---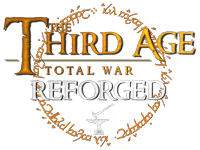 ---
Q. Which version of the game do I need?
a) To all mods, you need to have Medieval 2 and Kingdoms expansion and to be able to play multiplayer, you need to have the Steam version.
Q. What do I need to install the mod?
a) You only need the 0.95 installer from Moddb.com
Q. Does Reforged have a ca...
a) No. Reforged does not have a working campaign.
Q. I can't see any games or most are red.
a) First, make sure you are using correct launch code. After that if you have not already, change your steam download region to UK London. Steam - Settings - Downloads - Download region
If all the games are still red, hower mouse over them to get more information of why.
Q. When I launch the game, vanilla Medieval2 starts
a) You are not using the launch code
Open Steam - Libray - Right click Medieval2 - Properties - Launch Options - Paste "--features.mod=mods/Third_Age_Reforged"
Q. Even after using launch code vanilla game starts
a) You installed the mod to wrong location
Open Control Panel - Uninstall a program - Uninstall Third Age Reforged version 0.95 - reinstall 0.95 with correct path
Q. Mod is intalled to correct location and I'm using the launch code. Third_Age_Reforged folder has only empty folders and couple text files.
a) You didn't extract the installer and .bin files before running it. Installer does not ask for path as it uses same as first time installing.
Q. What can I do to lower lag?
a) First of all, turn all video settings on low. Medieval 2 does not care how good your PC is. Most of problems are caused by internet and scale of battle. If you keep experiencing lag try to reduse internet usage by other programs.
Because of game's optimization huge scale battles with tens of thousands of troops will lag the game. If you can try to lower the scale of battle or just endure with it.
Q. How do I run Medieval 2 on windowed mode?
a) Go to Steam/Steamapps/Common/Medieval II Total War and edit Medieval2.preferences.cfg. Add/change values to
"[video]
windowed = 1
borderless_window = 1"
and change "battle_resolution" and "campaign_resolution" to your screen resolution.
If game will launch in full screen after first time, repeate - save- right click medieval2.preferences.cfg - properties - check "read only" and hit ok.
---