Like last month, lots of new progress as been made that isn't directly visual, like scripts and quest design from RickerHK and Seddon. But we also have a ton of 3D art from Tau34RUS, Dragbody, Camboy, and myself.
To start, we have new packaging art and characters from Camboy! I contacted him a few weeks ago about commissioning the art for our release cover image, and added his name to a list of artists for our fans to vote on. Camboy won out, and his enthusiasm for the project went waaay beyond what I expected! :D He and his wife Gabi have been producing a lot great art along with the initial commission for the release image! We definitely picked the right people.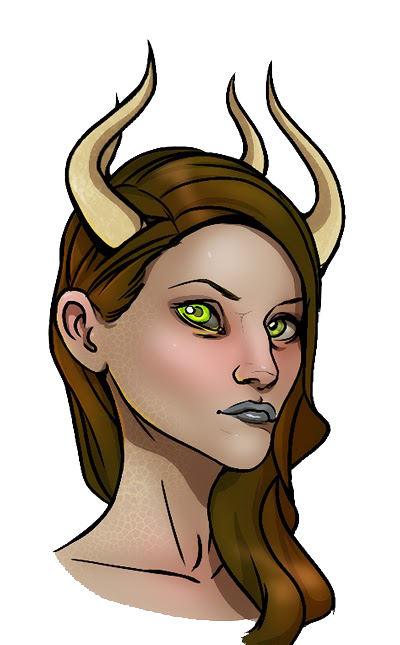 One of our Main Characters in the 2nd Instalment; a special kind of FEV enhanced Mutant Mercenary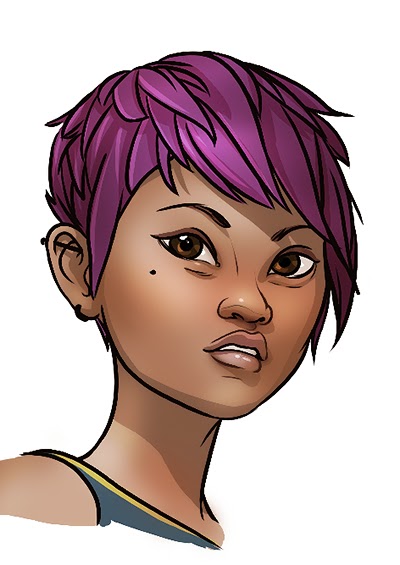 Kira Mann - Companion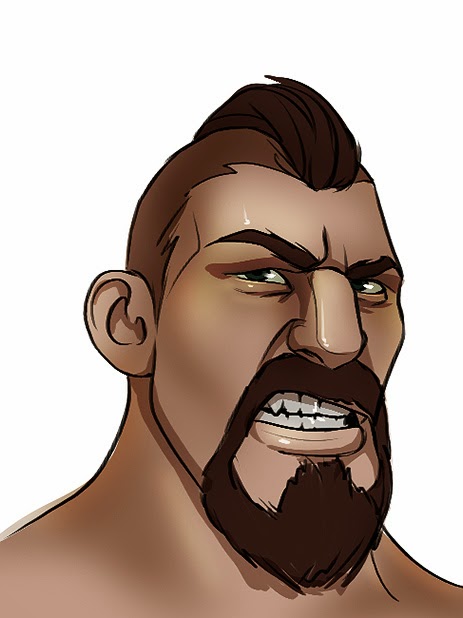 Jack - Male Athlete Player Character Archetype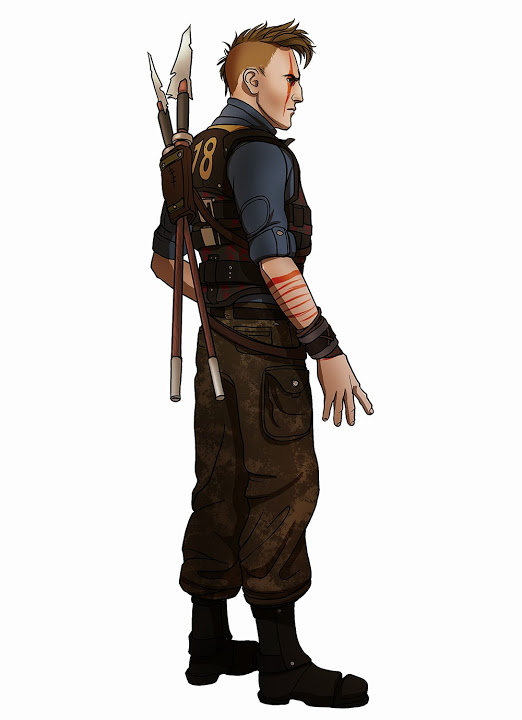 Ben Kurtz - Companion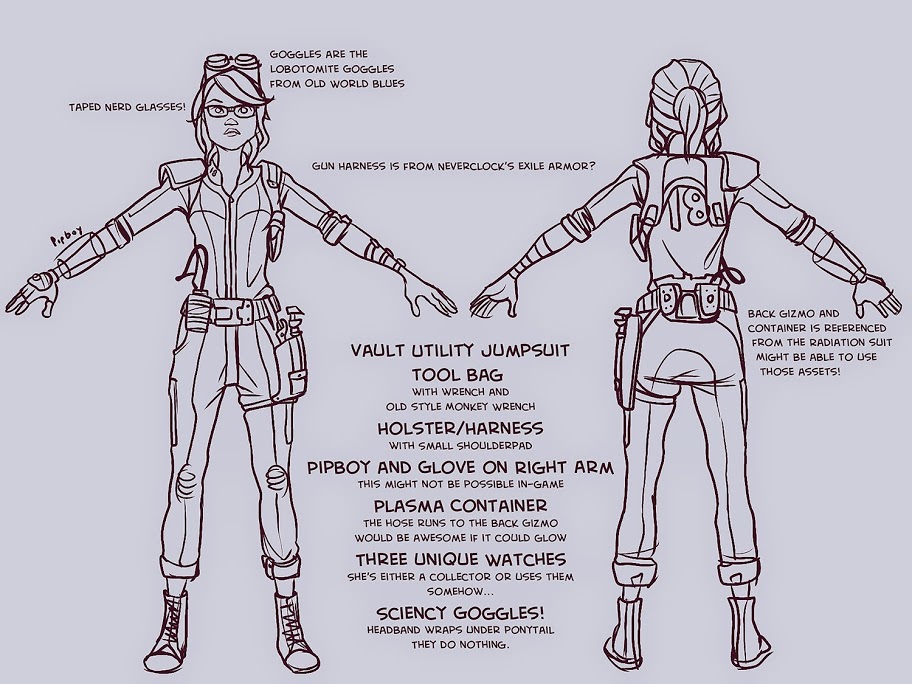 Outfit design - Tau34RUS might be making this outfit later on.
The work Gabi and Cam are making will be featured in our released game files as part of a PDF Walk-through, and on our Wikia.
Much of the art here we're going to infuse into our Loading Screens, so you'll have a very unique vibe to playing F: PB along with the existing New Vegas Content, and because the quality is so high you won't notice a difference between the mod and what you're accustomed to.
Which is also why the Pirates keep trying to sell our mod in Russia. >_ <
Modelled by Tau34RUS and rigged & weight painted by Dragbody, implemented by Thaiauxn
I'm really excited for you guys see this character above in action. Her claw attacks are flawless and really dangerous. They fit into the game exceptionally well.
What I need to do now is go back and add more of almost a Glowing One kind of texture to sell the feeling that's she's a very dangerous threat, and more of a Super Mutant than a deathclaw-human hybrid, which is what most people think when they see her. Her mutations should look a little more random and violent.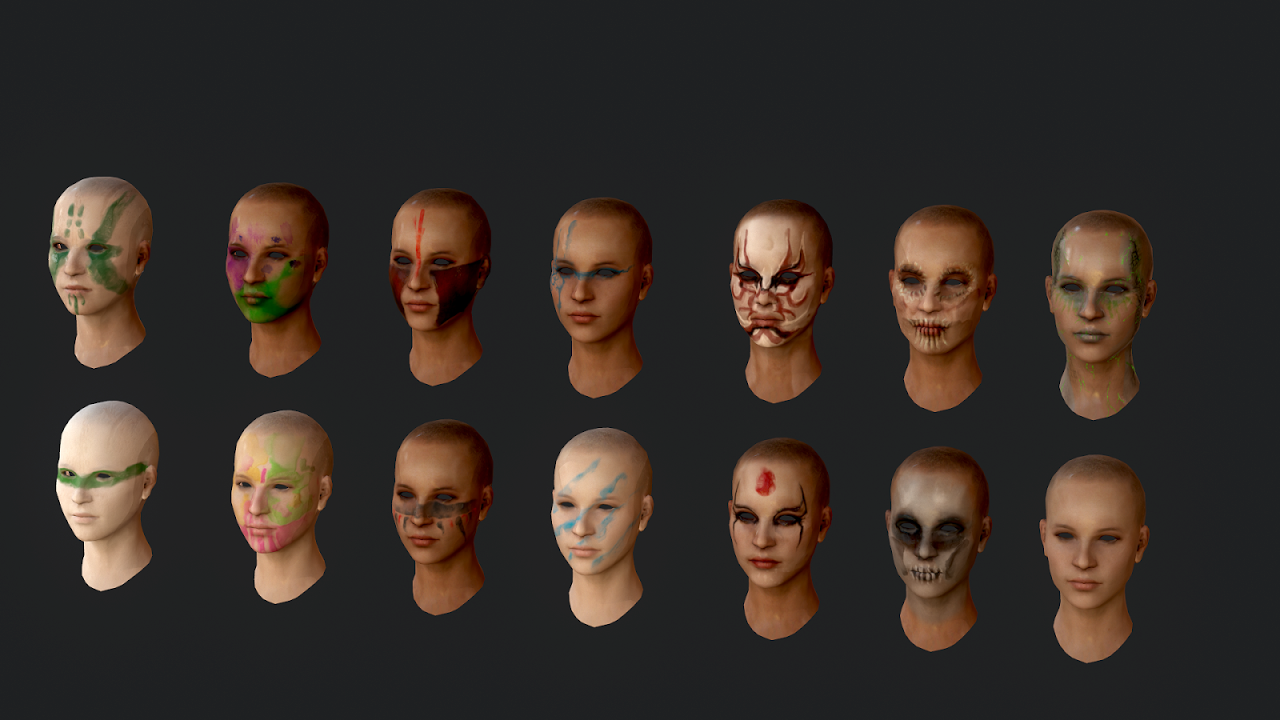 These are the Face Paints for our Raider Tribes. Originally I thought we'd use all Fallout Canon tribes, like the Vipers, Jackals, and Kahns. But while writing their dialogue I wanted to add more depth of character than simple re-hashes, and really dive into the lore's impact on our characters' daily lives and behaviour.
From Left to right:
The Vipers worship a Serpent Goddess, the avatar of death and decay, and instead of being a simple band of social rejects, they're actually a human sacrifice cult driven mad with the venom of their giant mutant snake god. The NCR killed the Viper's mascot during their "pacification" campaign, and placed its corpse in a museum in the Hub. What remains of the cult fled California and joined the Survivalists at Athens-Tec.
The Psychos are your standard young punk Raiders, high on Jet and painted with day-glow spray-paint and neon psychoactive plant juices. They are the most common low level Raiders you meet out of the Vault.
The Black Vultures are tribal warriors from Mexico that were forced into alliance with the Survivalists through slavery. Some are even remnants of the Vault tribes that produced Aradesh (Fallout 1.) Hassan leads the tribe with an honour code inspired by the same multi-cultural background that made Shady Sands such a unique place. The NCR forced them out of California and into the embrace of the Survivalists long ago.
The Vault Vikings are descended from the survivors of another Vault-Tec Experiment designed to test the effects of ancient cultures on people in isolated tribes. Trapped in a vaulted themed for a kind of renaissance festival, several factions of anachronistic tropes were forced to participate by playing roles set by the Vault Overseer. A serious group of Viking fanatics rose to the top of the Vault and eventually used their cultural practices to conquer their rulers and unleash their horde upon the wastes. This came just as the NCR swept over their Northern California home, and the long roaming Vikings resisted Pacification. Their strongest members retreated to Athens, where they joined the Survivalist Raiders there out of necessity.
The Shi were only recently forced to join the NCR, and their isolated culture forced to adapt or be driven out. The few members of the Shi who resisted were violently put down by the NCR and oppressed by the New Reno Mob Bosses. Out of that 20 year long conflict came Kieva and her Shadows, the daughter of the last remaining elite guards of the Shi Emperor. Drawing on the inspirations of the Japanese Mob that had persecuted them, and the Chinese Communist ideals of the Shi, Kieva leads her troops in a bizzare mix of contrasting cultures bred out of the turmoil she faced as a young child. They have weapons and armour found in an old museum, and the propaganda of their ancestors to guide them. Forced with the tides of war, they found their way to Athens to resist the NCR and one day restore the Shi to glory.

The Psycho Elites are another tribal warrior cult, the top tier of drugged out Raiders that were once ubiquitous across California. Taking their Raider culture to the extreme, the Elite Psychos paint a death mask across their faces to intimidate their enemies. They worship a gigantic tarantula that made its nest in a cavern nearby Athens, using its venom as a drug, and its silk to mend wounds with almost the same potency as a slow-release stim-pak. They sacrifice their enemies to the Tarantula god, who implants eggs into their brains, and painfully its offspring burst out of their heads.
The Old Guard are the Survivalists that established Athens-Tec in the first place as a means of resisting the NCR's federal government control, which they saw as a threat to their independence and freedom. Desperate for allies, their anarchy soon became host to every displaced tribe fleeing the NCR, and became a beacon for outlaws and slavers alike. Using an alliance with New Reno Mob and Hub Politicians, they have managed to keep the tax men at arm's length, but their violent Raider army has lately drawn that tense truce into a major conflict.
Finally at the end is the mutant texture for the boss-creature above, and a base texture by thecaptainhere. :D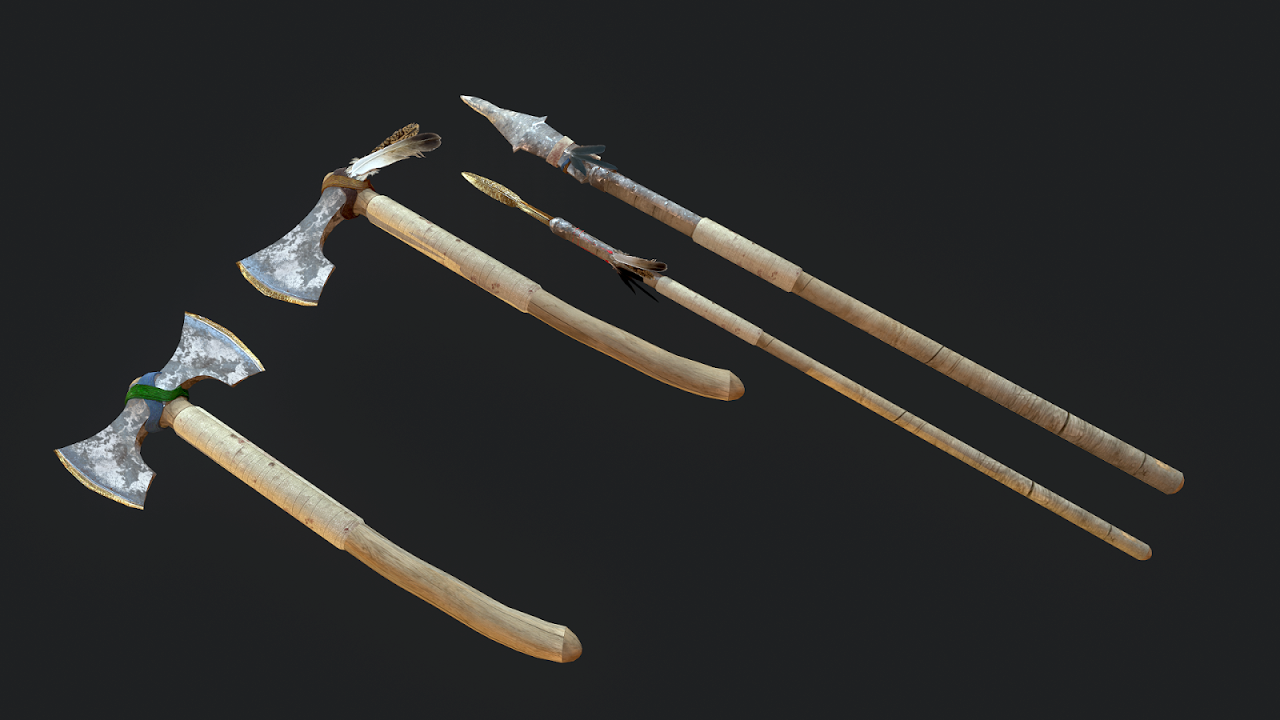 Tribal Weapons Pack
Viking Battle Axe and Tribal hand Axe
Throwing Spear
Melee Spear
Because Technology is considered sacred by the tribes, most of the Raiders will be using low-tech solutions in combat. That means lots of unarmed and melee weapons, so it will be good to see some diversity. Ammo is very scarce out in the San Bernardino Valley, so the player will probably be forced to use these quite often too.
I really wish we had a Bow, but even when talking with the guys on The Frontier team, we agreed the hassle won't be worth the bugs GECK would introduce. Maybe in Fallout 4. :p
Shi Weapons
Two beaten, rusty, salvaged museum pieces, and two pristine katanas maybe forged in New Reno.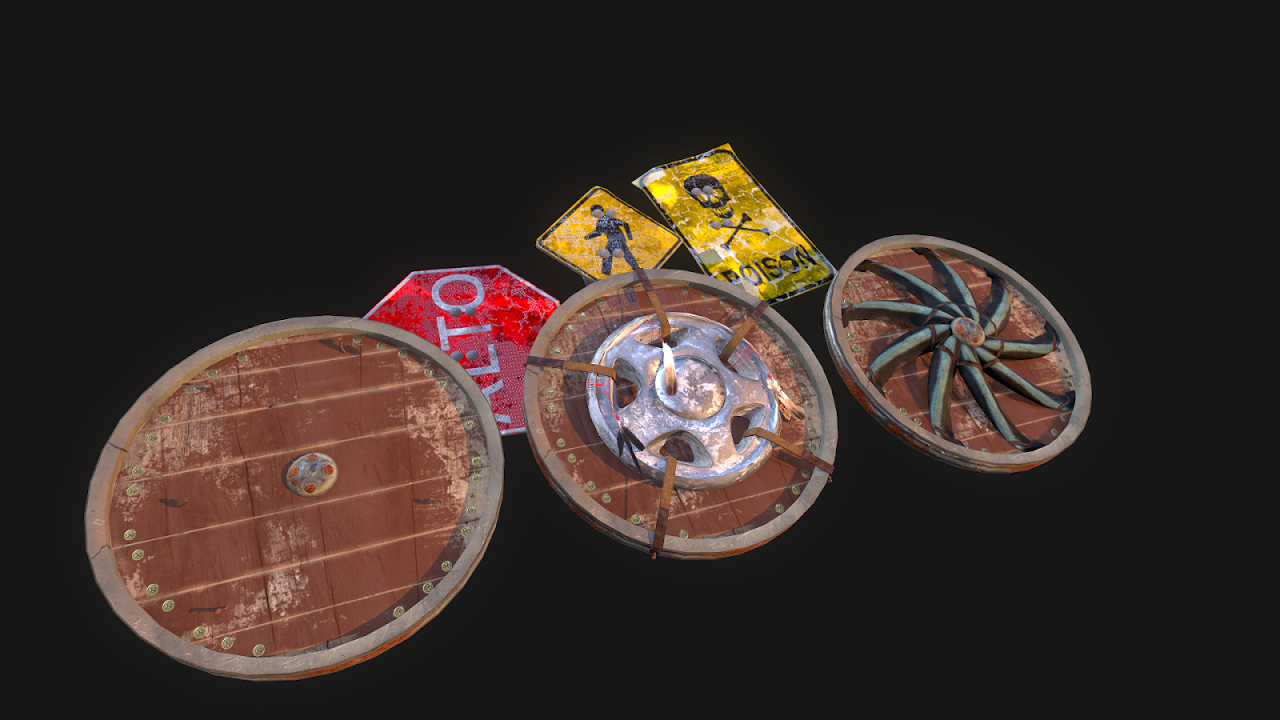 Vault Viking, Black Vultures, Psycho, and Tribal Shields
Vault 18 also has brand new hi-res textures.
In our next update I'll show all of these in game, along with the new scripts that Rick and Seddon have been working on.
You can read about our progress on the Design Documents Found Here. In the mean time, you can keep track of us on ModDB, Fallout Nexus, or Facebook. Join the fangroup. We've got a thriving online community centred around each one.
Cheers
Brandan Lee
Project Leader