Oh, lordy yes! We have a ton of great new updates for ya'll t'day. We have the new Faction Armours from Tau34RUS and I rigged by Dragbody, new wasteland flora from Vurts, new scripts ready to play from Seddon and RickerHK, and we are joined now by NafNaf1995 as a level artist on the project. We also have new art from EddibleGrenade and Weijisen. Not to mention, RJHelms from Beyond Boulder Dome is going to join us as soon as he gets re-adjusted to the antique GECK!

First up in news this month: I took a break from my job! For the next 3 months I will be off assignment and working exclusively on Fallout: Project Brazil, basically from 08:00 to 20:00 every day.
It's a crazy schedule and I'm sure my ass will be very numb by the end. I've got to finish some large 3d jobs, balance all the NPCs for combat and navmesh, then also record, cut, and edit new voice acting from almost 24 actors. So I will be very busy leading up to release. I might die. Send whiskey to my funeral.
This is not Skyrim in Fallout! It's... much more sophisticated!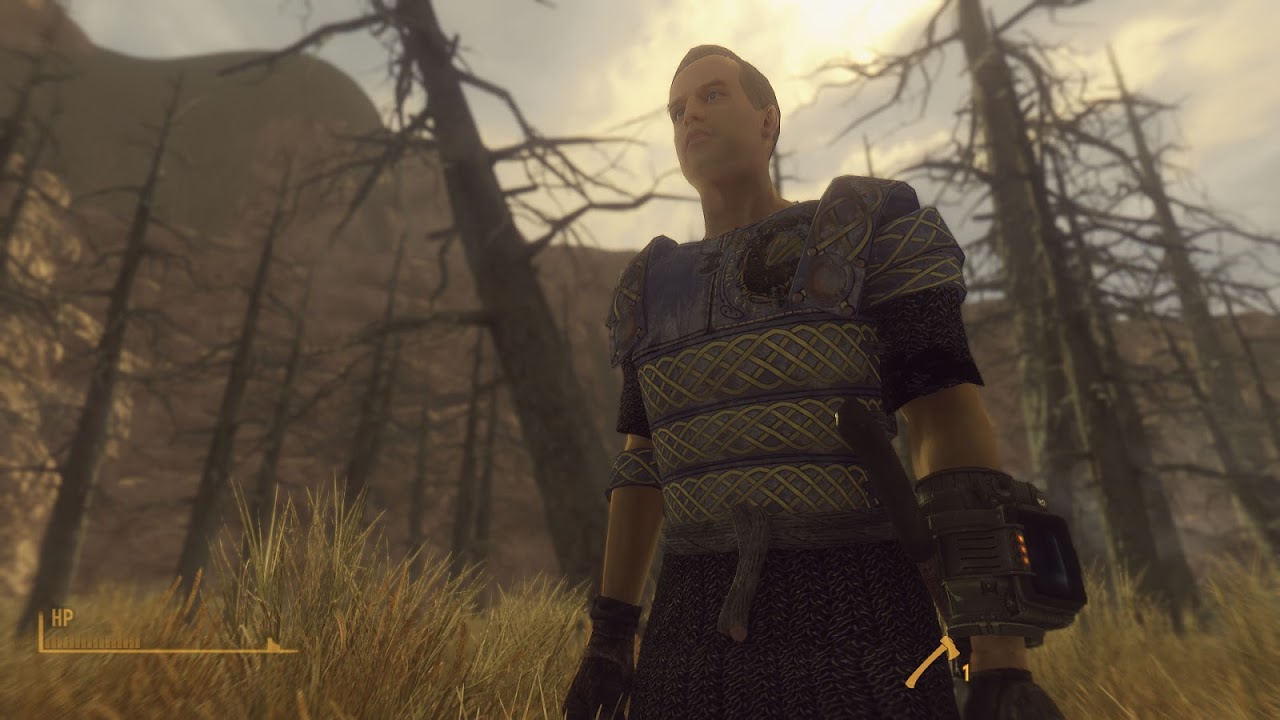 Generic Vanilla Man Starring as Vault Viking!
I've been working with Seddon and RickerHK to renovate all of our NPCs and distribute their new gear and race appearances to levelled lists. This will help us give the Raider Tribe cultures their own visibly unique feeling, so you won't just be fighting or allies with faceless mooks, unlike the NCR. The NCR are borrowing from Dargbody's trooper Overhaul to give them some new gear, but they are very much white bread on rice. Which is okay, because that's kind of their entire life philosophy.
Tribal Super Mutants!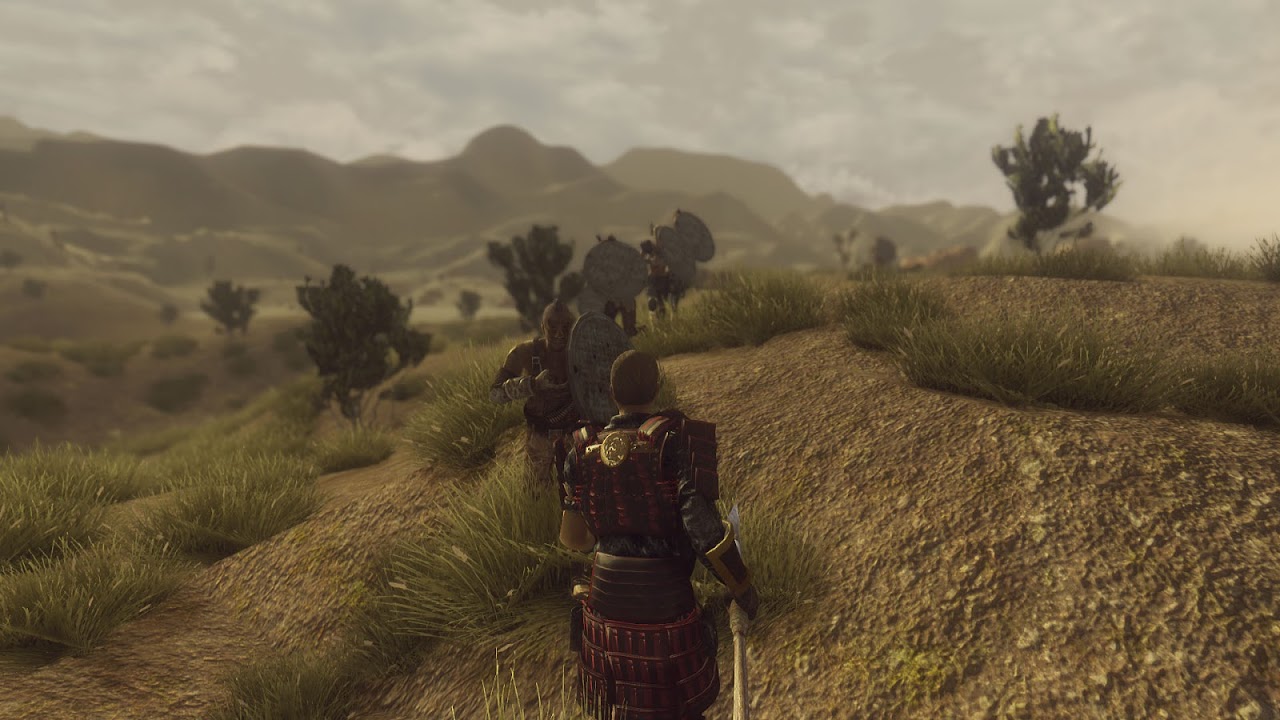 Shi armour!
Hero characters Kieva Nanjima and Jarl Coriolis in our test chamber.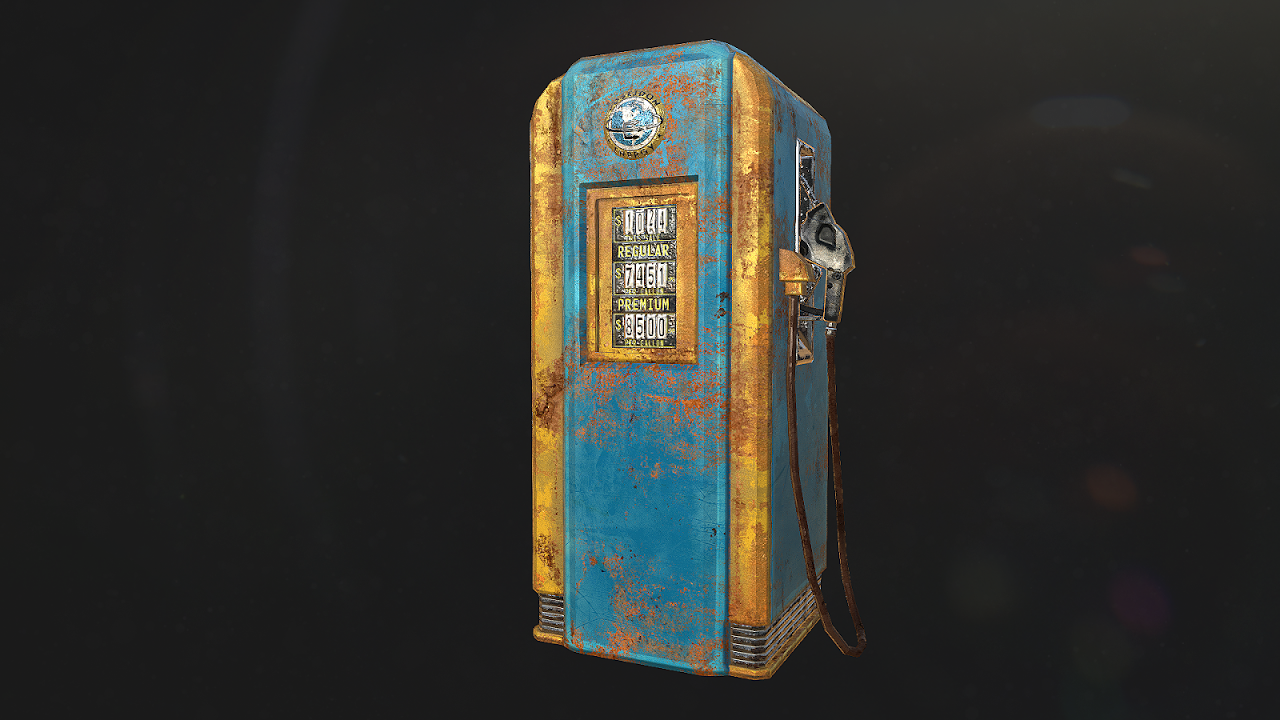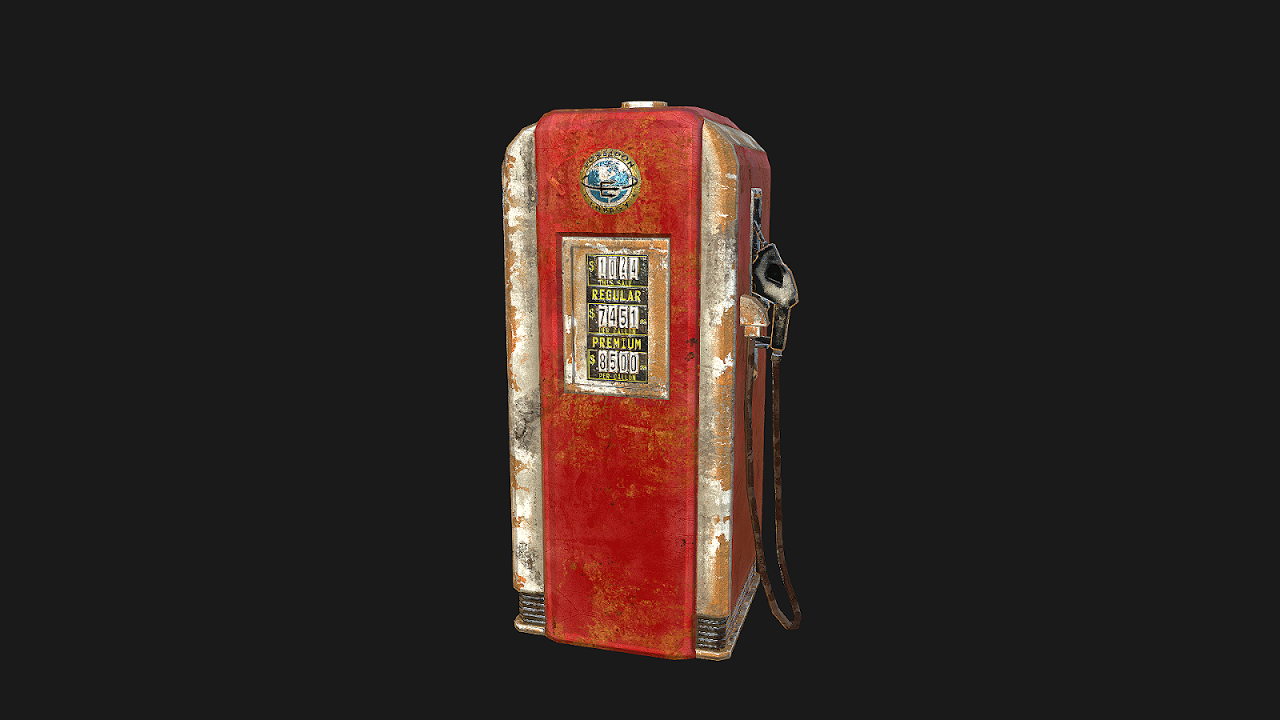 Fully modular atomic pumps with rotating sales numbers and detachable hose!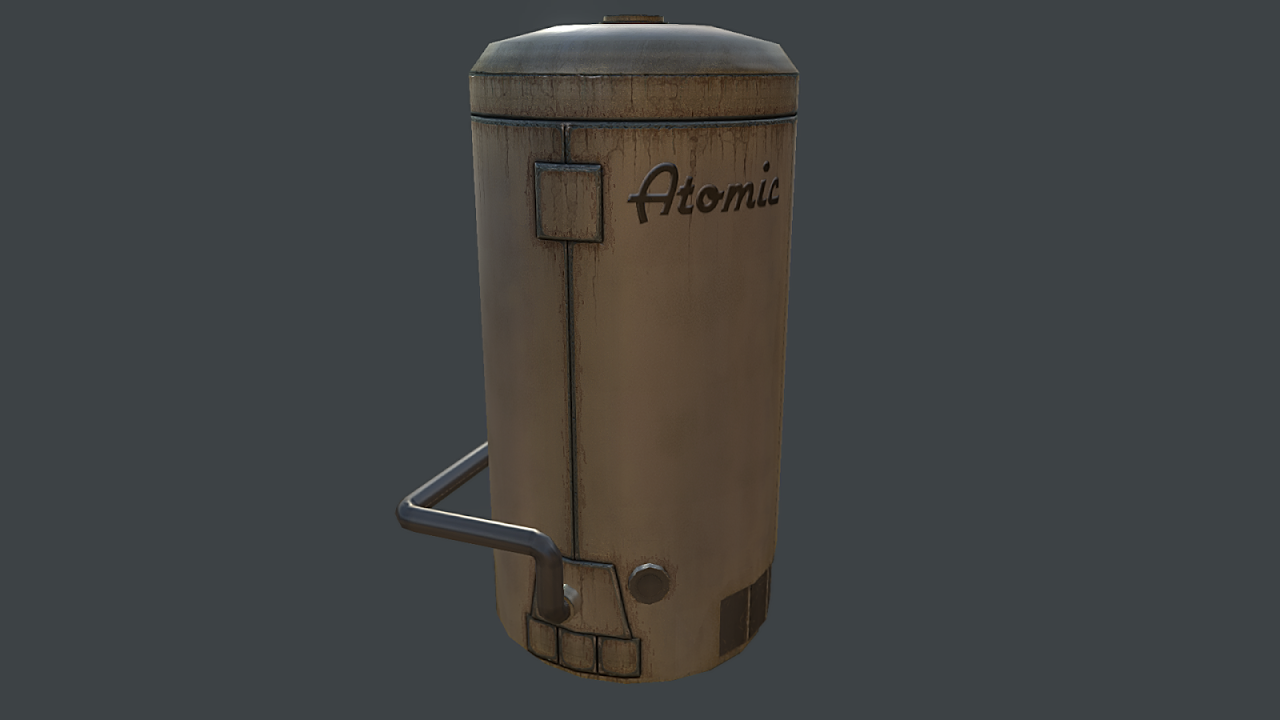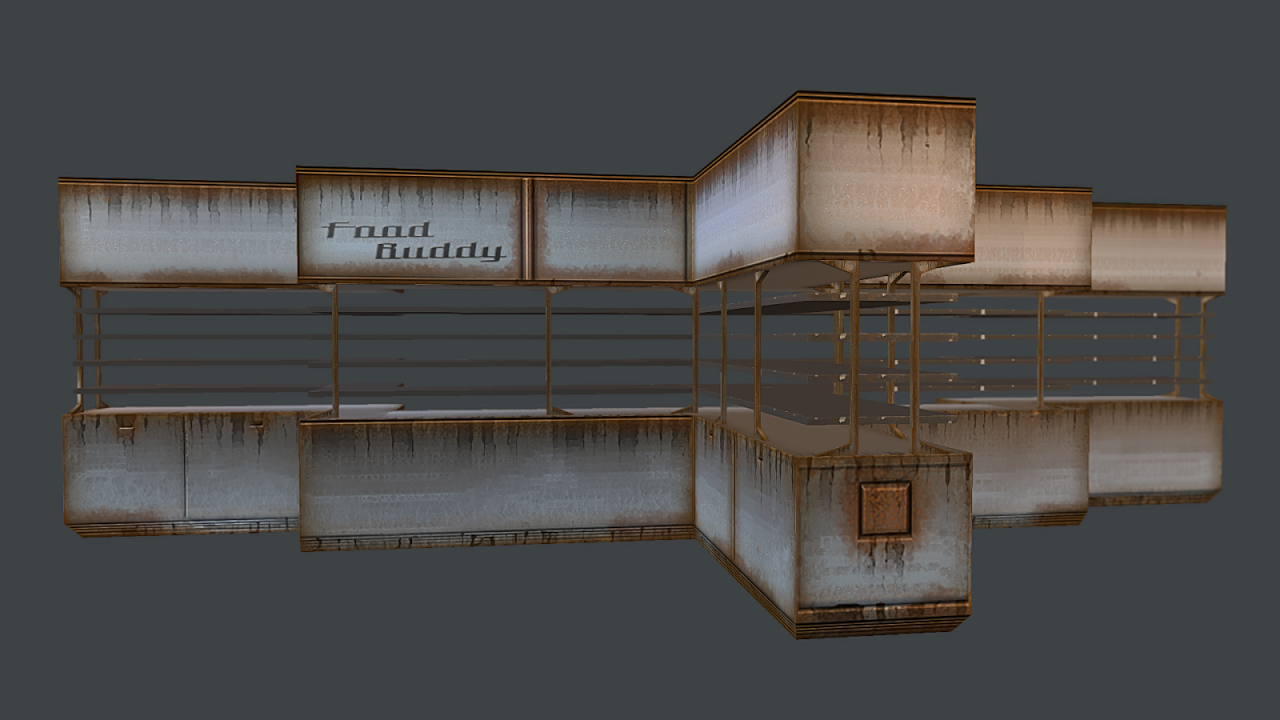 Vault-Tec Doodads!
EddibleGrenade12 on the Nexus made some really incredible Nuka machine meshes from fallout 4 and uploaded them to the site for you to play with! I spotted those looking for a modders resource to save me time making a new Gas Pump, and decided to invite him to work with us. These new Vault resources are taken from Adam Adamowicz's concept art for Fallout 3.
Since the first gas pump, we've fallen into a cool rhythm where he sends me a mesh UVed and textured, and I do a quick retex to fit our theme and add collision geometry, then add them to the GECK via nifscope. We'll release these separately from FPB too, so you can use them in your own mods. Weijisen is also making destructible version of these assets, so as you shoot them they'll decay along various stages before finally exploding.
Flora Overhaul Test Cell!
If you still recognize this road underneath the new assets, you my friend, are an addict. Seek help.
We also have Vurt's Flora Overhaul resources integrated into our files! We've used several of his incredible tree resources, but you'll have to download VFO if you want to use them in New Vegas, which we've left completely untouched so it won't disturb any of your mods over there. For our purposes you'll only need our file to get the full FPB experience.
We're transforming our forest from the burnt toast on brown look to "The Blood Woods," where crimson leaves slowly fall to the ground and the sap drips like a wounded beast.
Sounds like a far more interesting environment to explore, right? It's also a science lesson hidden in there, as Chlorophyll when bombarded with Gamma Rays turns a rust red colour. Just like the Red Forest of Chernobyl. They at first turned red, then faded to ginger brown under the bleaching effects of the sun. But that's not as exciting so we're leaving them red. I blame FEV. GHOUL TREES. Super Mutant Ghoul Trees.
I still need to make red grass textures and meshes to really sell the look. The above are just a very quick test of the new assets as they're going in and substituting old vanilla meshes. It'll look much more rich and natural after we get tonight's file merger done and we have more time to work them into the land.
At this point, if you played the 1.3.1 version of Project Brazil and felt disappointed by that 2 year old WIP -- yeah, I was too. I HATED it. Now at the very least the world will be totally transformed and virtually unrecognisable from that shite old version, so you can mend that broken heart. :)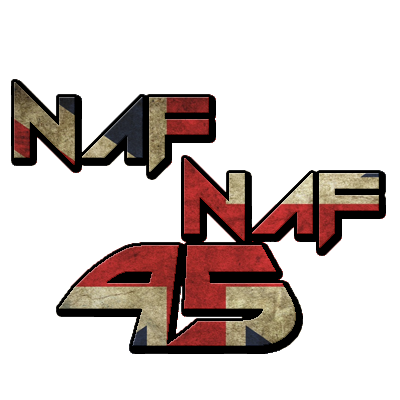 NafNaf1995 has joined us from Beyond Skyrim to help renovate our ancient and dilapidated wastes!
Just about every other day you can catch Naf on his twitch stream as he mods our mod and transforms the old stand-in places from my 5 year old hackjob kitbashings to the newly renovated feel.
So far he's helped transform Union City into a place worth exploring, boosted the exterior of fort Daggerpoint, and established a new route to escape the Raiders if you get caught and want to bail on that storyline early on at Athens-Tec mine. That, along with several other changes to the wastes. Together we'll be using the new Vurts resources to redo the forest area that is currently quite shite and give you a much more pleasant experience on your way out into the deserts that I've previously renovated in our last news post.
Athens-Tec Mine has been renovated to use nearly 130 fewer assets, freeing up several megabytes of ram and hopefully preventing crashes in a very heavy scene. If you compare this area with Megaton in Fallout 3, the home of the Raider Alliance is 5x the size and contains 3x the NPCs. It also sprawls over several kilometres beyond the mine, and is deep in Raider territory. Naf really saved us with his renovations, since most of those old placements hadn't been touched since we ported from fallout 3 a looong time ago.

Speaking of Athens-Tec, Seddon has just finished up his quests that start the major Raider branch of our story in this area, titled "Hell's Gate."
Between Rick and Seddon we're currently waging war on Main Quest 02 on both the Raider and NCR side of the parallel plot line, which already has a ton of progress already cemented in and ready to play. Those events just need to be stitched together along the main narrative arc, which is what we'll be doing through the end of August.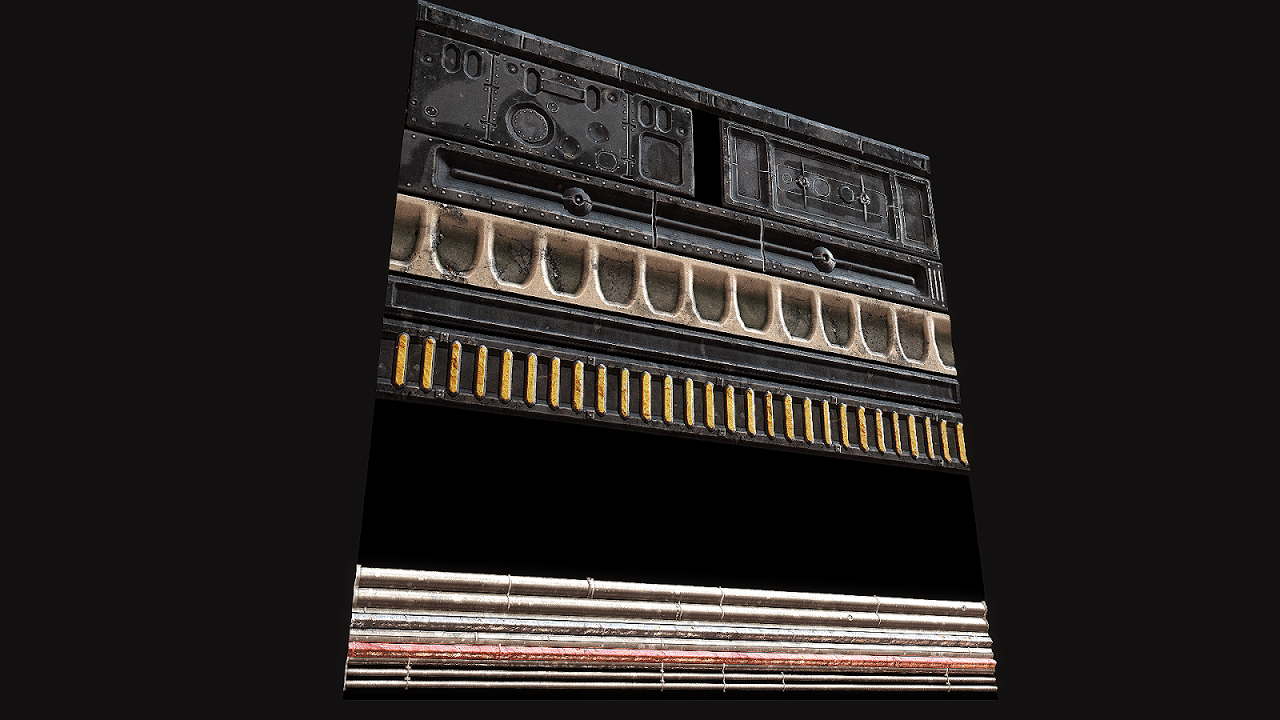 Last up on our list is my work in Vault 18.
Not only have I completely remade the ancient Fallout 3 Vault Textures, I've upgraded them from 512 to 2048 resolution. Most re-textures just enlarge the existing materials and toss a sharpen filter over it with some top coat details. I actually went back and sculpted brand new normals and masks, completely redoing the texture from scratch to look the same, but have a radically higher resolution and quality of art. That is too much to use in New Vegas, but on, say, Fallout 4, these new PBR textures would fit in seamlessly, and they'd be legal to use because they are fully new assets.
That process has taken several of the last few months as I toil over the master work of completely rebuilding all of Vault 18 from the ground up.
The above is a screen-shot of my 3dsmax progress from last week. I'll keep this one close to the chest until we are officially ready to release sometime before Fallout 4 does.
That's right. All of Vault 18 is getting a makeover. No more slowdowns in the Atrium, no more getting lost and wandering identical corridors looking fr a quest marker hidden a level above or below you. No, this is a whole new level. No vanilla assets required.
The scripts, the story, and the content will be identical if you played 1.3.1, with the addition of only 1 new NPC and some remastered voice files. But the level layout is completely new and worth exploring again, even if you played 1.3.1 six times.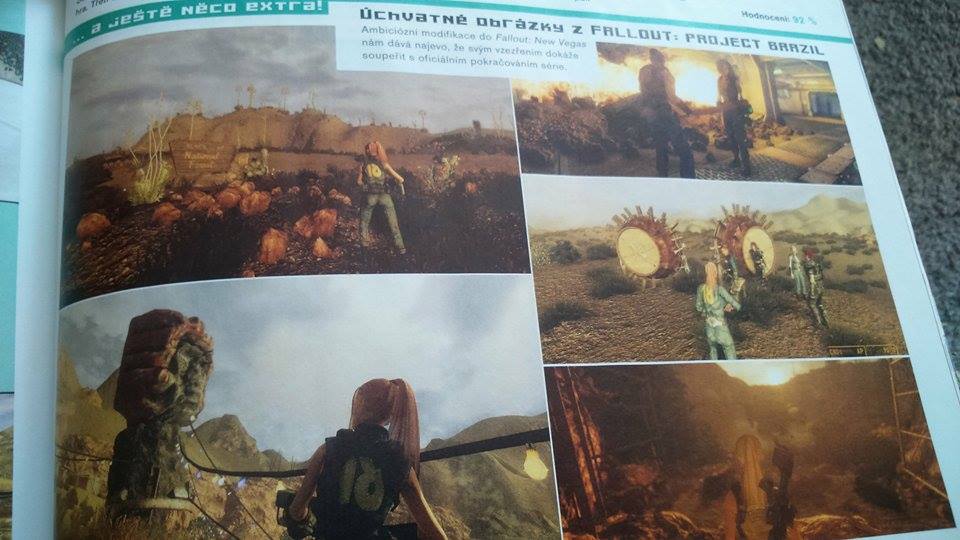 Also, if you happen across a magazine article, like our fan Rasta did in the Czech Republic, go ahead and post it to our facebook! We keep showing up in the Gaming News and nobody tells us before I get a google alert. :p
You can read more about our progress on the Design Documents Found Here. In the mean time, you can keep track of us on ModDB, Fallout Nexus, or Facebook. We've got a thriving online community centred around each one.
Cheers
Brandan Lee
Project Leader