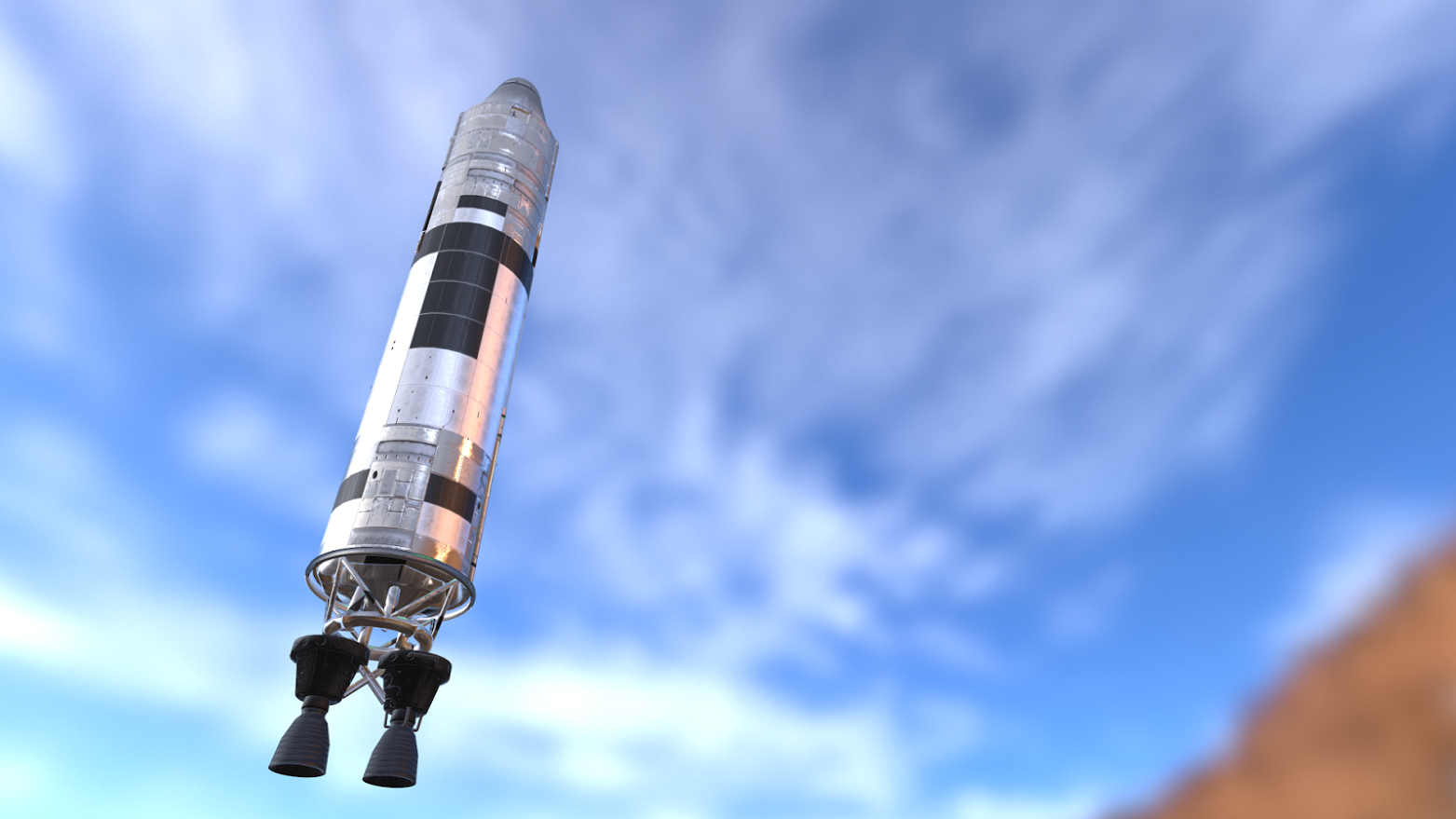 If you have been following our Facebook page at all this year, you've seen the last 4 months have been very productive. Tau34RUS and Dragbody have worked on our Character Meshes, I've built some environment art assets, all while RickerHK, Seddon, and Richard have hammered away at our quest scripts.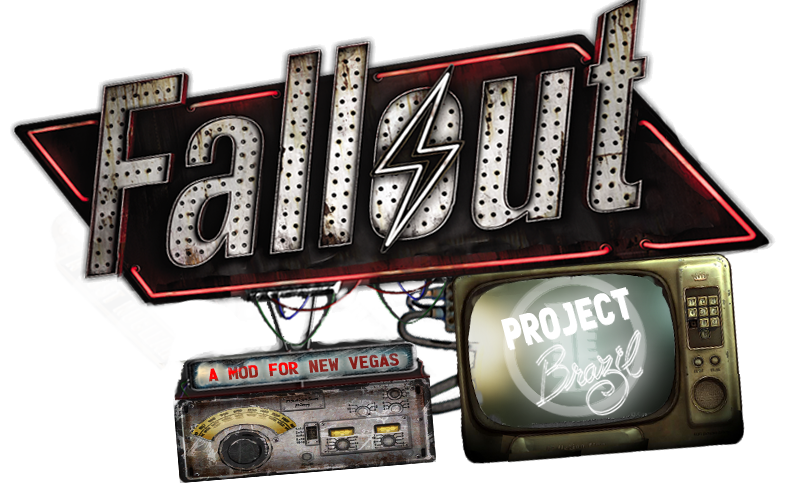 Our friend Benedikt made us a Wikia, which covers the first instalment, here. If you'd like to contribute, feel free to sign up and help refine some of the quest guides and characters! Benedikt did this all by himself out of the blue, so give the man a hand. :)
With some of the more extreme content having been cut, we're looking at much smoother sailing going forward for a release this year. 2014 was really a dead year for us since every crisis you can think of came up. For a volunteer project you can imagine that it's not good for morale to have this giant brick ton of work over your head at the same time as family being in hospital, or you're ill, or your day job is killing you.
But in January a new resolve kicked in, and we've been making steady progress.
Rick's A NIGHT IN PINEHAVEN script has been a killer since the end of 2013 when we first started the 2nd Instalment. It takes all the variables established in Vault 18 and brings them to the final conclusion in the wasteland. All the player's relationships reach a head in various termination points here at the Summit House, along with their major plot decisions.
As you can see from the chart, that's a lot of conditions to check! The Enclave path was the easy one - it's the thread that quickly ends, because the only companions willing to follow the Enclave player are Johnny and Ben, whose morals are aligned to neutral and evil, and they don't have much of an opinion about each other.
Things get much more complicated if the player chose to take all the companions from Vault 18. All 6 of them. At the same time...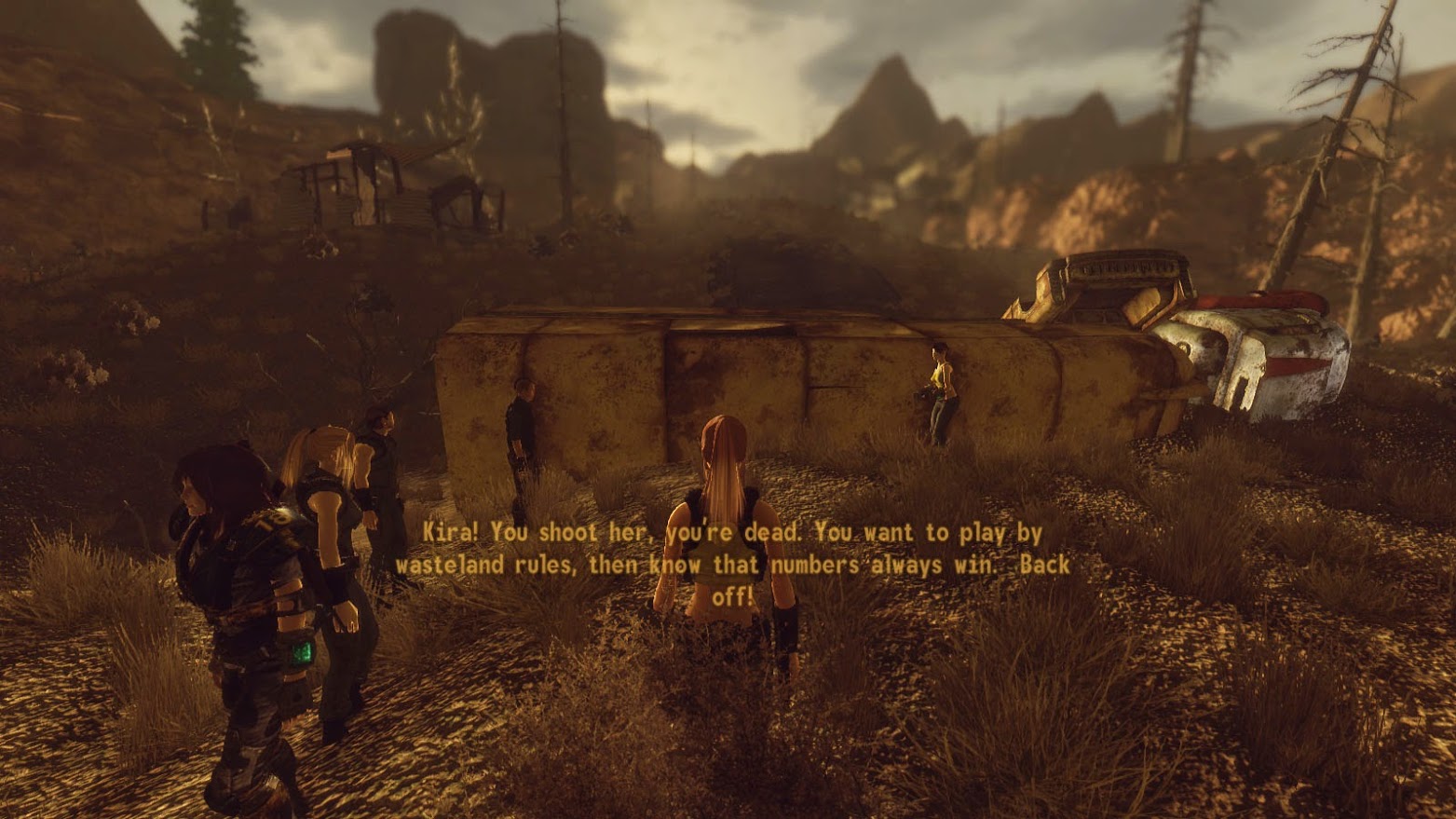 The companions' personalities don't all mix well, and a fight quickly breaks out. Playing out over a series of in-game scripted conversations, they fight over who should lead and whether they should stick together at all. Ben gives the player advise on what to do: fire a shot off into the ceiling and give a powerful speech to stop the fight and talk them down or watch the events unfold.
Fallout was never meant to handle multi-person conversations, so we had to invent a workaround. The Companions all turn towards the player, and a "talking activator," floating invisibly in the middle of the room, will force greet the player after they fire a shot into the ceiling.
After your speech, your companions settle in for the night. You can talk to them one by one and get their story, then go to bed yourself to sleep off the Battle Fatigue Condition. After all, you almost died several times, and never got a good night's sleep after the big game. You're exhausted!
After everyone is settled in, and you're rested up, you awake to a new world. Free to roam the wasteland with your band of ex-Vault Dwellers you're soon faced with what to do next: Join the Raiders, or Join the NCR.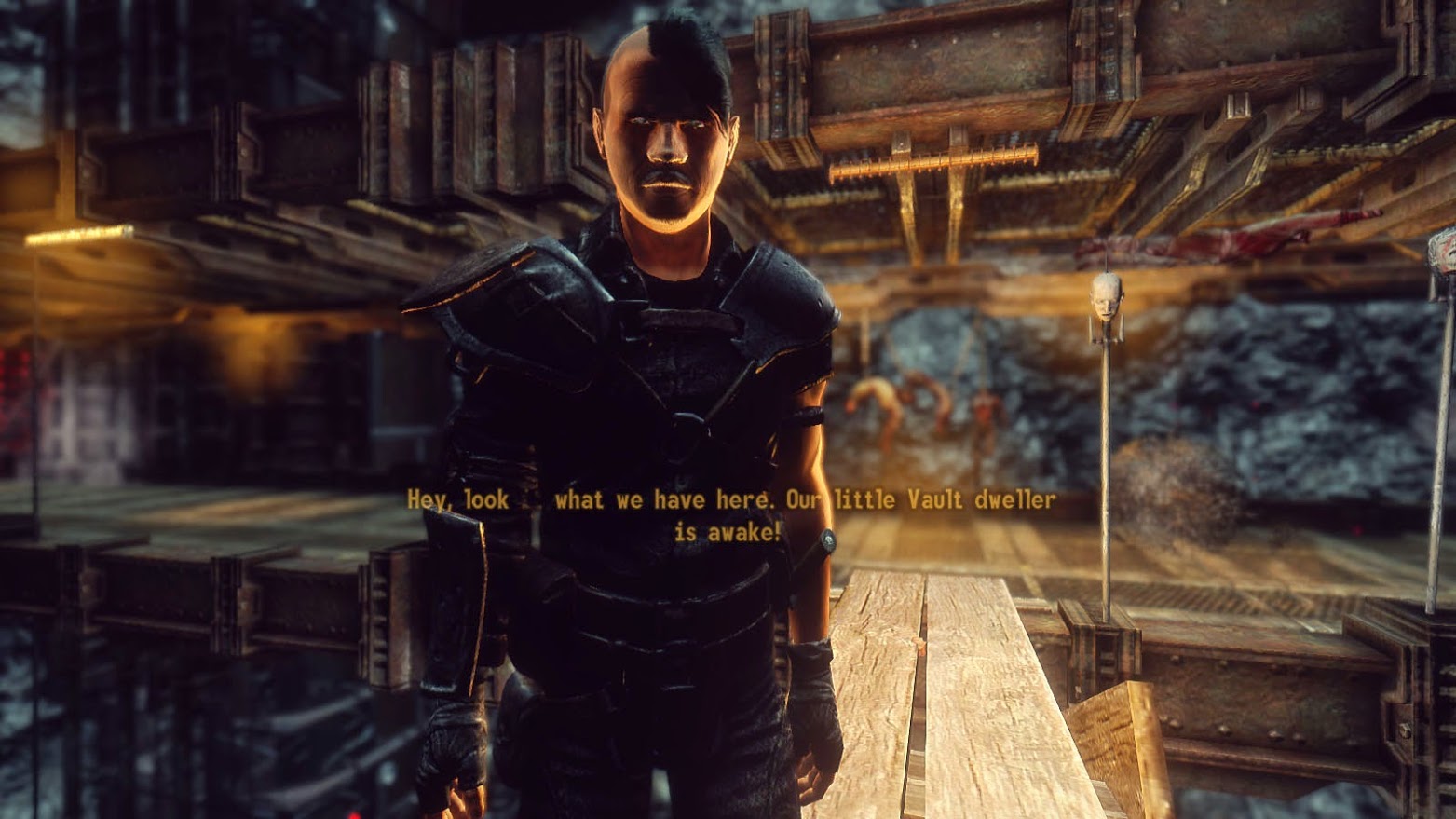 Joining the Survivalist Raiders is easy - just get captured at one of any of our handy ambush locations in their territory! You'll be confronted with Boss Elsdragon, and interrogated before getting sent on a little mission to prove your worth to him.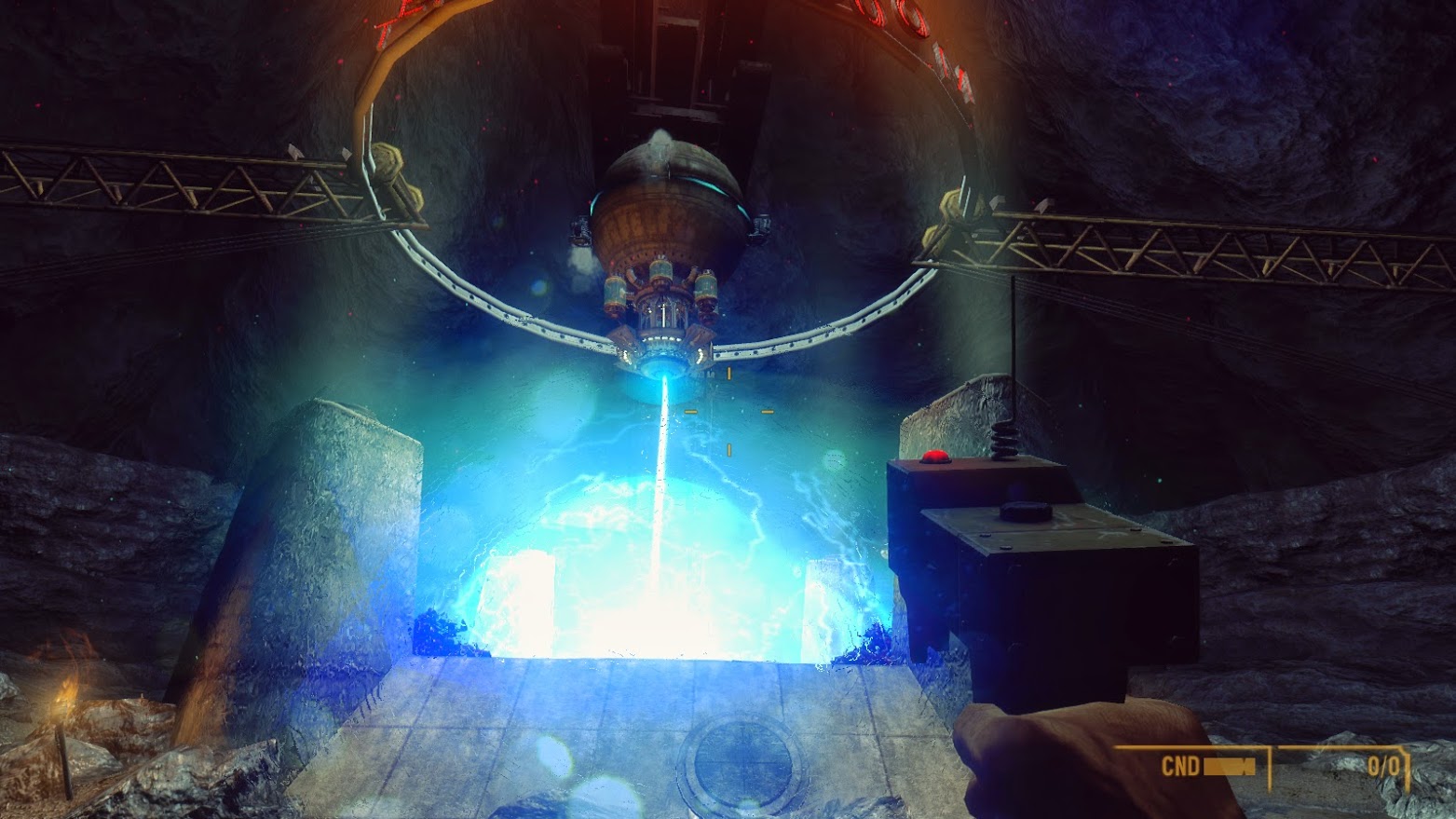 Part of that mission has you fight a Behemoth with your Science Wizardry... or with a shield and spear, if you're not into that whole electronics thing. :D
Weijiesen from the totally awesome mod, "The Frontier" and EVE, let us borrow some of his visual effects for this quest, and Matthew Seddon scripted the event triggers for Mandrake the Nightkin, and the D-00M laser. It is way cooler in motion, trust me. KABLAM!

Also, Seddon is now aboard our team, helping us script our Quests into reality. :D So far he's really proven himself very expedient and highly adept at solving problems, following the designs with a good amount of creativity. He's an excellent scripter and we're proud to have him.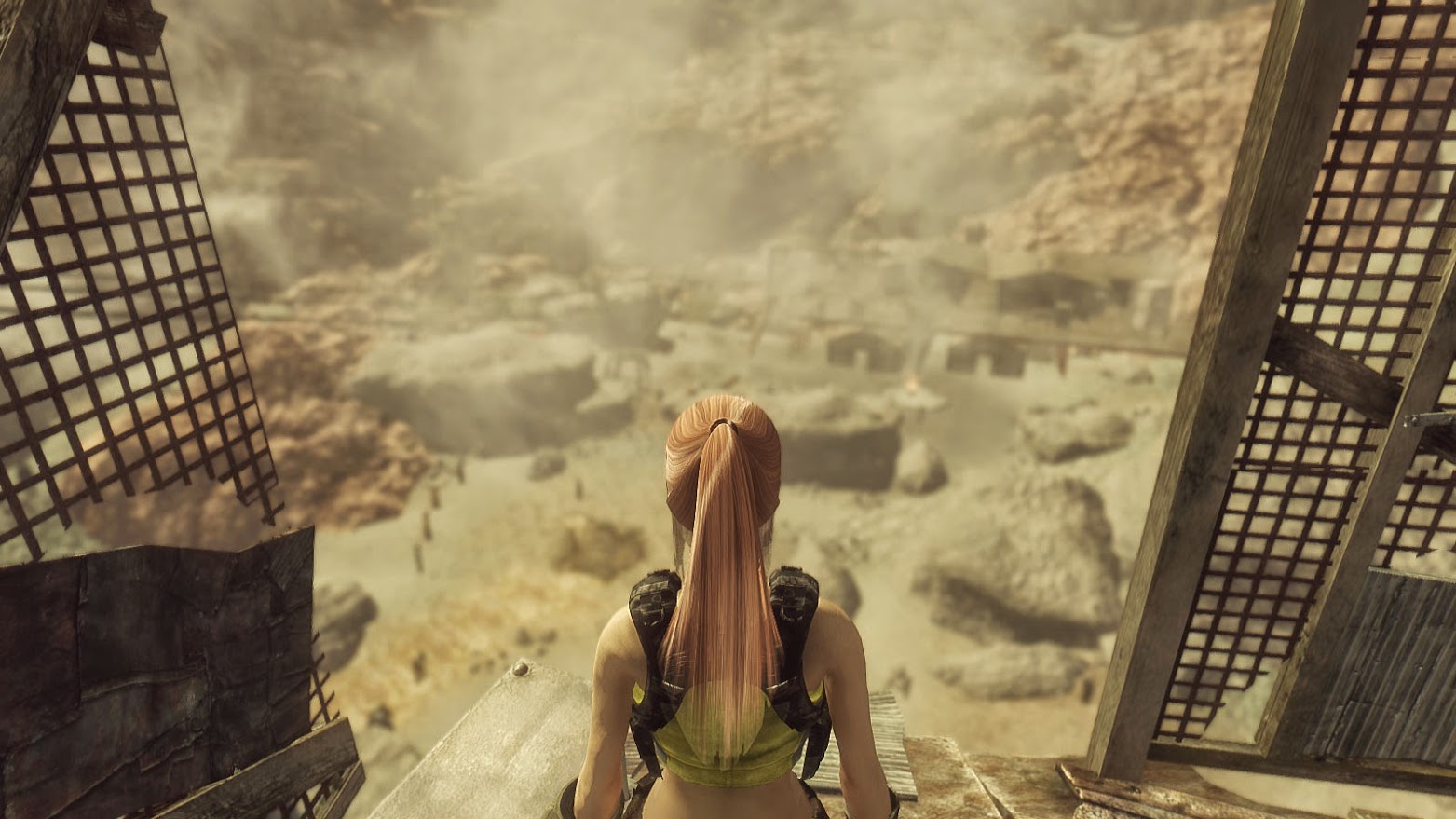 The Raider Quest Line will take you to some amazing locations, and require a morally grey (or black) approach to the story. The NCR will be more your speed for a character that wants to be pleasant and charitable.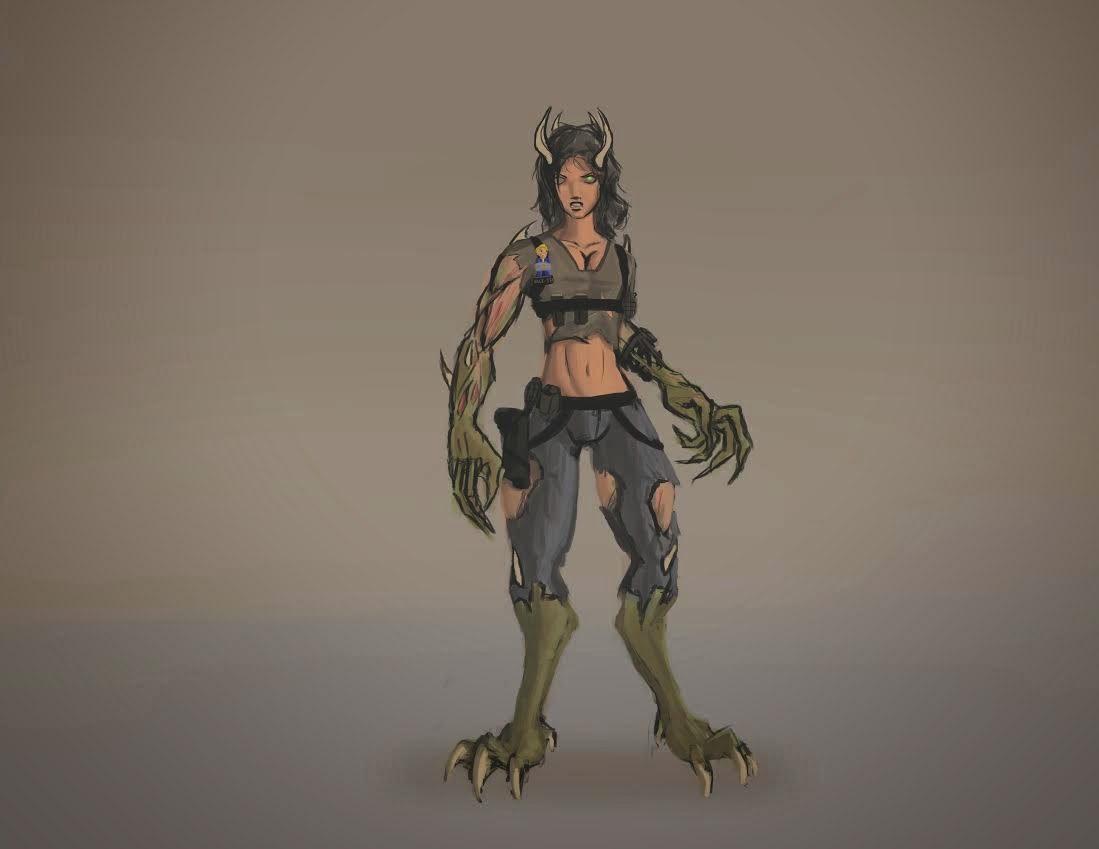 We also have some concept art by my good friend and artist here in Tucson Eddy Marrano for one of our most anticipated characters that was hinted at in the first instalment. Even revealing her name is a spoiler. :D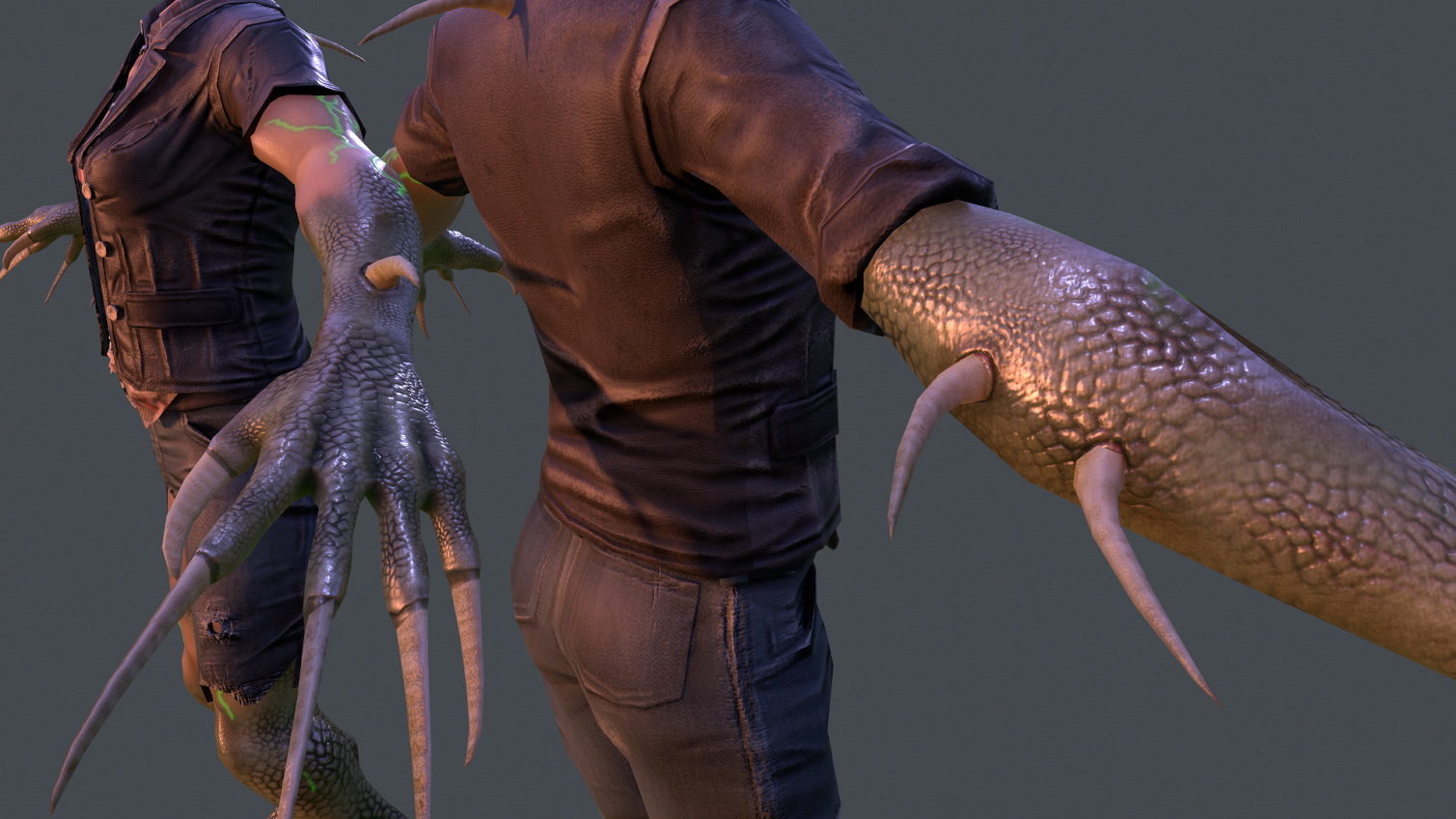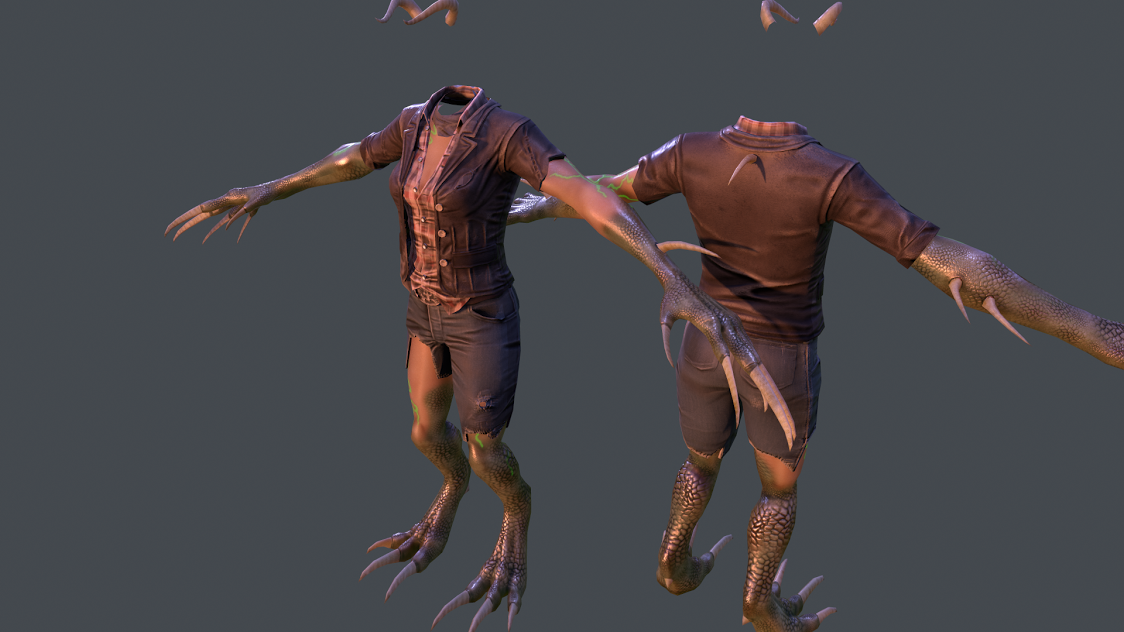 We also have the 3D art for her BEAST MODE transformation phase, which you will encounter if you make certain fateful decisions at the end of the game.
Tau34RUS and Dragbody have been working on modelling and rigging her. She'll be a very unique and dangerous character, with another rich quest to follow surrounding her appearance in the game.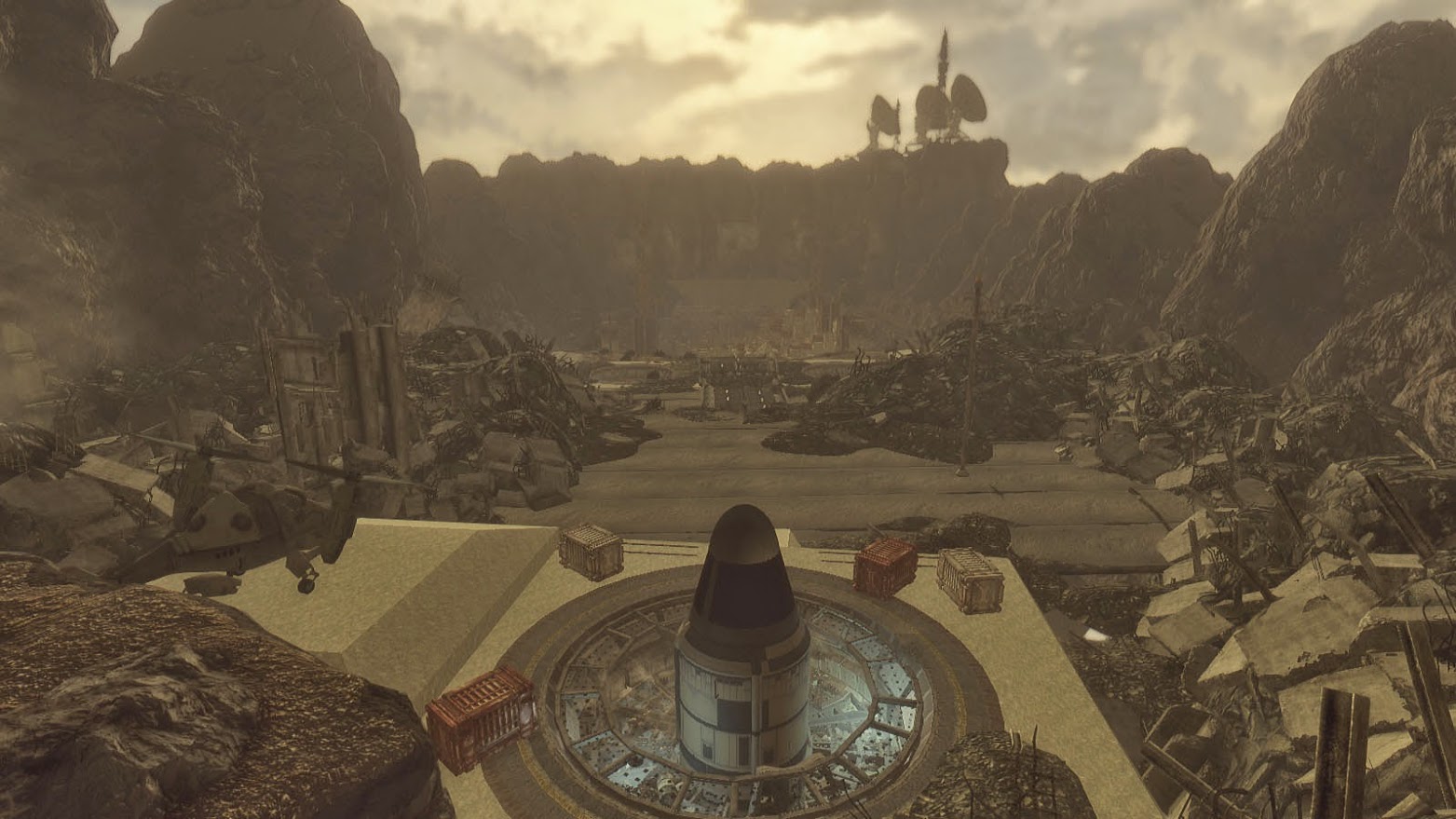 Speaking of the end of the game: Here is the final level of Project Brazil, where the last boss will play out. Your spiky new friend above will also be here, along with some surprise guests you may already know.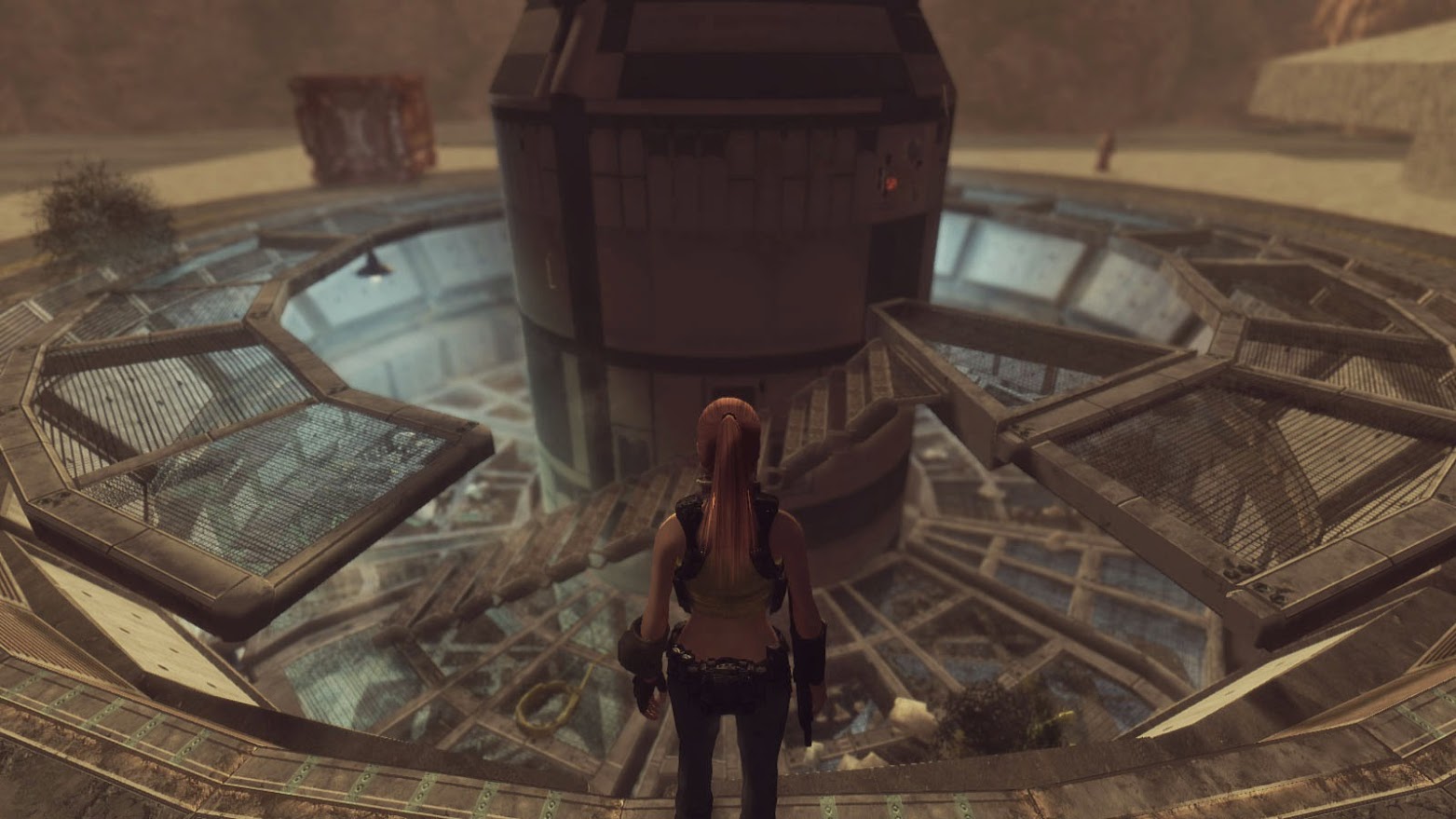 It took me about 3 weeks to build this missile silo. It's all on two texture sheets, one for the missile, one for the silo, so it is highly modular and remarkably easy on performance, even with an ENB and full resolution running on a last-gen machine. Tau34RUS made the control panel and the Engine's normals maps, I made the rest. Together we made a really successful model.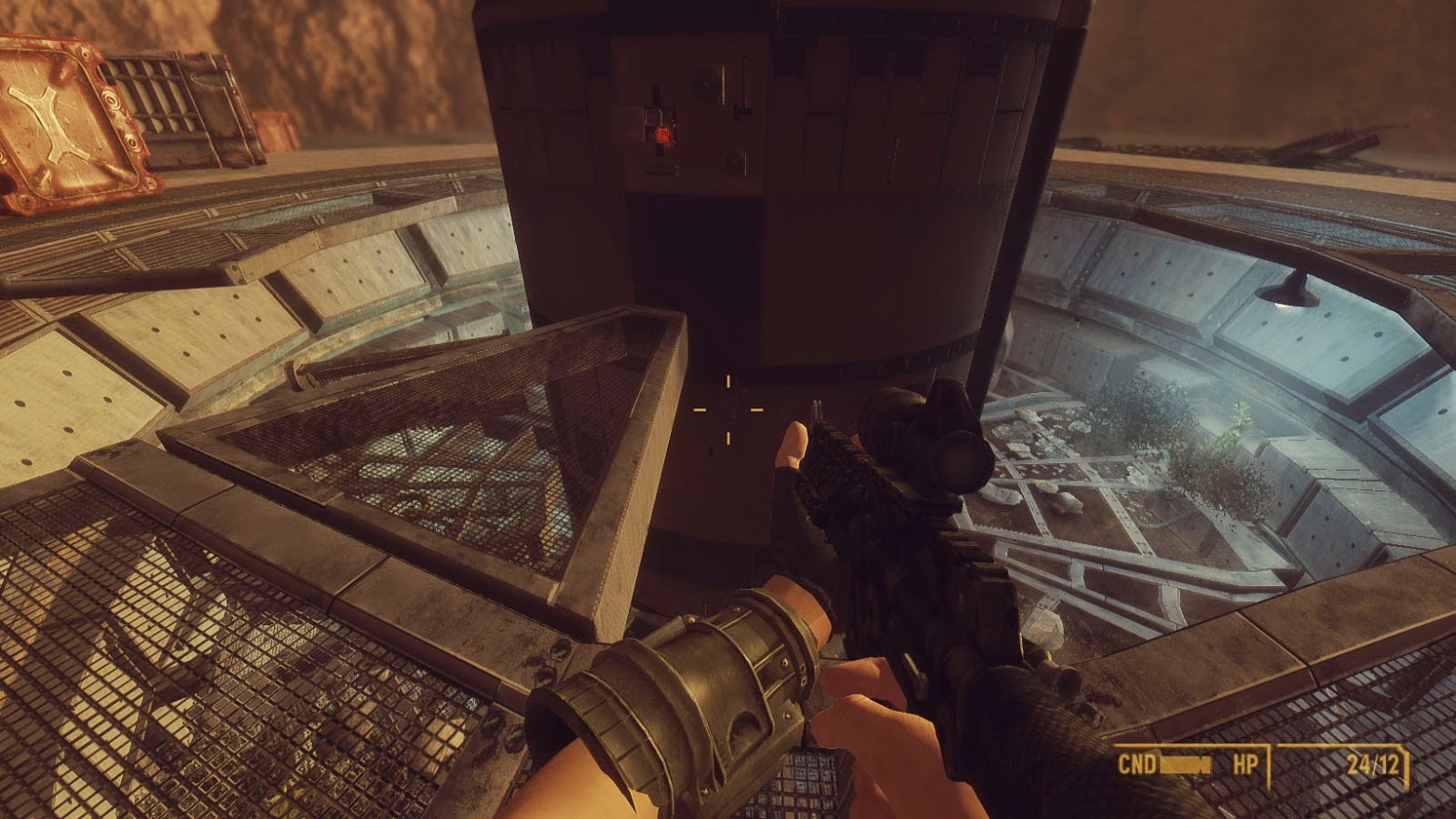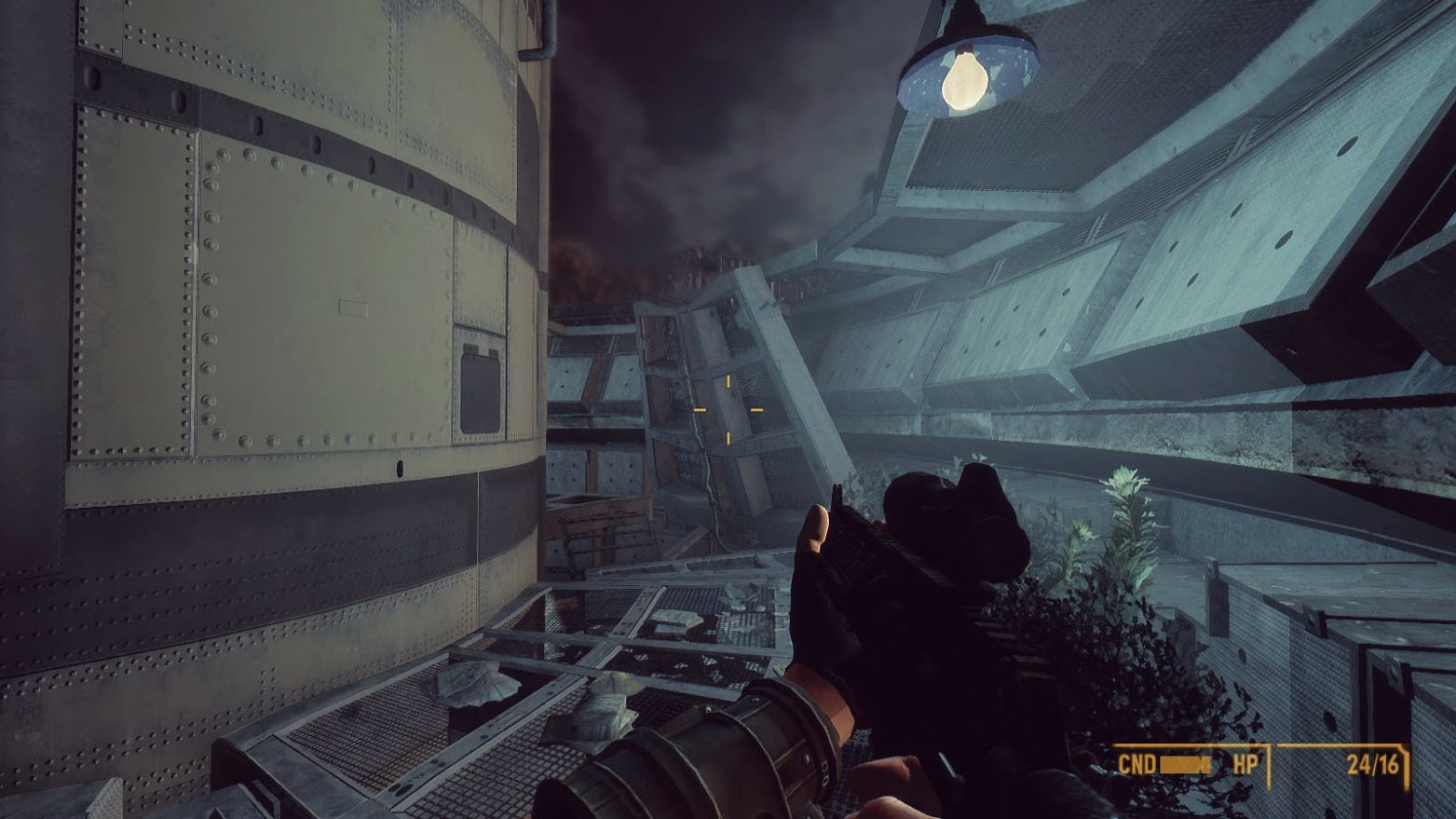 Your goal in this level is to defeat a character that resurrects every 10-30 seconds. The only way to kill them is with sustained heat, hot enough to fully vaporize them down to the cellular level. What better way to do that than with the heat of a launching ICBM?
My only gripe about this area is the texture for the missile. Even using the amazing RUBY ENB, the specular reflectance on the missile still reads as a diffuse. It's flat and muted. That's just a sign of where modern games are versus the elderly fallout Gamebryo engine. Hopefully with Fallout 4, I can make a quick mod for their new engine and utilize the PBR textures I made for it. :)
You can read about our progress on the Design Documents Found Here. In the mean time, you can keep track of us on ModDB, Fallout Nexus, or Facebook. We've got a thriving online community centred around each one. Also feel free to join the Fallout fan group.
Cheers
Brandan Lee
Project Leader