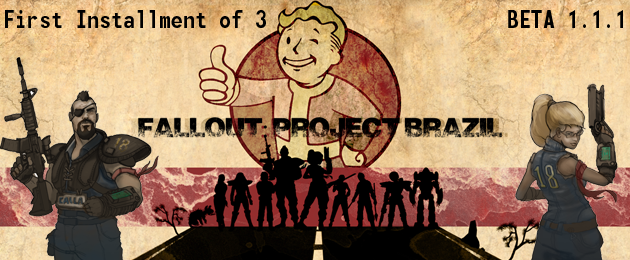 Fallout: Project Brazil BETA 1 has been out now for 3 weeks, and we have a 4th and final patch coming out that addresses so many issues that we'll have a hard time posting them all.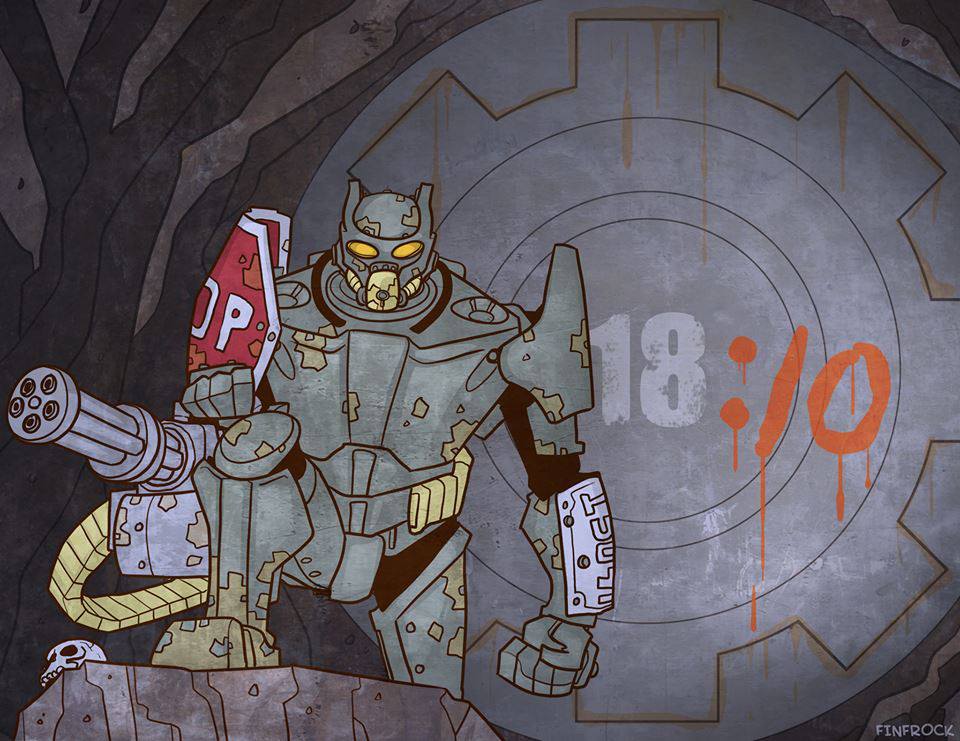 We even got a little fan art this week by way of Justin Morgan on our facebook. He'd commissioned a piece from Zac Zinfrock of Nuka Break for another project that was never started, and recycled it by giving it to us. No idea what the :10 is for after the 18, but it's still pretty damn cool!
We're now just 10 days from the start date on Programming for the 2nd Installment. We're still looking for a second programmer to assist us in laying the ground work for the story's 15 Main Quests, which are shared between multiple branches of the story. RickerHK and I are tackling the first 2 quests outside the Vault, which transition into the Survivalist Raider and NCR plot lines. We'll then pound away at the Raiders til they are done.
We also have 6 Companions to account for, which are just as densely packed as they were in the First Installment, if not more so. Now that they are free to follow the player, their Individual Side Quests go towards filling in the time between Main Quest Objectives. Some of them have totally opposite paths to explore if the player received a Bad End in Vault 18, and they react to the changing Main Quest in dynamic ways.
This all amounts to a lot of work for just 3 people on the team, with occasional support from 2 more community members. It's an extremely refined vision of the story, as essential and bare bones as we can get. We need the second programmer to tackle the NCR plot line and Super Mutants, which borrow heavily from the modular architecture of each quest, so we need someone capable of learning what we're doing easily and quickly that has GECK experience.
For that, I've released our design documents onto the web for everyone to read. In our Task List you'll see under Quest Design Documents hotlinks to every quest in our Google Docs. This way, prospective programmers in the GECK community can see what we're doing and how well planned out it is, with the very file names and scripts outlined and formatted already. Hopefully this goes a long way to helping us net our unicorn, but at the very least, it opens our development to the fans, who can read the story in its dry-dock and get a sense of what we're doing.
If we are unable to secure a second programmer in the next several months, we'll have to trim the story down to just one linear path. That's way less fun than what we have, but at least it will be done and we can release "something." So, if you know anyone with experience and dedication, send them a note and let them know we're looking. I'm willing to make deal to ensure it happens.
This has been one of the biggest boons to our mod so far, a strong opening video. We're very proud of it and the jaw dropping effect it produces. I (Brandan Lee - Thaiauxn) work in visual effects for a living when I'm not acting as an Assistant Camera or Camera Operator. I also produce and write, making me one of those weird people that works 90 hours a week and seemingly never sleep. Ha. So, it just made sense that we would have to showcase our animation talents at the start of the big project with our online friends.
Kaz and I worked really well together on this project, taking about 1 week all together to produce in between day jobs and life events. We've got another concept on the drawing board that we'll be taking a closer look at this fall as a result of this successful partnership.
The old first draft got a ton of attention, even being reported on by PC Gamer, Obsidian, and Bethesda themselves, but it was really just my "this is how I want this to look" thing that I made literally in an afternoon sitting on the floor with a 200$ laptop. You can tell that the official release copy shows a marked improvement from the Pre-Alpha copy, which we used to set the tone for development and give us a sense of overall direction during our creative phase. The new computer tower helped, too.
Ben Britton ("The_Yellow_Dart") sent me a note while we were still hard at work on the First Installment, and I instantly heard in his voice our narrator for the NCR radio station. I'd had a concept and written the dialog, but hadn't found an actor for it yet. So, I decided to have him take a shot, and he delivered this brilliant work of art in just two sessions. He's the only actor we're picked up from online so far, and the only one I trust to get it right on the first shot without directing him in person. Really awesome dude.
NPRR was originally drafted when we had the date set at 2270, but we later adjusted it to fit the lore a little tighter in 2260, so there are a few inconsistencies we'll have to work out for BETA 2. We knew all along that we wanted our radio stations to really have a thread of social commentary not just on the lore, but on real life. I listen to National Public Radio all the time, and love the programming, so I came up with an NCR radio station trying to mimic a pre-war radio station like NPR, using the old recordings they discovered in the run down studio to influence how they would make people feel like the Republic is working to restore the future by referencing the past.
This goes a very long way to establish the NCR as a functional government entity with an infant Broadcast level of technology that's just barely managing to get by on minimal resources, and still relying on pre-war technology to promote their efforts. NCRR helps give a face to the faceless NCR, and develop the faction as an organization even when the player has no direct interaction with their NPCs.
Our counter to the NCR's posh and official sounding 40s and 50s swing tunes, DETH 981 is a pirate radio station within NCR Territory broadcast from a graveyard of beached military and civilian ships in the Dune Sea. They blast pre and post war garage punk from their run down station in an old bunker, where Terror Max leads his legion of raiders to rape and pillage the lands near the Vault where they were entombed for over a century. The Vault Experiment? Pumping 100 decibels of Punk into the Vault 24-7 for nearly 180 years.
My buddies Steven Cates and Dan Ziffer sat down in our little cave and produced these segments one afternoon after writing down the ideas we'd had for several months. We knew that we had a gravelly, dark announcer named Terror Max, but we hadn't really heard his voice yet. Steven just grabbed the mic and created this ridiculously over the top psychopath that practically grinds his teeth against the mic in a growling bass, taking advantage of the fact the Raiders don't really know how to use the equipment nor conduct a legitimate broadcast. It's really the best narrative we could come up with that NCR players could hate for mocking them and doing absolutely awful things to their people, but a brutal Raider player could get behind. DETH goes to add a dark comedy to the wastes and set a special feeling of in-universe logic to the technology and mechanics of the invisible bad guys.
These radio stations are already available in BETA 1, and they carry over to the Wasteland in New Vegas after you're done with the first installment. They feature 10 public domain tracks each, with another 10 coming in BETA 2 with more segments to keep them fresh and entertaining.
In the mean time, you can keep track of us here on ModDB, Fallout Nexus, or Facebook. We've got a thriving online community centered around each one.