Happy Memorial Day to all of our American Fans! We've been busy working on all sorts of cool stuff at Fall Of Saigon, Today we would like to share some of our newest map prop models for decorating military outposts and forward operation bases.
For the Vietnamese side, we have a surplus Chinese military radio command center model complete with headphones, loudspeaker, and microphone. Along with a well worn oil lamp to help light up their network of military tunnels to surprise the American Forces.
For the American side we have an updated version of the KA-BAR knife with a spiffy new sheath. That can be found lying ready on their bunks or lost between ammo crates.
A makeshift military fortification would be nothing without a hefty pile of sandbags, so we now have a variety of modular sandbag wall models to piece together any type of outpost protection that our troops might need.
And of course what kind of video game would we be if we didn't have a colorful assortment of Oil Drums and Barrels to use for cover! Feast your eyes on their magnificent beauty.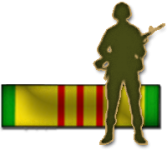 Be sure to join our forums to get all our news updates first and chat with the developers.
Fallofsaigon.forumotion.com
Also if you are interested in helping us develop this mod, feel free to sign up in the forum and post in the recruitment section.
We are always interested in working with talented individuals.