Expanding Fronts
aims to not only add a massive roster of new units to the game, but to allow players to utilize these units in a standard Skirmish environment. To allow for this, each of the 8 civilizations has been divided into numerous Sub-Factions that carry a unique roster of units and techs. Featured today is an overview of the Galactic Empire's Faction lineup.
STORMTROOPER CORPS
The Imperial Stormtrooper Corps is comprised of a large variety of elite troops built to respond to almost any situation. Although they are costlier than typical troops, and generally lack individual accuracy, an organized platoon of Stormtroopers can prove to be a nightmare for nearly any opponent.



However, the Corps is not limited to only troops. A selection of transport and support vehicles such as the Infantry Support Platform and Dropship Transport allow the Stormtrooper Corps to respond to threats and navigate the battlefield with unmatched speed.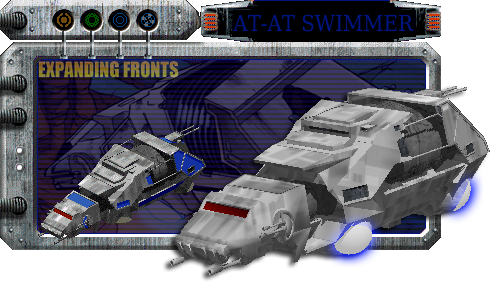 ASSAULT ARMOR DIVISION
While some players find the strategic challenges of a mainly infantry force fun, others just want to blow things up. This is where the Imperial Assault Armor Division comes into play. A selection of powerful land and sea vehicles presents the player with nearly unrivaled destructive power on the battlefield, the most effective of which being the AT-AT Walker and Swimmer, now among the most powerful (and costly) standard units that can be fielded in Expanding Fronts.


IMPERIAL NAVY
Much like the Stormtrooper Corps, the massive Imperial Navy is made up of a diverse range of units that can adapt to any situation that a battle may present. From escorts and reconnaissance to wide-scale bombardment, the Imperial Navy plays an essential role in any game.



While their strength lies in the air, the Navy is not completely defenseless on land. They are capable of deploying the formidable TIE Mauler and Century Tanks for ground attacks.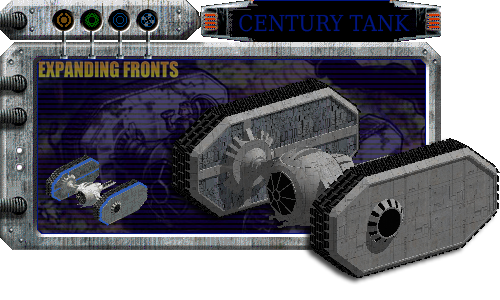 BATTLE STATION OPERATIONS
Preferring to focus on defense and research, the Battle Station Operations Sub-Faction is best suited to avoiding direct combat. Making use of long range artillery, and powerful Anti-Air weaponry, this faction is responsible for supporting and defending allies in combat. Numerous boosts to economy also allow commanders to assist their teams via resource trading.


That's all we've got for now. Holiday season has been slowing work down, hopefully we'll be able to bring you more content once 2013 hits. Provided we don't all get smashed by an asteroid.

UNDER CONSTRUCTION
We are still looking for talented individuals to help us bring this project to completion as quickly and efficiently as possible. If you have experience in terms of 2D/3D art, Random Map/AI scripting, or general editing experience with the AoK/SWGB Genie engine, and would like to contribute to the Expanding Fronts project, feel free to contact project members Gen_Rhys_Dallows or Sarthos. Alternatively, you can post a message in our project thread at SWGB.HeavenGames.com