Before we get to the main event, there's been a ton going on with the development for both ICW and Ascendancy. As far as art goes, on top of other new content Robin is almost done with the reworked Bellator. I've also been working on getting some of our models from the latest Ascendancy version into ICW, including our Venator, Acclamator, Vindicator and Quasar, on top of other things we've already shown in ICW like the Assault Frigate and Escort Carrier. It may or may not make it in time for ICW 2.2, but Dr Knickers is also working on updating the Dreadnaught model, taking some inspiration from Fractalsponge's recent work. There's been a lot of recent questions about Eriadu and Maldrood units as well; they will be discussed pretty soon, so for now just be patient and stew in the delicious, aromatic and potentially nearing-spoiled mystery.

In the last news post we talked about some of our overall goals with edits to the GCs coming with 2.2, and outlined the three Era 1 GCs. This time we will be discussing Era Two, which starts with the conclusion of the Bacta War at the Battle of Thyferra, and ends with the Mission to Bilbringi of 9 ABY (which isn't actually the same as the Battle of Bilbringi where Thrawn died).
---
Hunt for Zsinj
"Let me get this straight. You said 'Kiss my Wookiee!' to the most powerful warlord in the galaxy?"
―Prince Isolder to Han Solo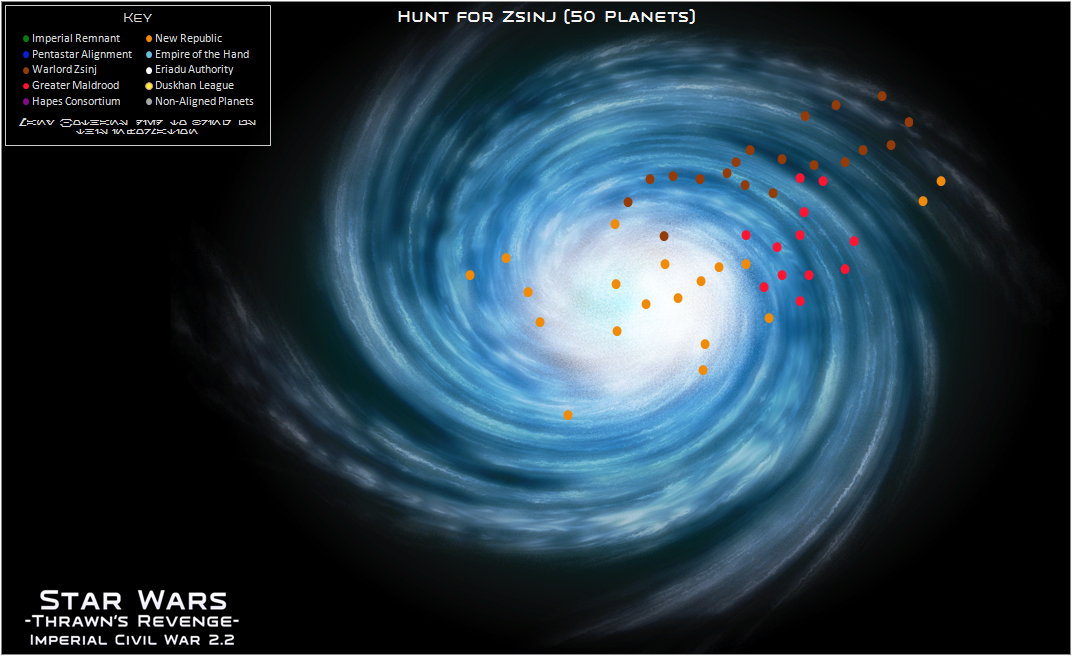 Time Covered: Hunt for Zsinj (6-8 ABY) - Post-Zsinj Campaigns (8.5 ABY)

After the delays of the Bacta War, the New Republic is able to fully turn its attention to Warlord Zsinj. Zsinj posed such a threat as to prompt an alliance between the New Republic, the Imperial forces under Teren Rogriss, and the Hapes Consortium. After Zsinj was dealt with, the Imperial forces under Teren Rogriss and the New Republic forces under Han Solo continued on to deal with Greater Maldrood, whose leader, Treuten Teradoc, used the death of Zsinj to absorb much of his territory and forces and declare himself the High Admiral of the Mid Rim. In this campaign, the New Republic has some access to Imperial and Hapan units.

Factions:
New Republic - Coruscant (Represents alliance of New Republic, Hapes and Imperial Remnant)
Warlord Zsinj - Dathomir
Greater Maldrood - Centares
---
Thrawn Campaign
"History is on the move, Captain. Those who cannot keep up will be left behind, to watch from a distance. And those who stand in our way will not watch at all."
―Grand Admiral Thrawn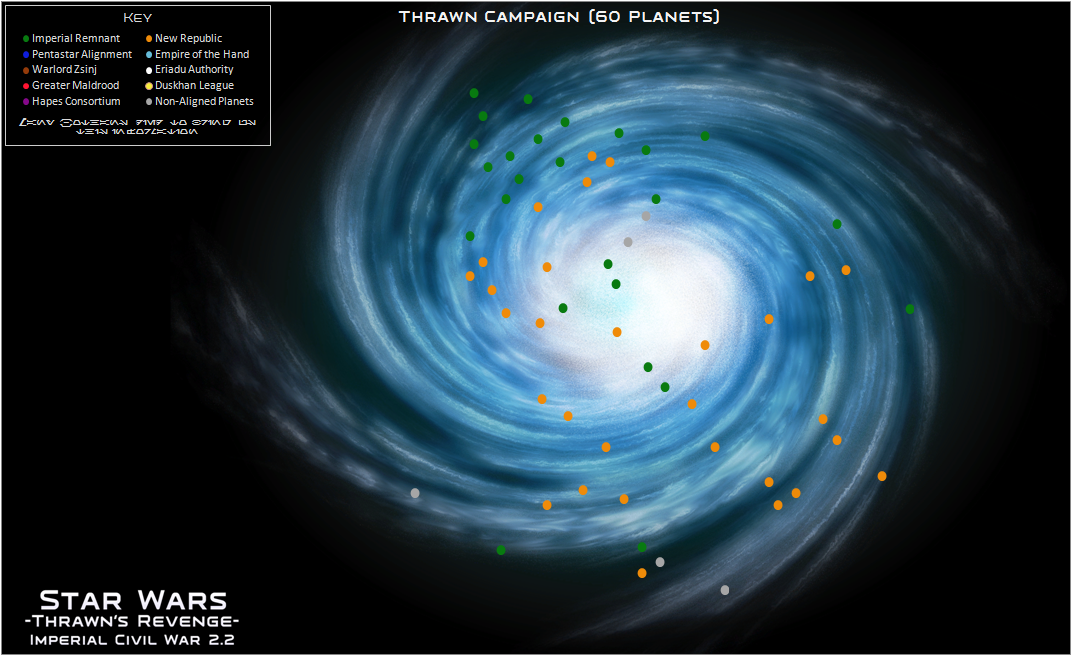 Time Covered: Thrawn Campaign (9 ABY)

Despite having spent the better part of the last decade in the Unknown Regions establishing the Empire of the Hand and dealing with threats to the Empire and Chiss Ascendancy, including the Ssi-Ruuvi Imperium and Nuso Esva's holdings, Thrawn was quickly able to build up the biggest coalition of Imperial splinter factions since Endor. He united the forces of the Imperial Ruling Council, the Pentastar Alignment, Ciutric Hegemony, and smaller groups like the Corellian and Antimeridian sectors; essentially all remaining major Imperial forces outside of the Deep Core except the decimated and destabilized Greater Maldrood. Territoriality, the galaxy is at this point fairly evenly divided between the New Republic and Thrawn's Imperial coalition. The hunt for the Katana Fleet is still present in the GC, and we'll also be looking into other options to provide some story elements to this campaign (as one of the few two-sided ones, we have a few more options than in other cases). Aside from a few planets on either side, this campaign will probably be the least changed for those who have played previous versions.

Factions:
New Republic - Coruscant
Imperial Remnant - Orinda
---
Isard's Revenge
"It is interesting we have not met before, you and I, having been foes for so long. I expected you to be taller."
"I expected you to be dead."
―Ysanne Isard and Wedge Antilles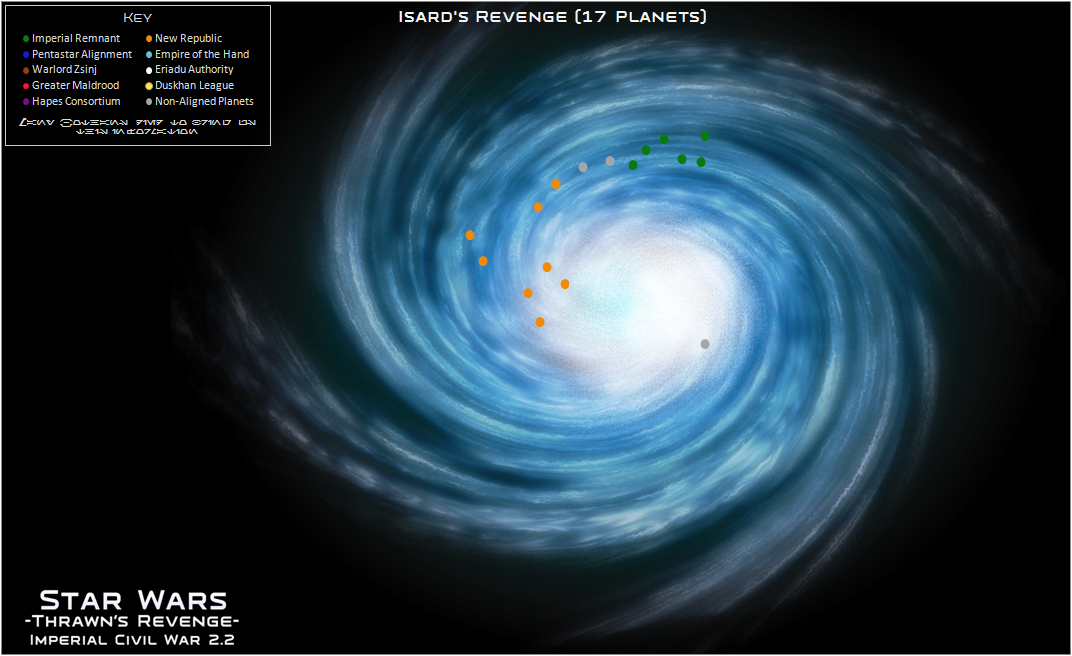 Time Covered: Ciutric Theatre (9 ABY)

After Thrawn's death and the dissolution of his coalition back into its constituent parts, the New Republic decided that in order to avoid the appearance of weakness, they would quickly launch another campaign against one of the remaining Warlords. They quickly settled upon the capricious Prince-Admiral Delak Krennal of the Ciutric Hegemony, who had usurped and murdered former Imperial Grand Vizier Sate Pestage with the assistance of Isard and General Paltr Carvin. This decision was controversial, as the Hegemony had not shown outward signs of expansion and Krennal had undertaken a campaign to improve its public appearance, including decrying superweapons (despite secretly building one themselves) and apologizing for the destruction of Alderaan. As is typical of Star Wars villains, Ysanne Isard around this time also turned out to not only not have died in the Bacta War, but also had a clone. Her clone, believing herself to be the real Isard, was providing advice to Krennal, while the real Isard was aiding the New Republic, hoping for an opportunity to reclaim the captured Lusankya.

Factions:
New Republic - Coruscant
Imperial Remnant - Ciutric IV
---
And for a shameless plug, if you wanna see these changes in action as they develop, I've been previewing a lot of the new content on my personal channel atCorey Loses and on my stream on Hitbox. Currently for ICW I'm playing through Hunt for Zsinj with Zsinj and Maldrood, although the GC layout isn't quite the final one previewed here. There's also a poll up on the Hitbox for what should be previewed next. I typically stream every Saturday at 2 pm EST, and will be doing so this Saturday as well. I also do some other kinds of tutorials and playthroughs there, so if that sounds interesting to you give it a look. If you really want to support it or the content I make, I do have a Patreon for that as well.

If you have any suggestions, critiques or anything else you want to discuss for the mod, let us know in the comments or head over to our forums.