Well I've been pretty busy since I resumed work on Epsilon Eridani, I decided first to concentrate on the coding and all the aspects of the mod other than it's story and level design. I'm pleased to say the CSI Sniper is almost complete, here are some screenshots of it in action (click on the images for fullscreen):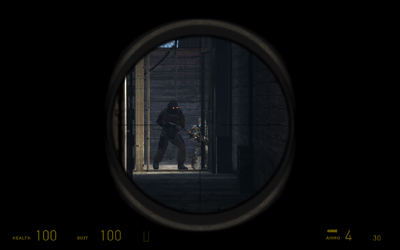 Two Combines seen through the Sniper scope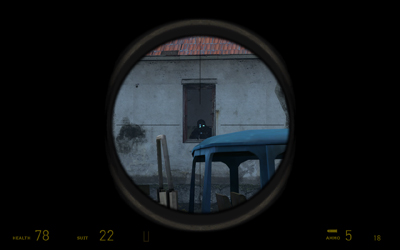 Remember this part?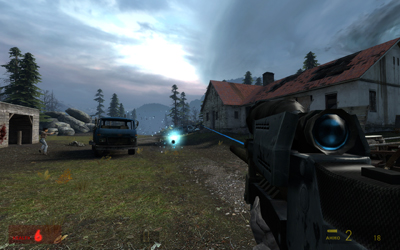 Getting owned by a Hunter
Apart from working on the Sniper's code (new weapon, laser etc...) I've been working on the following, and I'm happy to say all of the following is complete:
Iron sights with FOV and weapon precision change.
Four new weapons, one pistol (desert eagle) two SMGs (MP5 and G3), one assault rifle (OICW, weapon subject to change, OICW is for now a placeholder) and one sniper.
NPC's now use the OB's particle system for muzzle flashes.
Realistic magazine reloads, meaning that every bullet counts.
Scope system for the sniper (and maybe for future weapons with scopes) with full support for all three screen resolutions.
Although I'll take care of the mod's coding, I am always looking for people who want to join up with me in Epsilon Eridani. If you want to join and contribute to the mod, please send me a PM or e-mail. For now, I am looking for the following (keep in mind Epsilon Eridani is for me a learning project, and so I will welcome anyone who wants to join and develop their modding skills):
Modeler with animation experience (weapons, players, whichever)
Level designer
That's it for now, check out the mod's homepage for the Sniper's credit, a special thanks to BioHazard and FoXoF for helping me fix the Sniper's laser code!
-Robin DLC