Hello you all!,
So this is going to be our first new update since or announced return in late march, a lot of things have been happening behind the scenes as people have been coming back into active development and much progress has been made.
A few weeks ago we had this random idea for a new USA unit that was just to much fun and to useful to not implement in some way but it did create an issue. Since with its addition 3 out of 5 factions had their own Epic Unit (or Super Unit whatever you want to call it :) ) and it only seemed fair to try if we could come up with something unique for the remaining two and so we did!
Starting with ROTR release 1.9 and onward the more support oriented powers available to all factions at rank 5 will in addition to what they do currently also unlock an Epic unit for each faction as seen on this image: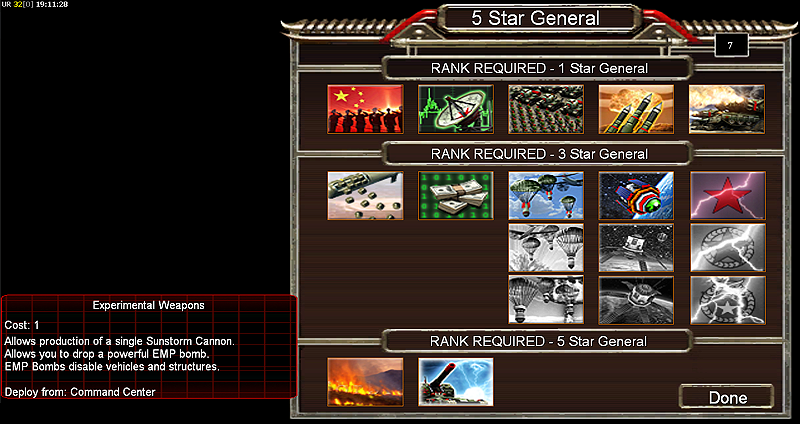 Starting today we will be showing you the first two we have made thus far for both China and the USA Factions: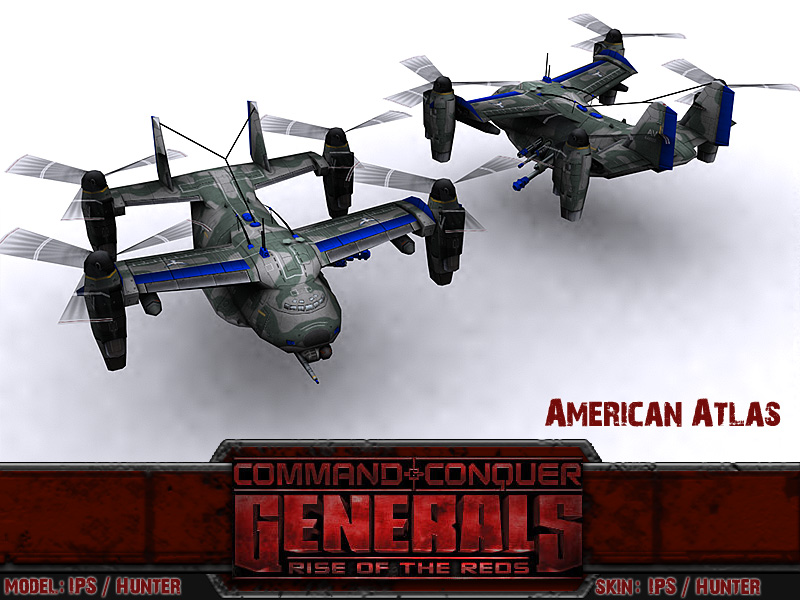 Following the introduction of the CV-44 Starlifter in the late 2030s, the US military soon ordered further variants of the world's largest quad-rotor aircraft, from airborne refuelling to VIP transport. However, the most prominent variant is the AV-44 ATLAS (Advanced Tactical Loitering Air Support) gunship, which saw use in numerous operations against GLA terrorists in Africa, anti-US guerrillas in Latin America and finally Russian forces in the Third World War. Armed with a 155mm howitzer, a 40mm auto-cannon and a 25mm rotary cannon, the Atlas is second only to the AC-17 Spectre III gunship in terms of firepower. In addition to its deadly arsenal of anti-ground weapons, it can also deploy small flying drones to provide repair and anti-missile support for nearby friendly forces. Finally, the Atlas houses a full command and control suite, allowing it to call in a general's support to any location on the battlefield from variable approach vectors.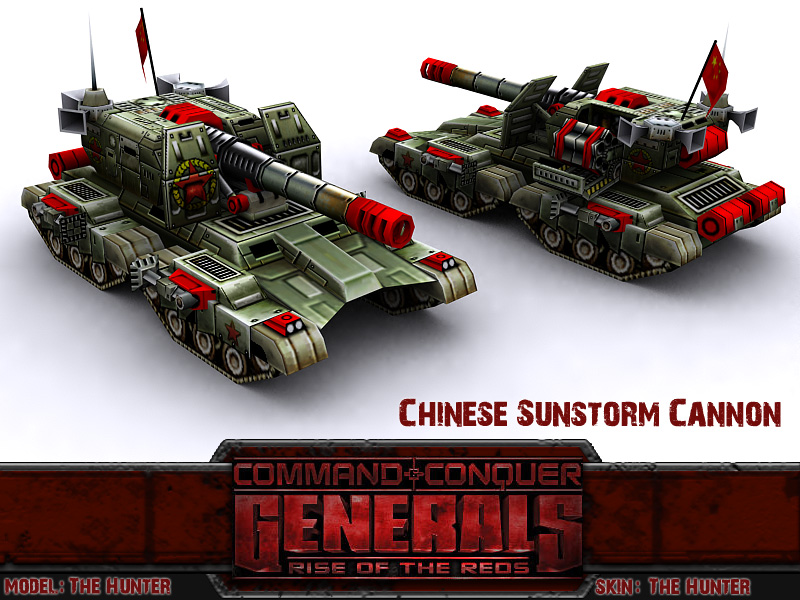 Developed with the utmost secrecy within the Chengdu-based Tao Artillery Development Bureau, the Sunstorm Cannon is easily one of the most intimidating weapons deployed in the People's Liberation Army arsenal. The 300mm cannon is married to a specially constructed chassis, and is capable of firing a wide variety of artillery shells ranging from napalm shells, to EMP generator rounds, and even a specialized nuclear shell with the appropriate supply requisition.
The Sunstorm is a potent weapon, but to the People's Republic, its true value is as a tool of propaganda. To this end, the Sunstorm is also fitted with a set of powerful loudspeakers that constantly blast encouraging aphorisms, inspiring anecdotes, motivational slogans and classic PLA marching songs. Due to their sheer size, cost of manufacture, the precision technologies involved in their creation and their limited utility in a wider strategic sense, Sunstorm cannons are few in number and rarely seen by friend or foe. But even the rumor of such a device in a combat zone can turn even a nervous recruit into a ferocious warrior and cause China's enemies to second guess every tactical decision.