I believe that EVERYBODY can have a fun time using SMAR•CADE on a daily basis, regardless of the types of things they use their PC's for. But launching your stuff from a 3D world is a new concept to a lot of people which means they'll be learning a whole new way to experience their PC's.
Learning SMAR•CADE is both fun and easy.
The entire experience plays out as a game itself. You start off in a simple, small apartment with only a few arcade cabinets in your arsenal. A 30 second introduction video shows you whats going on, then the in-game help guides you in getting started.
As you progress, you unlock new stuff like furniture or arcade cabinets and eventually new maps for when you outgrow your apartment. These rewards are unlocked by completing specific achievements that you can track in the big friendly UI.
There are
over 50 unlockables

for you to collect.

By the time you're done collecting these rewards, you'll be able to use SMAR•CADE as easy as you browse the web, and that's when the real fun begins.

Not only will you have all kinds of sweet in-game content unlocked, but you'll also find yourself with a library full of your favorite games, movies, pictures, videos, etc., AND 3 or 4 arcades under your belt that you can revisit whenever you want to immerse yourself in the themes that you created in them.

In SMAR•CADE, every map is a persistent world. So you can either revisit your old arcades to play, or to remodel... or both. It's up to you.
Friendly UI
The focus is on the 3D world, but sometimes you do need to use an old-fashioned 2D menu to do things like change maps, check your achievements, or edit the details of a shortcut. SMAR•CADE's menus are huge, uncluttered, and easy to understand. In addition, most of the menus can be displayed fullscreen OR right on the in-game cabinet's virtual screen; its up to you.
In-Game Help
You control SMAR•CADE much
like a First Person Shooter

, but the mouse does

a whole lot more than shoot

.

Following the design of classic games like Zelda: Ocarina of Time, a picture of your input device (the mouse) is shown at the top of the screen along with a legend showing what each button will do if you press it. This ensures that you always know what you're doing.
To help you learn how to do it,
press F1

to access a

series of short in-game tutorial videos

.

Each video is usually around 30 seconds long and demonstrates 1 or 2 concepts. You can watch the videos as many times as you want, or not at all, its up to you. You've already seen the first video, so here is another video from the series explaining how to move your cabinets around:

Some of the other topics covered explain how to spawn pictures on the wall, Hollywood movies, non-Steam games, customizing the pictures and videos shown on the cabinet, etc. If you watch all of the short tutorial videos, you can consider yourself an advanced user.
Easy Community Access
If you're a new user trying to get help, or an advanced user trying to do something very specific, just click HELP on the main menu. This will connect you to the very easy to use community forum that I personally moderate and you don't even have to sign up to ask a question or make a suggestion. You'll also find a place to report any bugs you have discovered.
I'm creating SMAR•CADE for YOU to enjoy, so if I can't help you do what you want in it now, maybe we can make you happy in a future version.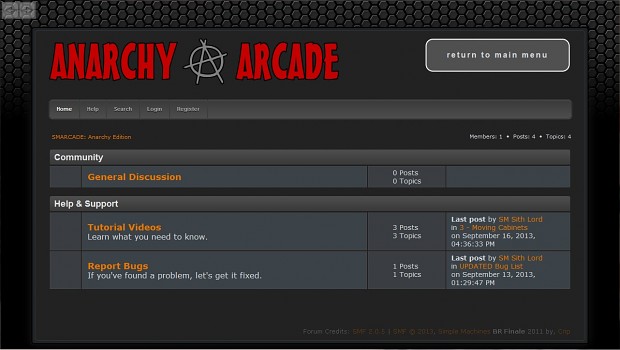 Coming In The Next Few Days...
Even though SMAR•CADE is listed as a Half-Life 2 mod, it does NOT require Half-Life 2 or any other game to play. It is 100% free and all that you need is Steam to play it. SMAR•CADE will be available for you to download & play in just a few short days. Please be patient while we ensure everything is in order for a smooth release.
As always, please follow us on social networking to help spread the word to your friends about the release of SMAR•CADE: Anarchy Edition! It really helps!