Today, all English-speaking fans of Paradise Lost Mod - a holiday!
We are pleased to finally present to you the english version of the modification.
I would like to make a small digression: if on the eve of 5 years of S.T.A.L.K.E.R. - Shadow of Chernobyl, Ruwar (assistant in the development of modification) is not offered in the original theme of mod the Russian-speaking forum to create a page Paradise Lost on Moddb, then perhaps you would not soon, if ever learned about mod, and did not get in the end the English version of the mod.
Most Russian texts of mod translated into English: dancer893
Texts in-game news mod, build english version of mod, and other small things, had: Earthworm-Jim
Now, regarding the content of the modification. She got used some changes. Mod is a version 4.3.1 Beta, consisting of version 4.00 (January 2, 2012), and set on top of Update 3.1 (27 December 2012).
Here are just some of the innovations Update 3.1:
Was adapted marking in PDA from "R.M.A. Shadows Addon 0.6".
Was adapted sleep through inventory from "R.M.A. Shadows Addon 0.6" (now it's just a vacation) and a reset button to equip active slots (weapons and overalls).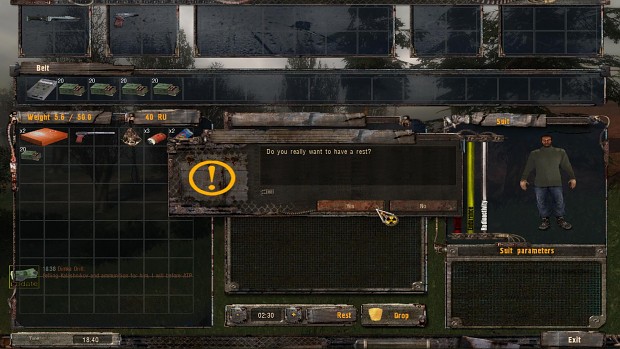 Grass (or "details") on the locations from single-player game replaced by options from S.T.A.L.K.E.R. build different versions, and increased density of grass.
Flashlight and spotlights recycled in accordance with S.T.A.L.K.E.R. build version 18xx
As a whole has been improved graphics. It has become a bit clearer and more pleasant to the eye.
A complete list of changes can be read in ReadMe.txt Update, when a new version of its. And while you can visually assess the new Update, in trailers:
Paradise Lost mod beta - Trailer 4 - Mod DB
And now I would like to talk about plans for the further development of Paradise Lost Mod.
They are all the same: the restoration of content that is not ranked in the final game.
Until recently was being developed in terms of the reconstruction of the old locations and monsters, and continuously work on improving and fine-tuning the current graphics modifications to the kind we saw in 2002-2005.
For more information: Moddb.com
Also been done in terms of the reconstruction of the old gameplay chips, such as communicating with the NPC on PDA.
However, in its last report Scavenger (main developer of mod) states that: "In recent times with work and personal life, time and effort to develop modifications are sorely lacking. But do not expect the news to the name - Paradise Lost is adjourned. On the other hand, news about what is global while also not expected".
We hasten to reassure you, mod is not frozen! Forces assistants developer, we will soon release a new Update with new innovations and corrections. But as said, Scavenger, can not wait for something global.
In other news:
In twitter was created official page of Paradise Lost Mod: Twitter.com
In it, you can follow all the news of the development of the modification.
Also now we have the official e-mail: paradiselostmod@gmail.com
You may write in her letter to the wishes, comments and any other offers. All of them will be considered, and they will be promptly answered.
More on moddb we opened the forum: Moddb.com
In their respective categories you can discuss any part or all of the modifications in general, or ask your question on the technical part. By the way, we will be FAQ, so as not to answer the same questions.
That's it!
We wish you a pleasant game in the english version of mod!
But remember, this is not the final version of the game, and a beta version, designed for open testing the current version of the modification.