Hello guys! So this year has almost ended and it was the most productive one yet in the history of developing this mod. This year I introduced myself into the coding and after months of figuring out how everything works (and with help of others) I managed to add a lot of things I always wanted. Also this year I have made a few big maps, to be precise, 3 and a half of them. The latest map I made is the biggest one yet and I spent 3,5 months working on it. Here are some screenshots from it (please note that it's still WIP and some stuff can be slightly changed, but it's pretty much how it will look like) (all images clickable):
- main server room

- smaller server rooms and some kind of laser puzzle section (reflecting surfaces)

- bridge near the entrance to server section; general view of the whole map
Other news - Alice is finally able to talk. I did my best to make her voice, I'm aware it's not perfect but it will do. See her in action in this video:

She has regenerating health, can holster weapon, reload, call for help/hide if she has too low hp.
Also she's fully immune to any of the player attacks (and she never reacts to them, so don't bother haha). This way you won't have to worry about killing her by accident when things go south.
Here are the enemies of the Blue Dimension - Alien Robo soldiers. I decided to not do anything fancy, so I just took the famous "german grunts" and put different weapons in their hands (models are not mine).
All of the three have different attacks.
BLUE - primary: blaster attack taken from Shock Trooper, secondary: energy ball from HL2 like combine elite soldiers (I coded the ball by myself from scratch - just took sounds and sprite from HL2).
BLACK - primary: blaster attack taken from monster_alien_controller, but balls fly much faster. He does less damage than BLUE robo. Secondary: also ball taken from controller, but the other ball which can navigate right to enemy and it's tricky to avoid it.
RED - "shotgunner". Shoots a bigger red ball which does heavier damage.
All of them can be equipped with "handgrenade" taken from Shock Trooper (it's undone yet, have to edit it).
See them in action in the video below:
Here's what can be chosen in the editor for aliens and humans:
Okay, here are more map screenshots. I also made these maps this year.
- the ending section of map 6 of the last chapter (there will be more lighting, also no 3D skybox on the outside yet)

- general view of map number 5 of the same chapter. You will meet Andrew here once again.

And finally, here are the plans regarding mapping for the future. Unfortunately there's still loads of work to be done. But I will never give up :)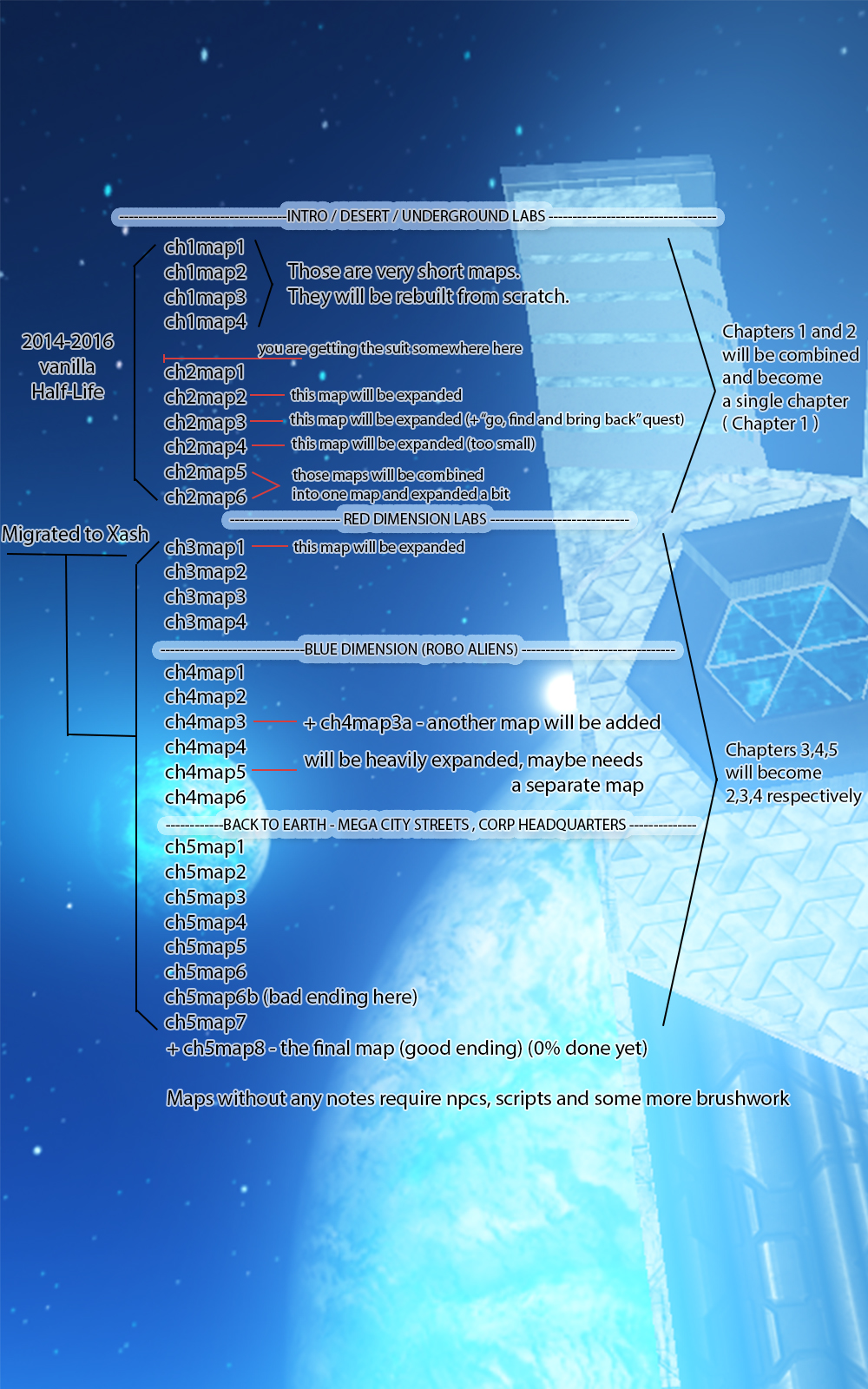 As you can see, yes - I have decided to remove one chapter so it will be 4 chapters and not five. But it doesn't mean less content. In fact it will be more, it's just that those maps that I made in vanilla GoldSrc are very very small (also their design can't keep up with my most recent work…). In the end it will turn out that chapter 1 will have like 20% of gameplay time in comparison to the rest of the chapters. I don't want that.
Well, that looks like everything I wanted to say so far, could forget something as usual. If you have any questions please ask below. Thank you and hopefully you have a nice new year.
- Aynekko