An interesting encounter
This Monday, when I was doing my daily check to see whether the servers were still up and other stuff like that, I suddenly noticed a server 'Tovanis', which I'd never seen before. I logged in, and this is what i saw:

I couldn't believe my eyes.... Somebody really spent some hours on this city, which is called 'Origin City'. I later met the guy, named Kaytavo, on my own server (where he was also building a city, it's east of spawn). He gave me these clothes, and challenged me to a duel: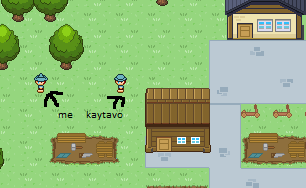 ... And I was completely slaughtered. This makes Kaytavo the first player to get the achievement 'And even at his own game...', which involves beating me in a duel. I later discovered this wasn't the only achievement he got: he is currently is the top player [in the highscore], together with long-time expert YukiaEpin. Congratulations!
An important discovery
In the game's early period I mainly tested the game with two friends; because of their practical insights the game is now a lot less frustrating to control. It had been a long time since we did this, but yesterday evening we finally did it again. This led me to the important insight that during the last year I have really underestimated the importance of being able to see the screens of the people you're playing with. There were way more bugs than I expected, and most of them were related to the fact that I could now see that what happened on one screen didn't translate well to what happened to the other. For example, if one player X transforms a construction site into a house, but that somehow does not happen on the screen of player Y, player Y will simply think X hasn't done it yet, and do it himself. Nobody will notice this problem, until they realize two houses are created at exactly the same place, which makes them both unusable.
The trailer music
Okay, back to development. As you know, I'm currently creating a new trailer for the game. This week, I like to talk about the trailer music I composed.
If you know anything about trailer music, you know that the [trailer music for the movie Inception] was extremely influential. The so-called ['Inception horn'] is probably used in at least 1/3 of all action and thrillers trailers after Inception ([click here for a compilation of examples]). However, this trailer music taught me something else as well (as, of course, I'm not going to put a BWAAAM in Olvand's trailer): repeating a simple melody can be used to build to tension. And that's one of the four things I wanted for the trailer music:
A piece based around Olvand's main theme
A piece which clearly divides into four parts, corresponding to the four parts of Olvand I show in the video (gathering, building, gun customization and minigames).
A piece which 'feels' like the rest of Olvand's music (by using the same instruments, mainly)
A piece that builds tension
This was my first try, and it surprisingly turned out exactly as I had in mind. I hope you like it too:
The four parts are accomplished by changing keys and main instruments; the tension is created by repeating that 5-note pattern over and over again (although it no longer attracts attention as the track progresses). I hope to show you how it 'fits' with the gameplay shots soon!
If you want more development, see [twitter] or [facebook]. If you want to be a tester, you can subscribe on [olvand.com].