The T-34 possessed an unprecedented combination of firepower, mobility, protection and ruggedness. Although its armour and armament were surpassed later in the war, it has often been credited as the most effective, efficient and influential tank design of the Second World War. The T-34 is one of the most-produced and longest-lived tanks of all time. Soviet industry would eventually produce over 80,000 T-34s of all variants. T-34 variants were widely exported after World War II.
Being basically a WW II tank, the T-34/85 began to show its age against more modern tanks. The Egyptians had several upgraded variants of the T-34 to make it more effective. Egypt went on to build the T-34/100, a local and unique conversion that was made up of a Soviet BS-3 100 mm heavy field-artillery gun mounted within a modified turret of the T-34-85. Egypt also built the even more powerful T-34/122. This conversion was a self-propelled howitzer armed with a 122 mm D-30 howitzer in a heavily modified turret. The changes included flat-plate extensions in the front, sides, rear and top of the turret.
Here is our Egyptian T-34/122mm in a basic tan camouflage.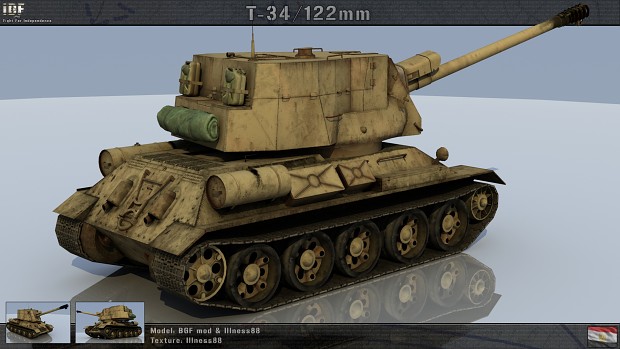 Another version of the Egyptian T-34/122mm in the green and tan camouflage typical of vehicles used in the 1973 Yom Kippur War.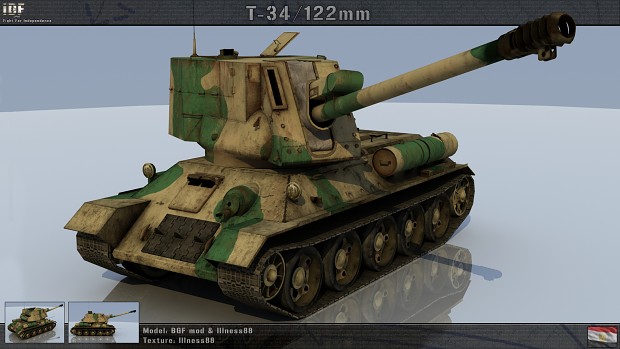 This excellent model and texture was created by Illness88. He has posted it on SketchFab, which allows use to be able to 'walk around' the model. Try it out, let us know what you think.