Edain Demo 4.02 Released

Greetings, companions of Edain!
Patch 4.02 for the Edain 4.0 Demo is now available. You can download it by updating the mod via the launcher.
If you encounter any problems, visit our support forums for help!
With this update, we not only squashed numerous bugs, we also expanded and refined the core gameplay introduced with version 4.0. There is no new faction yet, but Dwarf fans can look forward to a new custom hero, the Wanderer: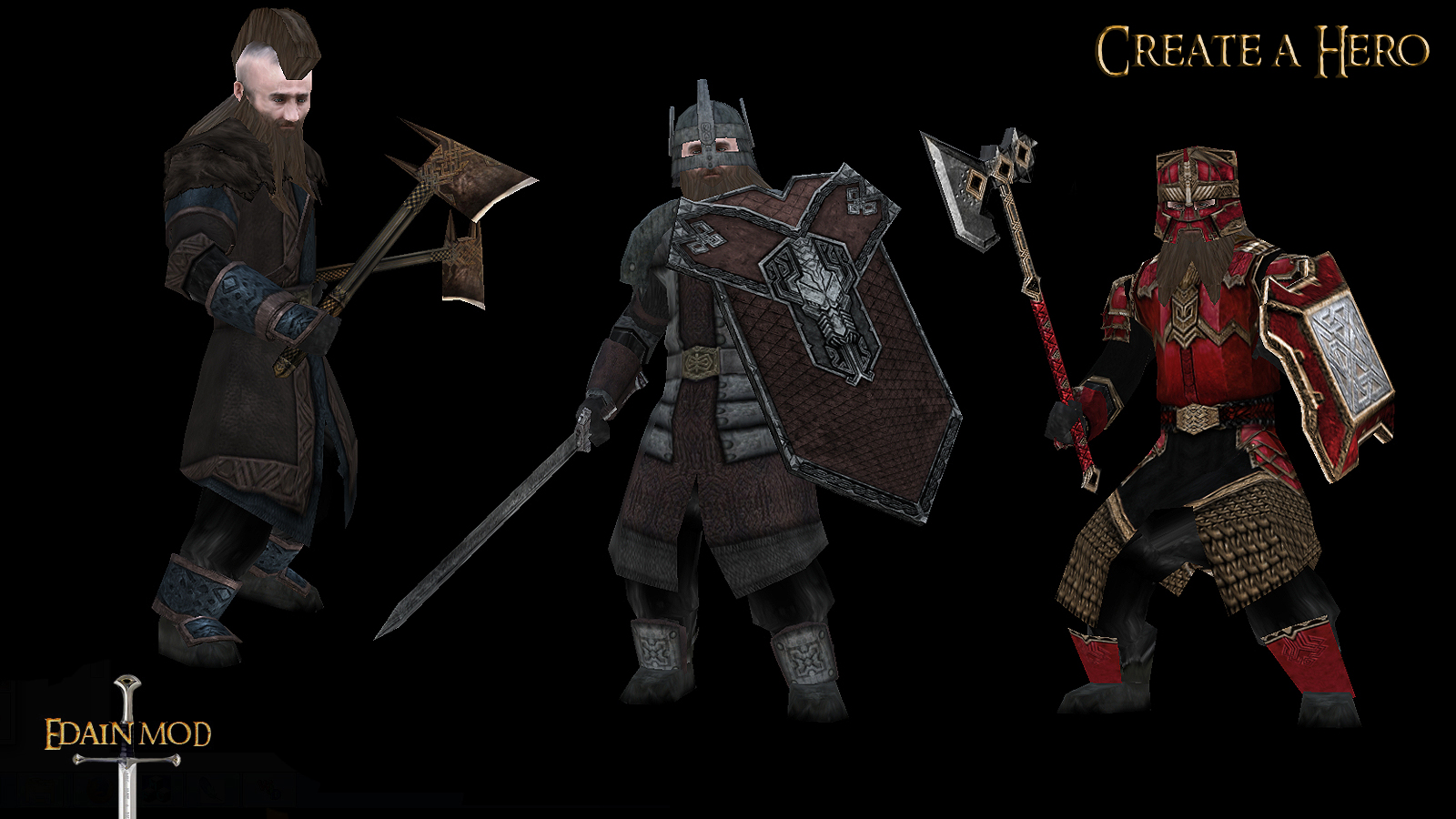 Additionally, the patch brings the following changes:
- Most maps now offer a larger number of settlements and in some cases outposts. This allows new paths for attack, grants players more money and enables more strategy that rely heavily on outpost structures. For example, Fords of Isen now features 14 settlements instead of the previous 8.
- Every faction now improves its recruitment structures in a different and unique way. We wanted to add more diversity and give players more control over their strategy by allowing them to tech towards specific upgrades and units more specifically.
* Mordor is the only faction that still upgrades its structures the old way: They gain experience by recruiting units.
* Gondor is going back to the original 3.8.1 scheme. Each recruitment structure can be upgrades to rank 2 and 3 individually by purchasing upgrades. That way, they can unlock things like Tower Guards or Fire Arrows more quickly, but have to spend money on that in return.
* Rohan improves its structures using a different version of that scheme. Each recruitment structure has two distinct upgrades: The weapon chamber unlocks advanced units and technologies such as mounted archers and flaming arrows, while the recruits' chamber increases recruitment speed by 50%. These upgrades can be researched in any order, giving Rohan more flexibility in terms of strategy.
* Isengard upgrades all its structures at once using global upgrades that bring the Uruk Pit, Warg Pit and Siegeworks to rank 2 and then 3. However, these are more expensive than Gondor's individual upgrades, so Isengard can't tech towards a single unit or technology quite as fast.
- Unit upgrades like forged blades are now researched twice as fast and grant additional bonus effects on top of their previous bonuses. These are meant to be effective against specific strategies and open up new ones in return:
* Heavy Armor grants 35% increased armor against arrows.
* Forged Blades grant increased damage against specific enemy types depending on the equipped unit:
** Swordsmen gain increased damage against other infantry.
** Pikemen gain increased damage against cavalry and monsters.
** Cavalry becomes more effective against structures, without Forged Blades they only deal very little damage against them.
* All units at rank 2 (including all units with banner carriers) become fearless and therefore immune to abilities like Boromir's Horn and the Nazgûls' Screech.
* Cavalry Shields now grant +25% armor against pikes and +50% armor against swordsmen.
- In turn, upgrades are now only half as effective against heroes and structures.
- Note that heroic units like the Citadel Guard are equipped with every upgrade from the start, so all these changes apply to them by default.
- There are no longer any unusable camps and castle plots on War of the Ring maps. Instead, they are all replaced with fully usable outposts. This was our intention from the start, but the replacement was bugged and simply rendered the plots unusable instead. The idea is that you can only build smaller bases in War of the Ring, making individual battles shorter and the army you bring more important. Of course, you can still fight for huge fortresses when you attack maps like Helm's Deep, but the normal War of the Ring battle will have less base building than a Skirmish - though still more than in the previous version where most plots where entirely unusable. We feel this is a good compromise. Additionally, you can now garrison your territories with armies that can take up twice as many command points.
- A new game mode replaces exploration: In "Massacre", you can only have up to 600 command points, heroes have 25% less armor and units have half the armor. This makes for smaller, but also much faster battles. In addition, we have fixed the command point bug with the Legendary Heroes mode so that it should now be playable normally.
A full list of balance-changes can be found here.
Enjoy the update!
Your Edain Team