Greetings, companions of Edain!
The next version 4.6 will not only add the new faction of the Misty Mountains, but also include our overhaul of the War of the Ring gamemode. Today we want to show you the biggest changes.
Based on the fantastic work of robnkarla of the RJ-Mod, Edain now also increased the amount of territories you can conquer and defend. This allows us to finally incorporate most of those maps into the War of the Ring that didn't have an individual territory and thus weren't playable. The Livingworld now consists of 11 regions with a total of 109(!) territories.
The smaller map with about 50 territories will also still be available for fans who like it oldschool through a specific scenario.
After having started updating the Livingworld visually with 4.5, 4.6 will see even more memorable places get their own distinct model.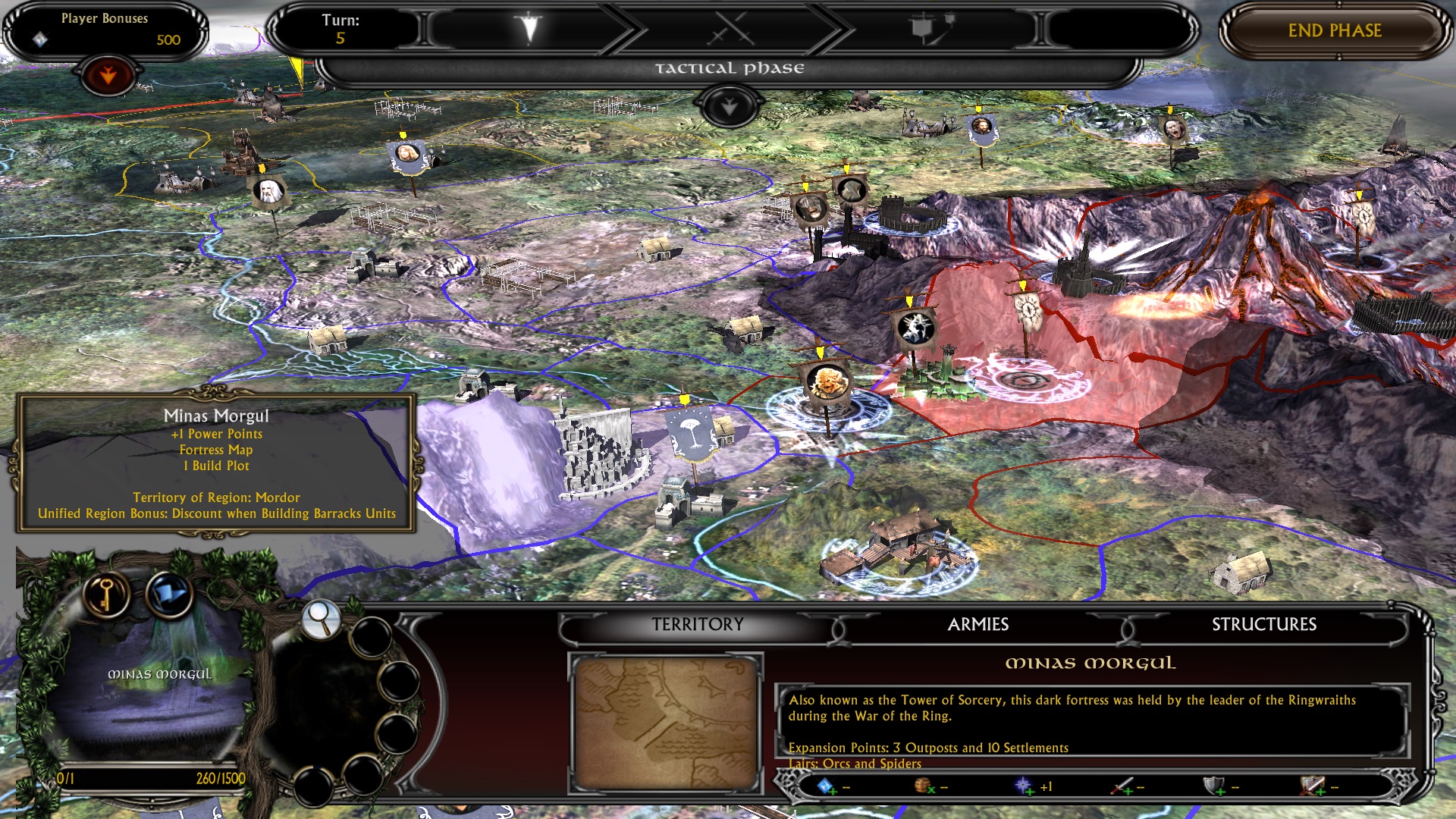 Minas Morgul on the Livingworld, which for some reason hadn't been distinctly shown by EA.
Real-time battles
The biggest part of the War of the Ring are the real-time battles. Unfortunately, these weren't all that fun to play since 4.0. You could usually either just run over the opponent or had to turtle up at an outpost. And to make matters worse, the AI never worked as well as it should have; a big flaw, considering how essential it is for this gamemode. Too often it reduced the fun and enjoyment by producing bugs and other technical difficulties. But no more - sometimes you need to take a step back to advance. We decided to bring back Builders exclusively for real-time battles in the War of the Ring! Not only does this solve most of the technical issues, it also improves gameplay and signifies the resources each army carries with them on their way.
Players will start with a limited amount of Builders who can theoretically build any internal building, but only have the materials for a single construction. After completion of his task, the Builder will disappear. This makes it easier to coordinate with allies and allows allies to build their bases closer together while providing them with all necessary buildings, but also prevents the recruitment of massive forces within a single skirmish. And the AI works much better with this system. Arriving with a powerful army is still vital for success, but even without it, you may survive against the odds.
This is what Mordor's or Imladris' bases could look like next to an outpost.


We reworked all maps for this new system. The fortresses and camps you know from Skirmishes were removed, whereas settlements and outposts remain and can provide you with additional resources or a stronger foothold. It's you choice: Do you want to start taking over the map right away or rather construct and defend your base first?Additionally, the defender of a territory will have access to buildings he already purchased on the Livingworld, giving him a distinct advantage on your home soil.
Another big advantage of our overhaul is the return of different scenarios in War of the Ring. No longer are you limited to the classic gamemode, you can again play through many different wars and campaigns, like starting with a set number of territories or only play in the North/South. Not only that, but we also created a couple of new options! More on that soon...

As you can see, there are lots of things to discover in 4.6. We hope you like this update and are looking forward to your feedback!
Happy advent season and stay healthy.
Your Edain Team
"The Orcs of the Misty Mountains are approaching, we must warn Lord Elrond!" - Glorfindel