Hi everyone, what happened last week:
Fishing is almost done. That is, all aspects of the generator are integrated into the game, and all species behave differently. This seems to work really well; I noticed after some time that I began to recognize which fish I have by the way the float moves, and that that influenced how I tried to catch the fish. Nevertheless, I should add that I'm a bit worried the whole fishing mechanic might not be 'fun' enough, as the boundary between annoying and challenging is really thin. For example, when making some species really rare, is the frustration not being able to catch it worth the happiness when you finally get it? There are many more questions like this. Dear (future) playtesters, please do not hesitate to share your opinions and ideas about it :). Still left to do are some minor things, like making sure you can also trade the fish without losing info about its appearances, and seeing if I didn't break anything while adding the two new minigames.
While implementing both fishing and racing, I came up with many cool extra features for both games. As you might have noticed, I'm not afraid of going into details, so I'm not afraid to add them all if that would improve the game. However, that would mean the new update would take a few more months, and I don't want that, because (1) I want to invite more playtesters, finally, (2) it might not be a good idea to spend so much time on details, while I should improve the main mechanic on the basis of feedback. So the new update will be released somewhat early, in exchange for roughness around the edges. Some features that will be postponed to later updates: (1) in races, some kind of indication on which position you are (first, third, last, etc), (2) racing and fishing achievements, (3) 'online' fishing, which means that others will be able to see your fishing line, (4) fishing contests, and (5) the option to see others are in a minigame. That last thing should look something like this:

After several weeks of silence, I heard something from two people who said they were interested in creating a tutorial for Olvand again. Whenever a video goes up, I'll let you know here!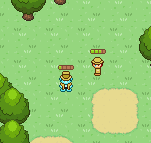 This is the new background music heard while duelling, still work in progress:
If you want more development, see [twitter] or [facebook].