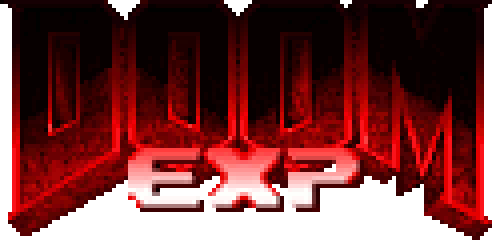 Doom Exp v2.5.1
Spice up your Doom experience with the latest update of Doom Exp!



⚠ Important : GZDoom 4.6.1 and above will cause your game to crash to console when accessing the store, initiating slow motion or picking up a time freeze. Due to the developers choice of getting rid of calling console commands from outside the menu. It is recommended to use GZDoom 4.6 which you can grab from here. Forum.zdoom.org
New death animations:



Phoenix dash attack and glacier smash attack:
Checklist for bought upgrades: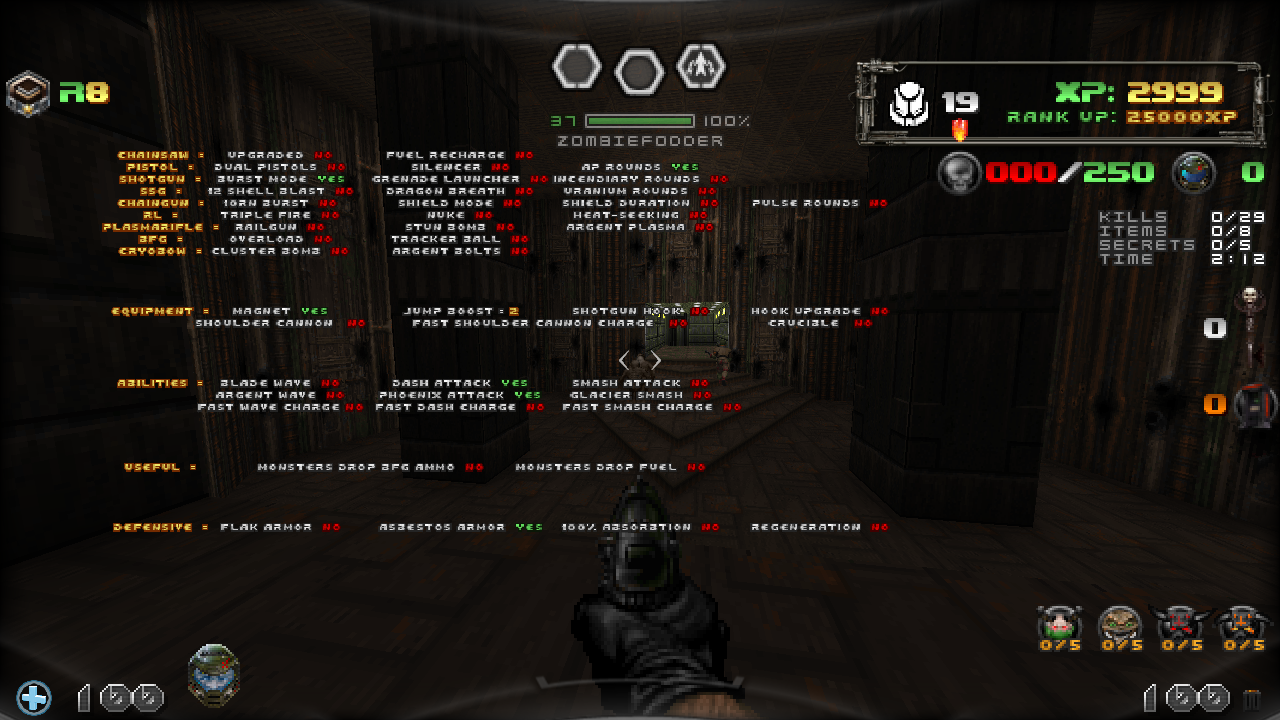 Lootbox key and store token: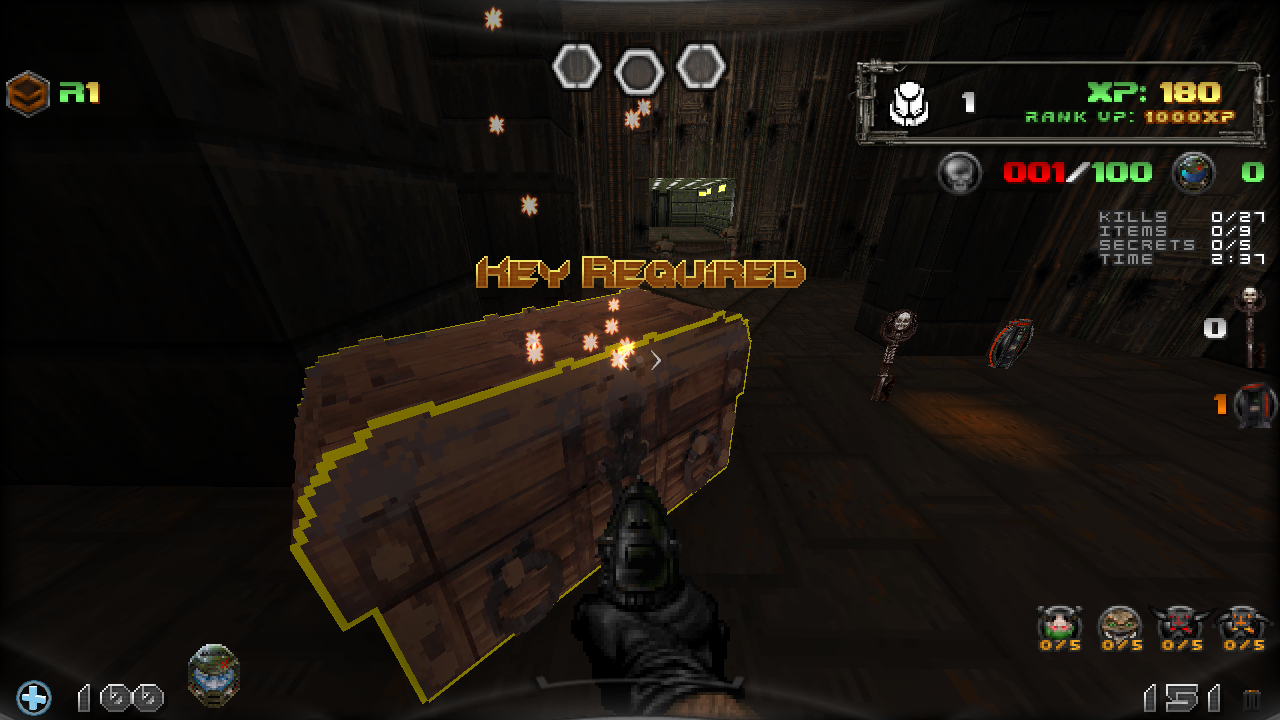 Scope overlay: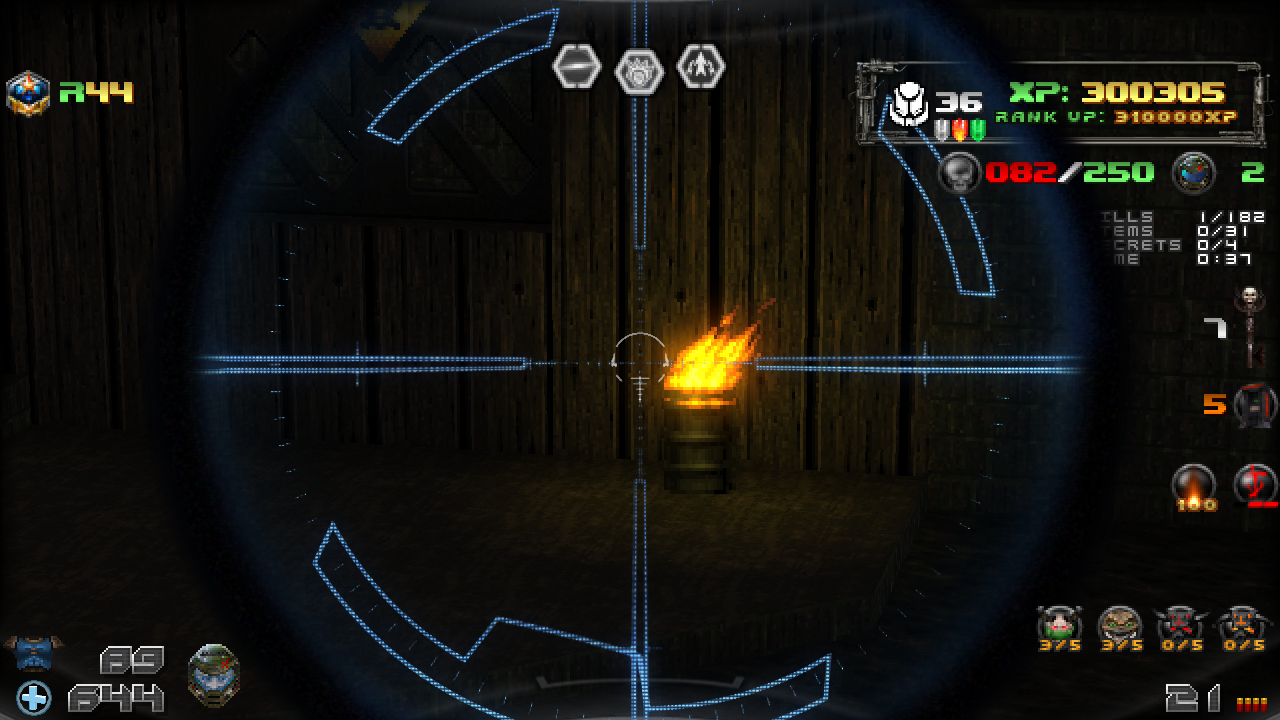 Changelog:

- Minor bug fix where crucible altfire overlay would share the same ID with the Archon of Hell counter.
- After performing an extreme glory kill on Hell Knights and Barons, their legs remain and fall over.
- Small flash effect added to some of the glory kills.
- Shoulder cannon grenade can not be eaten by cacodemons and painelementals anymore.
- Fixed bug where shotgun grenade spams multiple explosions on impact.
- Added Revenant decapitation glory kill.
- Fixed timer for sprite power up pickups.
- Power up pickups now do the eyes reflection on pickup (Custom Overlays must be set to On).
- Alternate death for Mancubus added for kick and punch glory kills.
- Baron can gib when killed with high power.
- Arachnotron death for kick and punch glory kills slightly changed.
- Stores now require tokens for the request.
- Store token rewarded every 3rd map and can also be found in levels and lootboxes.
- Lootboxes can now be opened with keys for better loot. Destroying them loweres chances of good loot.
- When you lose an extra life your kill count score gets reset.
- HyperFragon25 low ammo sound added.
- Big monsters have a small chance of dropping lootbox keys and store tokens.
- Fixed bug - Infinite AltFire on Chaingun.
- 50% chance for lootbox keys to spawn alongside normal keys.
- Phoenix dash attack upgrade added.
- Stomp Attack renamed to Smash Attack.
- Glacier smash attack upgrade added.
- Big performance boost. Monsters no longer run looping status check scripts.
- Dash attack and Slide attack don't speed up anymore when getting the double firing speed power up.
- Ammo/Weapon/PowerUp boxes removed from store. You can buy lootboxes now for 5k XP.
- Removed buy random loot feature.
- Fire Grapple Hook will now randomly play Scorpion's "Get Over Here!" sound.
- Dual Pistol select sound added by HyperFragon25.
- SlowMo ready sound added by HyperFragon25.
- Option added to limit store tokens to 5.
- Sell lootbox keys/Extra life/Store tokens option added to stores.
- You can now use the meat hook key to switch ammo types for Cryobow & Rocketlauncher.
- Added upgrade checklist.
- Glory kills sped up.
- Swallowed SG grenade explosions have an area stun effect on other monsters.
- Added a fade out to the edges on the scope image, since some people seem to have a weird resolution setting that doesn't set it to 16:9 even though the image is 16:9 format.
- Glory points can now be earned with chainsaw alt kills.
- Pistol Start upgrades added to store.
- Fixed missing A_BossDeath in special Death sequences for the Baron of Hell.
- Fixed bug not being able to slide after extra life.
- Fixed! Kill count problem with monster swallowing SG grenades.
- Overlord lost soul attack changed to a shockwave attack.
- Power node containers will always give you 4+ PN now.
- Buy Menu visual clarity slightly improved.

The official Doom Exp group for everybody who loves being part of a service that supports free-speech.

Feel free to join our discord server for exclusive info or to share your thoughts and suggestions. If you are experiencing problems you might get a faster response there as well. Also get early access to development builds of the mod.