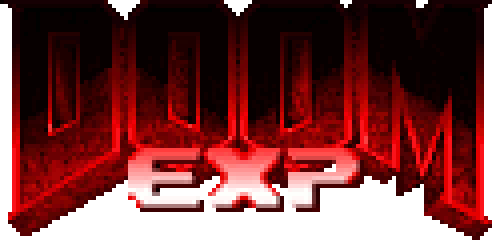 Doom Exp 2.1 is a big update and a lot of things have been reworked. Weapon upgrade tokens (Power Nodes) are now used to install weapon upgrades, making the progression more dynamic since you will be able to grind towards your desired weapon upgrades. Power nodes will randomly drop from monsters, will be given with rank up's, can be bought in the buy menu or are given by getting a 100% on any level.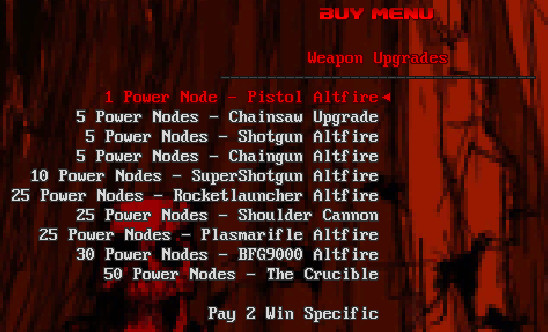 Power Up's are also handled differently than in the previous versions. The power up icons are now all listed on the left side of the HUD and are greyed out, indicating not active. Over the buy menu you will be able to exchange power up's for Xp. After buying one the assigned icon will light up and a timer will appear next to it, indicating how long the power up is active for.
Pay to win mode:
A pay 2 win mode has been added. This will add an extra layer of difficulty to the game. In this mode no weapons will ever spawn. The only way to get weapons is through the Buy Menu - p2w specifics.
Health and Armor are less likely to spawn in maps. So utilizing glory kills, chainsaw alt fire and the buy menu are encouraged through this mode.


Feel free to join our discord server for exclusive info or to share your thoughts and suggestions. Also get early access to development builds of the mod.
Changelog semi complete list from the 2.1 test versions on discord:
Entire weapon upgrading script was rewritten (no more forced weapon switches)
Power up's are now temporary buyable upgrades.
Monsters drop additional Xp for special kills.
Icon indicators rearranged / redone.
Grapple hook grabs onto walls on/off switch added.
New Monster added (Enhanced Cacodemon).
Some ACS clean up for better performace.
Fixed modes resetting when under 1k Xp.
Fixed Chainsaw upgrade on wrong rank bug.
Fixed Chainsaw/Crucible retrigger bug.
Fixed upgraded crosshairs bug.
Fixed weapons taking ammo on infinite ammo power up.
Added +25 permanent health to buy menu.
Added +25 permanent ammo to buy menu.
Added Shotgun grapple hook to buy menu.
Added Jump boost to buy menu.
Added XP drops for breaking props.
Added XP drop for flipping off monsters.
p2w has it's own menu within the buy menu.
p2w weapon prices increased.
Power nodes added.
Alt fire upgrades must be bought with power nodes now.
All upgrades removed from rank system. XP or Power Nodes are now needed.
Higher ranks or completionist Tiers reward more power nodes.
Crucible and Shoulder Cannon are now buyable.
Wraith health lowered.