Hello again ModDB community.
Development of Dogfight is going excellent and adding new features is going smoothly with no problems so far. This day is a special day for Dogfight as one of the biggest milestones before the public release is reached. Dogfight currently has total of 8 airplanes meaning both teams get 4 airplanes each. Next I will start texturing new skins for players to select ingame.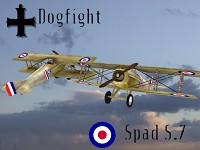 One of the France's most dangerous beasts in air. Spad S.7 was equipped with vickers machine gun and was used by many notable french aces.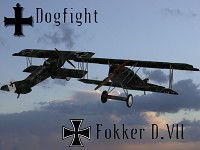 Usually regarded as Great War's best German fighter. Fokker D.VII was durable, reliable and extremely agile. Fokker D.VII was widely used in battlefields of WWI, praised by germans and feared by the enemies.
Finished up coding basic AI for Dogfight bots and I will continue to develop them to get those even smarter. It's been such fun to play with those so far and grabbing some excellent action scenes is now easier than ever. I also started coding teammatch gametype in and it's almost finished already.
Here is some action with bots. Decided to upload this because people were sceptical about the aerial combat being too hard. Hopefully this gives a better view. Please note that everything you see here is WIP material and may be changed.
Hope you enjoyed the newspost this time. Expect more news soon!
Regards
-Ztormi