Hello everyone! It's been a busy week, what with quick fix patches flying all over the place, and me struggling to balance Claustrophobia's gameplay. Oh, and stitching together an Options Menu, map zoom, WSAD movement, and all sorts of other things that have been requested. Whew. On with the news.
Difficulty Balance
This is by far the most difficult part of the game so far. Ironically, the difficult part is making it difficult. The game's difficulty currently jumps all over the place, until, at around level 7-10, the difficulty vanishes altogether and you face-roll. So, I've narrowed this problem down to a few points. Feel free to add your own opinions about this:
Vampierre is too easy to kill, giving you free XP, and an overpowered item early on. This item is also scaled incorrectly and heals far too much each attack.
Stuns last for about 3 turns too long, easily allowing you to dispatch enemies which would otherwise deal you some damage.
Item stats are still broken - common items can be as good as epic ones.
Player damage and armour scale far too quickly - you gain on average at least 3 points in attack and 6 points in armour per level, while enemies only gain 4 in each.
This culminates in you being a tanky beast at a time where enemies begin to lose any advantage they had over you.
= Roflpwned
So, in an attempt to fix all this, everything you see here has either been reduced, fixed, or rebalanced. I will be releasing this patch tomorrow, so let me know how that goes. Any other balance issues you have, please let me know.
Options Menu
I've finally completed a (somewhat primitive) Options Menu. Although this will not allow you to change the window's resolution (and I'm having thoughts about not changing that at all), it will allow you to adjust volume, and set the game's draw scale. The draw scale is the size of the game's sprites and tiles, so basically allows you to zoom in and out on the action.
Keyboard Movement
Possibly the most requested feature, skills have now been shifted to 123456, and WSAD replaced as a second character control scheme. As moving diagonally in one turn is a big part of Claustrophobia, QEZX are also mapped to their respective directions. It takes a little bit of getting used to, but allows you to traverse long distances easily, and without your mouse hand falling off.
Map Zoom
Map zoom is the second most requested feature. So, here it is: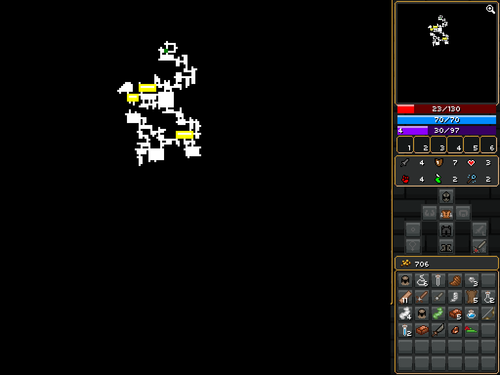 Still needs a bit of cleaning up to do, and some more detail to add to the actual map, but it's getting there. Still useful to find rooms like shops.
And that's about it. Patch coming out tomorrow.
~TheIndieForge