Welcome to this week's Orchid of Redemption devlog, if you haven't already, be sure to check out our insight into difficulty tuning in The Road to Easy Mode. This week we're diving a little deeper into the level design and thematic structure for the upcoming World 6: Trickster World update which will be going live for Mage Drops in Early Access on Steam and Itch on August 31.
World 6: Trickster World brings a realm of chaos to contrast the otherwise structured courses of Mage Drops. Set in a shifting dimension, players will also come face to face with the first antagonist available in Early Access.
Chaos, Adaption and Procedurally Generated Level Design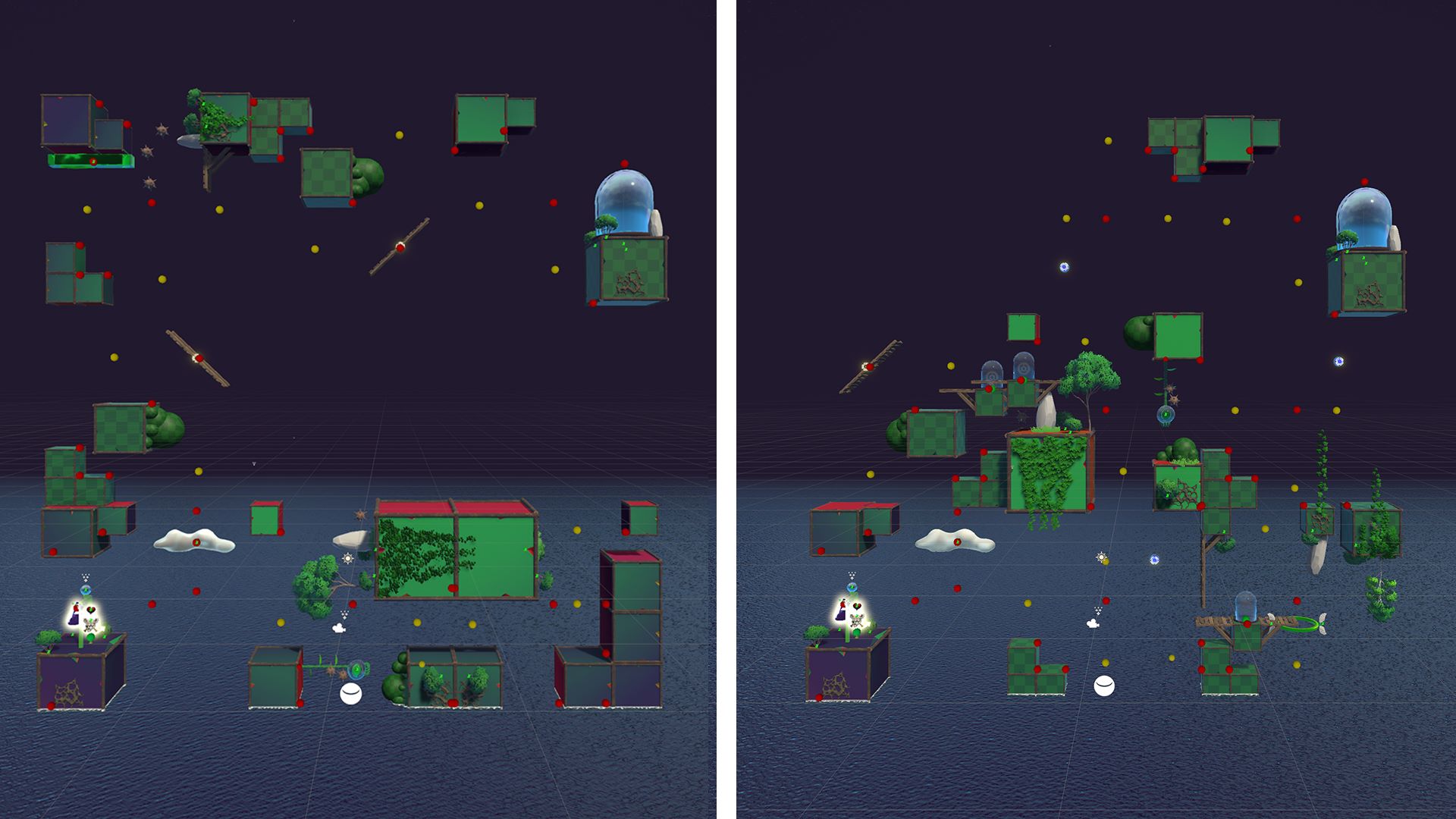 Technical Breakdown Warning
Trickster World's procedurally generated level design is loosely based off of Spelunky's proc gen structure, described in Derek Yu's Spelunky book.
We have a floor plan of 4x4 or however many we want (our harder levels have larger floorplans). The rooms themselves are hand-made, each with different layouts and interactive elements. The procedural generator then randomly picks rooms from the pool (of however many rooms we made, at present we have 18) and places them into our floorplan and randomly selects a rotation (0, 90, 180 or -90) and randomly mirrors the room (ie sets it to X scale of -1).
In our case the level's start and end rooms are always placed in the same pre-set position on the floorplan (start room in bottom left corner, end room in top right). Each level has 3 switches that need to be found and triggered to open the exit. These switches are also randomly placed – each room has one or more hand-placed 'potential switch positions' and when the level starts we randomly choose 3 of these. The 3 switches ensure we always have an interesting journey from the start to the end of any given level.
Design Principles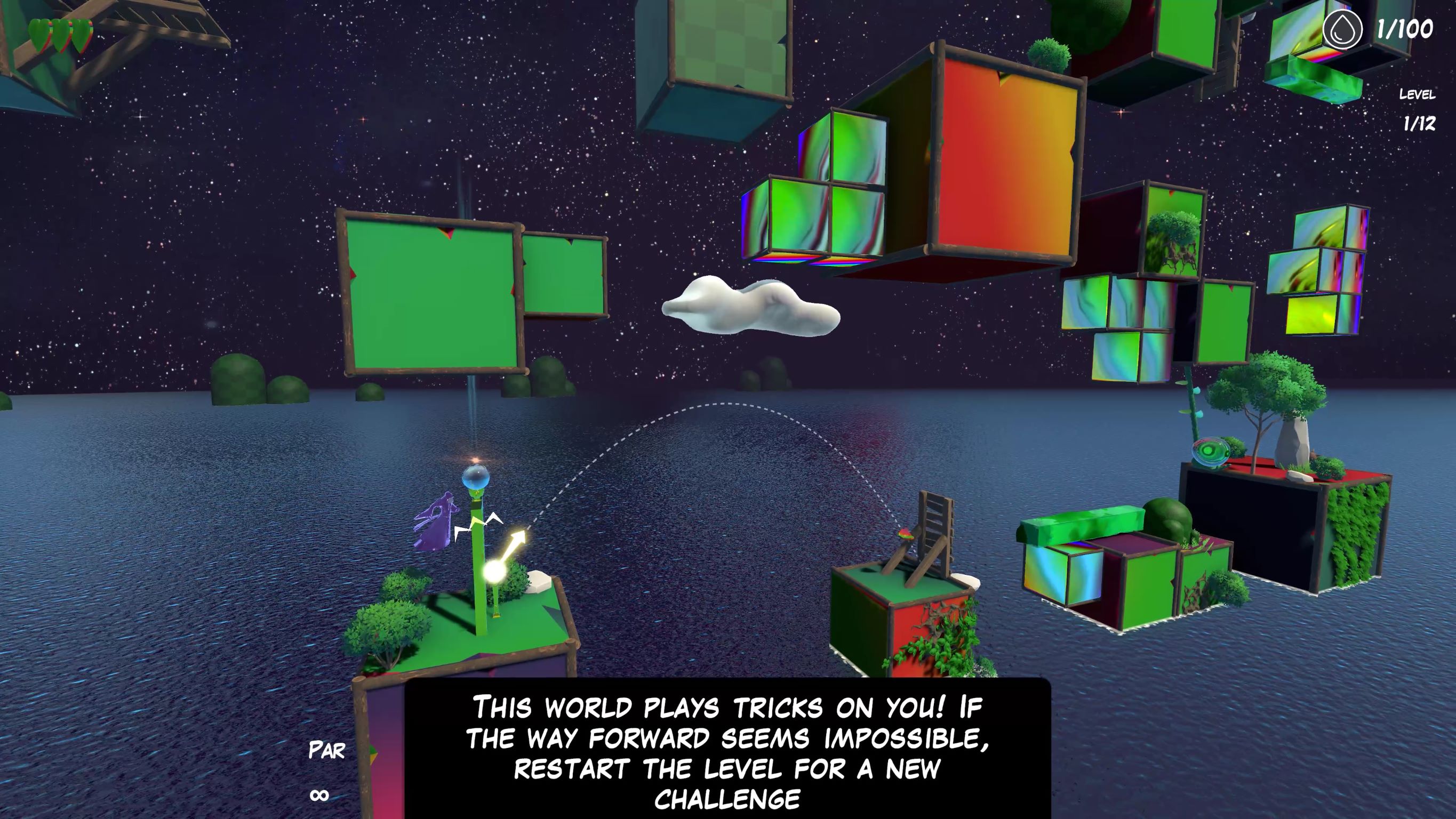 From the outset Trickster World was always intended to live up to its name and present wild and unpredictable challenges to the player. Early puzzle design toyed with the idea of vanishing platforms, level elements that would expand and contact, or known elements that would behave differently while in World 6.

Procedurally generated level design is something Orchid of Redemption has dabbled with numerous times in the past in many different game prototypes. The simple efficacy of creating scenarios with functional randomness to keep players engaged while still maintain the level of detail, character and complexity is a major asset in the Mage Drops toolshed.
In recognition of the unique randomness World 6: Trickster World presents and how it mitigates pattern memorisation, we decided to remove the par-shot structure while the player completes these levels. This also allows players space and time to play with their own unique solutions and non-linear paths through any given level.
While the levels generated from this procedural generation system have exceeded expectations, there are still a few kinks to work out. Despite randomized levels, the overall world (as it is presented in Early Access) can appear less distinct in character than other worlds in the game. That said, once we add the rich narrative that guides the plot of Mage Drops and a certain enemy-focused encounter, we believe World 6: Trickster World will be a showstopper!
Fore-ward!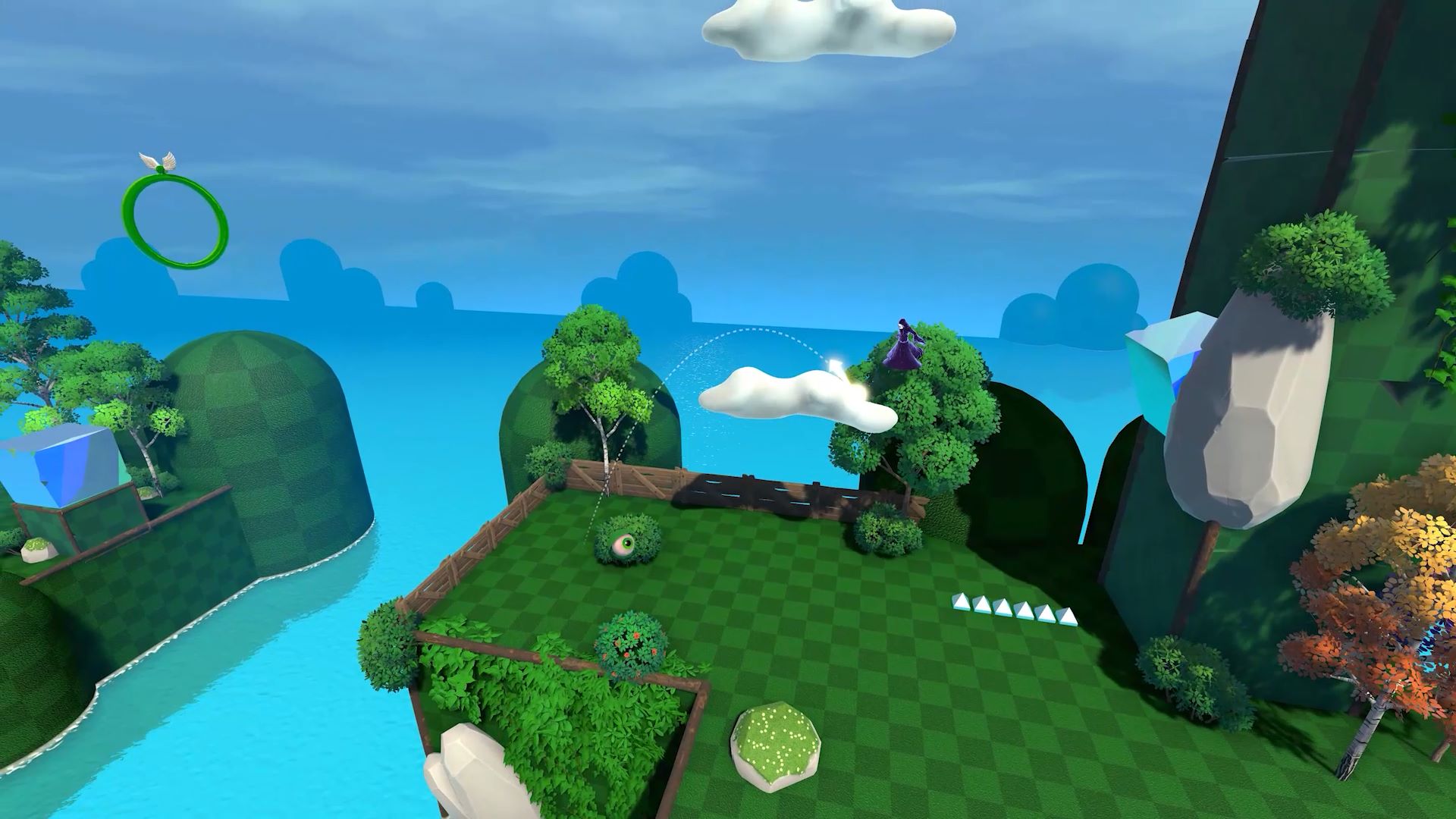 That's it for this week's insight into the development of the magical golf adventure that is Mage Drops! Be sure to keep your eyes peeled for an even deeper dive into our procedurally generated level design and next week's devlog which will be all about the various critters that you come to face!
Mage Drops is available now in Early Access on Steam and Itch or Wishlist for our (tentative) late 2021 launch:
August 31 marks the launch of World 6: Trickster World, adding 12 new levels, abilities and challenges. If you have any feedback or questions, be sure to drop by our official Discord found via the link below:
Orchid of Redemption Discord: Discord.gg
Until next time,
Orchid of Redemption.