So what's been happening with Overcrowd: A Commute 'Em Up? In short, many aspects have been improved, bug-fixed, re-written, re-specced, revitalised or revised. There's a new GUI. The entire system of staff control has been improved/redone. Commuter AI has been improved. Most importantly, the way the game is really going to work has crystallised for me too.
Sure there was always a plan, but now there is an overarching structure to the game, including a map you unlock, persistent staff, and a tech shop where you can access new tools and items.
Let me explain, because I've decided to say a bit more about what this game might end up like. While there is an open play mode (currently) – where you build as you go, expand, and deal with what happens, the thrust of the game is more in the so-called campaign mode.
Here you see a tube map, and starting in the outer zones you visit a station (level), where you have a set challenge (eg. Shift X commuters in Y days). You get a budget, a play area with different rock formations, and predetermined (multiple) track positions and entrance possibilities, meaning you have to decide what you think the best station design for that play area is with your given budget.
When you complete a station you unlock more staff to choose from, and more tech contracts which are spent on the campaign screen to unlock better tools and more efficient facilities to build in game. So maybe you want to unlock a bigger plant to make people happier (plants make people happy right?), or buy a more efficient power generator to use at your next station. This could evolve into a fully-fledged tech tree further down the line. Later you can unlock longer trains too.
You also take your staff with you between stations. Staff learn skills as you use them, so they get better at doing certain things. When you take them to the next station, you can use them on the jobs they are best at. Hopefully in the future you'll be able to change staff names or nicknames.
After one station is unlocked you can visit the next one on the line. The aim is to make it to the centre. There are multiple routes, so you can go different ways, perhaps choosing to unlock more tech or staff at easier stations, levelling and training your team as you go, before visiting higher zone stations which are harder. A station challenge can be failed if your reputation (determined by how happy your commuters have been) hits zero, or if you run out of time.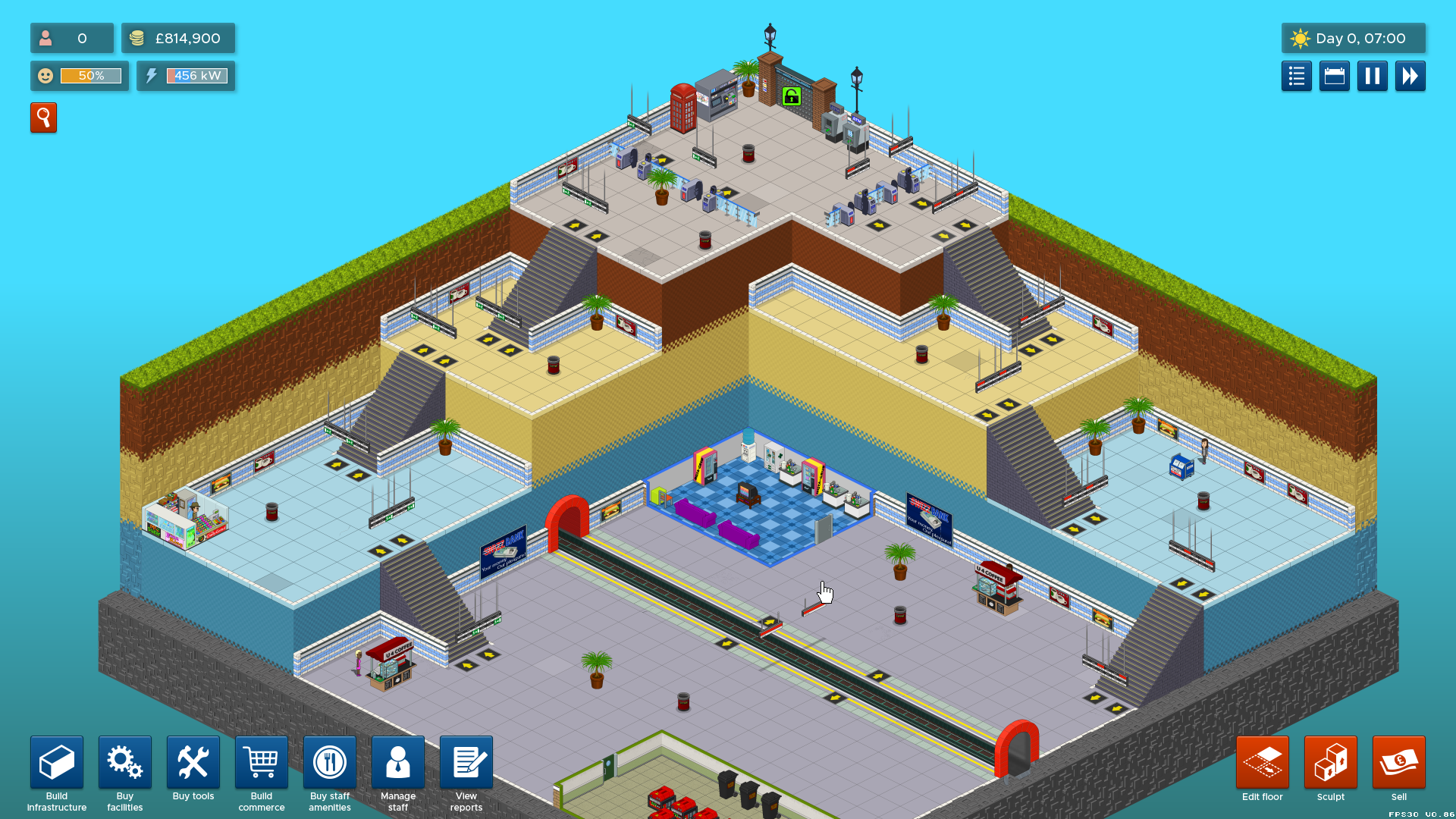 It's a cliché but I find it hard to pigeon-hole the game. From the screenshots, you might expect a hands off "management" game. But it's not really that. Controlling staff is hands on and pretty granular, and the game is actually fairly tactical and tense. You deploy your staff to areas and equip them with the tools they need, and you set their priorities. You have to react and decide who responds to what when problems crop up. And you have to make sure workers are well-rested and nourished in the staff room.
These aspects of Overcrowd are similar to a pausable real-time-strategy game, where instead of fighting an enemy, you are fighting the degradation of your station (when technician skills are added anyway), littering, and various types of commuter behaviour.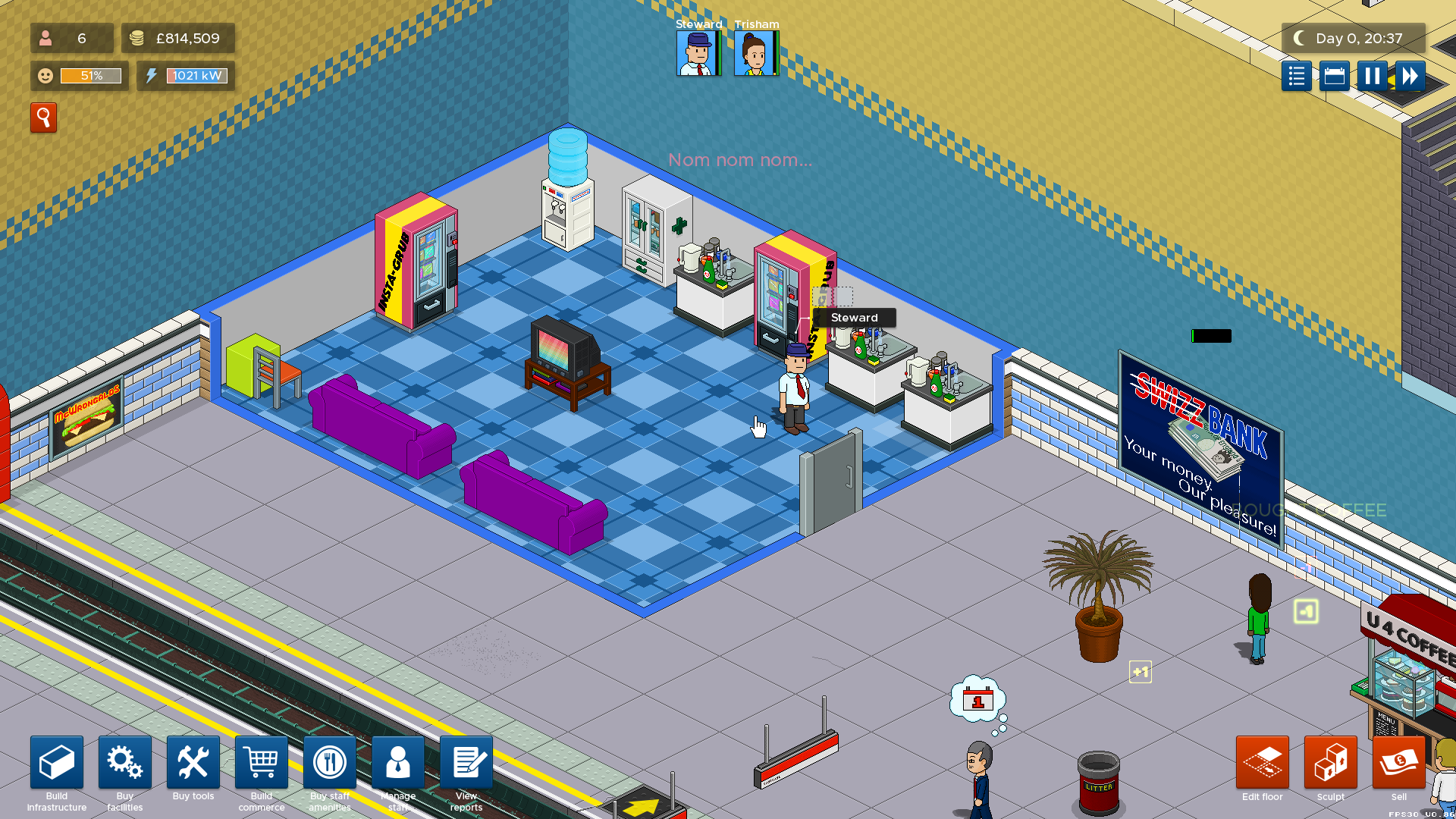 But you're also building your station for good commuter flow, plus you have the option of ushering commuters through choke points if you want to use your staff like that, which doesn't really have an equivalent in RTS. The fact you can unlock new tech and items to build too is more akin to traditional builders.
You have to think about the station environment too. This means being conscious of space. Space is money, and the more space, the less crowding and easier it will be to play. Space is convenience to your commuters too: where is the best place for that one bin you can afford so that it is close enough for commuters to use between two platforms? Where should you place your power generators, which produce harmful fumes, when space is at a premium? The potential future addition of heat simulation will further add to the environment considerations.
And then you need to watch your money, not least because staff need to be paid. But you can earn more from shops (if you have unlocked them), so you have to decide on restocking levels and price points. Later down the line, shops may have functional uses too: maybe coffee will speed up your commuters allowing you to transport more over time.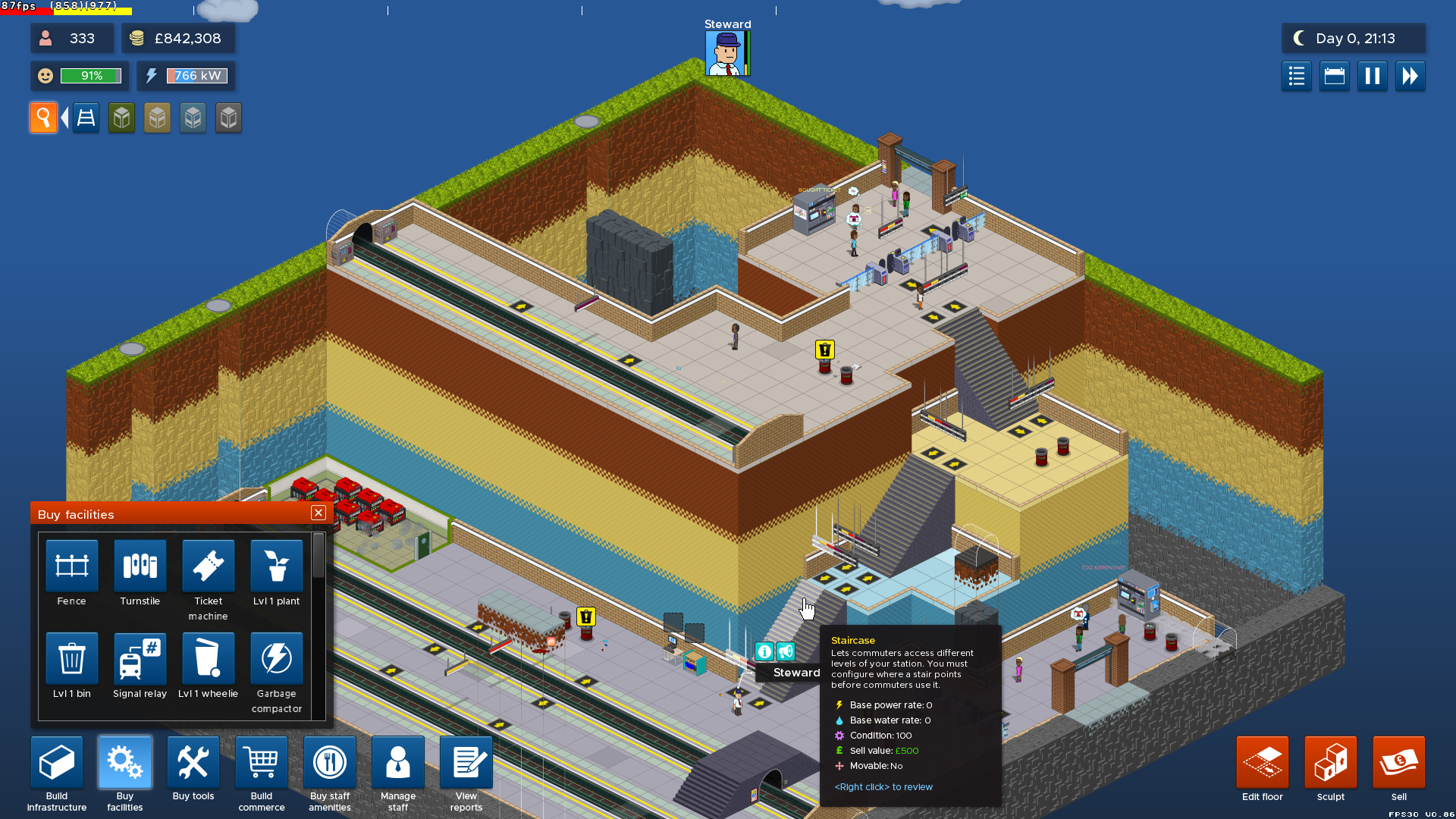 Finally, I'm planning on making some of the challenges on the map somewhat or entirely procedural, meaning that it's also a rogue-like, er, station-builder with high replayability.
We'll see! I think everything should be fluid in the game design and that's why Overcrowd will go into Steam Early access: nothing is set in stone. It will be good to get there. Hope you can join me!