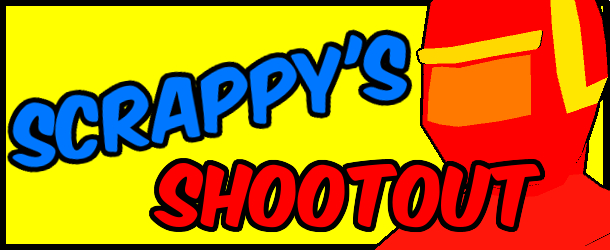 Note: Very early alpha logo
What is "Scrappy's Shootout"?

Scrappy's Shootout is a free to play multiplayer First Person Shooter being developed by Cardinal Game Studios with planned releases on a number of platforms. In Scrappy's Shootout players are transported into a virtual world where they are to combat both one another and robots in an arena setting to see who's the greatest of them all! Who is Scrappy? Scrappy is the main character of the game. He is the dude in the brightly colored suit and helmet. He is who you control whenever transported into the virtual world! That being said, it might be a bit strange to fight Scrappy, playing as Scrappy. But Scrappy is used to this. More information on Scrappy will be released later.

The gameplay of Scrappy's Shootout is intended to be a fast paced, simple, easy to pickup multiplayer first person shooter, with an emphasis on a more casual gaming community. The movement is designed to be quick to make the game more action oriented and engaging, rather than slow and tactical.
The controls and mechanics of Scrappy's Shootout will remain rather traditional by FPS standards to make the game easier to understand for both children and casual gamers alike. Rather than bogging it down with gimmicks and quirks we decided to make Scrappy's Shootout a simple, down-to-earth shooter meant to be enjoyed by an audience most often neglected by the genre. The game will feature power ups, three dimensional movement, and more. In other words, your standard gameplay.
The game features four game modes, each belonging to two categories: Team vs team play, and free for all play. The game modes included are team deathmatch, capture-the-flag, last-man-standing, and free-for-all. Players will have the choice to play these four game modes on five different maps, by choice of the match host.
The game also sports multiplayer play. Players will be able to create public or private rooms and will be able to decide the game mode, number of players, and the map type. Private rooms will be locked with a special PIN number created by the player. Additionally, the player can decide to fill their match with bots if they do not have enough players in the lobby, which will be filled via the match making system.
Lastly, for the gameplay, the game will support both controllers and keyboard+mouse combos on the Windows, Mac, and Linux versions of the game.
Art

The general art style of Scrappy's Shootout is meant to be rather cartoonish, silly, and colorful to make it as appealing to children as possible, and not an eye sore to any adults playing the game as well. Visually, the art is low poly with a toon shader applied to them to give off that simple, cartoonish feel that we're going for. Here's two examples from in-game models:
These are early alpha versions of the models and my be subject to change at a later date. But they do give a good feel of the art style.
The music and SFX in-game is intended to compliment both the visual nature of the game along with its gameplay. Upbeat and fast. There are currently no examples of any audio from the game. However, in later devlogs we will release more information on the state of the audio in our game.
Release information

Scrappy's Shootout, upon release, will be entirely free to play, with no DLC, microtransactions, or ads in the game. The game is meant to be an enjoyable, hassle-free experience for the player.
Currently, Scrappy's Shootout's release date is unknown, but is planned for sometime during the Winter of 2017. The game is set to release on Windows, Mac, Linux, and the Amazon Fire TV (controller required). The Android, iOS, and Kindle Fire platforms will not be supported due to traditional FPS controls not porting well to the touch screen. More information will be released as development continues.