Welcome to another update on 1964. Today I will be talking about some of the progress done and our current projects.
Much of the work over the past few weeks has been code based, and this has resulted in a significant decline in screenshot material. Most of the tech trees are now complete or are in the process of being worked on. For those watching the image updates, you will likley know of these by now. For those who have not, let me showcase them here:
Naval Tech Tree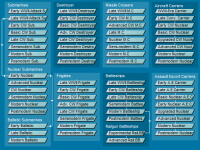 This is our new naval tech tree path. We included several of the classes from HoI II, as well as some new models (such as the SSBNs, which will now be operational in AoD). Most of the rest of the tree is self-explanatory.
Aircraft Tech Tree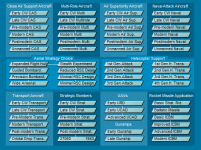 This is the new aircraft tech tree. The most notable additions to this tree are the addition of the formerly secret weapon techtree rocketry. We feel that rockets now are pretty much common knowledge (every nation is now involved with one alliance or another, and thus will have pretty good access to information). Though only some nations will start with rocket techs, you will not need to have an event-fired unlock.
The second addition is the 'Aircraft choice'. Nations can choose whether or not they wish to go stealth or conventional. What values these will modify will depend on some of the things AoD will bring us.
Third, and lastly, are the helicopter techs. These will be brigades, attachable to infantry. Transport helicopters will increase the speed of which a infantry unit moves, while combat helicopters will increase other stats. As helicopters are easy prey to aircraft, the units these are attached to will be more susceptible to aircraft damage. If you wish to use these, you had better have good air superiority in the region.
---
What are we doing right now?
Currently, we are working on a 'Demo' release, which will be a battlescenario based on the Soviet invasion of Australia in 1959. This will be a 'demo', as it allows us to showcase some of the new graphics and units in the game, as well as one of the battlescenarios that will be included in our final release. Since most of the work covered this far cannot be made into a full release, this will allow us to gauge the effectiveness of new unit state as well as test ways to distribute our files.
The battlescenario will cover one to two years. Included will be an event set, which will include reinforcement and supply, flavor events, and other 'game-historical' events such as the Soviet invasion of Taiwan.
The scenario will be four players: the Soviet Union vs. USA + Canada + Australia. Although many other sides were involved in the battle for Australia (such as New Zealand, Mexico, and Venezuela), these combatants were the primaries.
---
I hope this settles the desire for information you guys have been looking for, and I will hopefully be able to update in a week with more information.
Feuersturm,
Team '64