Hello there!
We wanted to share some cool stuff we've been working on lately, we'll touch on two main things we think will make the game a lot cooler.
New Full screen User Interface and Controller Support
We are reworking our user interface, we've been watching every single let's play on youtube (by the way guys, you really rock!) and we think that the UI at the moment doesn't quite feel right.
This new interface will be full screen, there are two main reasons for this: we can support controller quite easily and we can fit more information for the player in one place without having to use mouse over tooltips.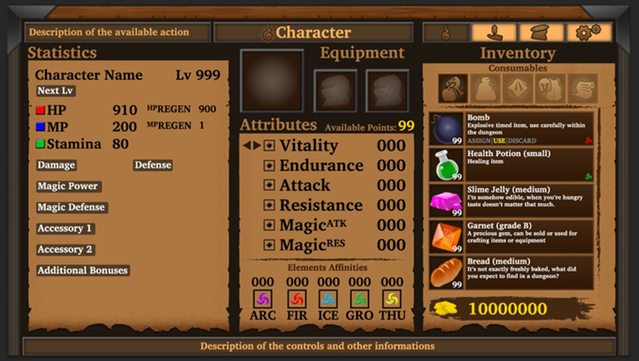 New shiny full screen UI
Adding support to the controller means you'll be able to enjoy the game from you sofa if you want, and it also means that it will be easier for us to port the game to other consoles or consider cool features such as split-screen co-op dungeon exploration (remember: these are just few things we could do, but we can't promise they'll all be done at the moment).
More lighting effects and better performance
We noticed that some let's players are not running at 60 fps and we weren't happy with that, so we tweaked some graphical stuff to make it both more smooth and better looking. Here's an example of what we can achieve with dynamic lighting: more will come in the next updates!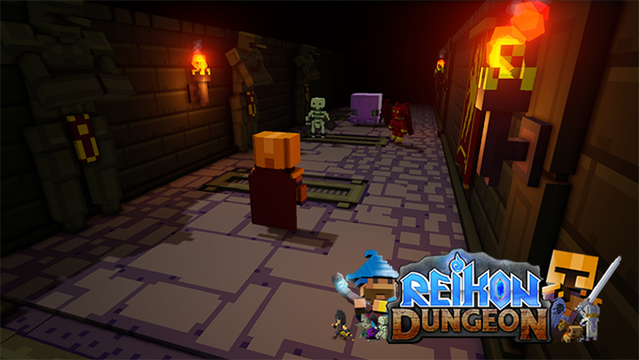 Look at them lights! Updated demo coming soon
Having said all of that, we're working on a better demo that will have all the things that we mentioned (including laser raptors, so be careful). We will also try to give you an idea of how the rebirth system is going to work and tweak and balance the game to make it more challenging and fun.
Honorable mentions
As with every update, we'd like to mention some cool stuff that's been happening about our game so here we go:
Keep spreading the word
We are doing good so far, but to reach our goal we need all your support, so please spread the word and show Reikon Dungeon to your friends as that will help us a lot! We hope you are excited as we are about the game, we can't wait to open the private development forums to hear your opinion on our future plans, but in the meantime feel free to comment on the page and we'll be super happy to answer!