Regia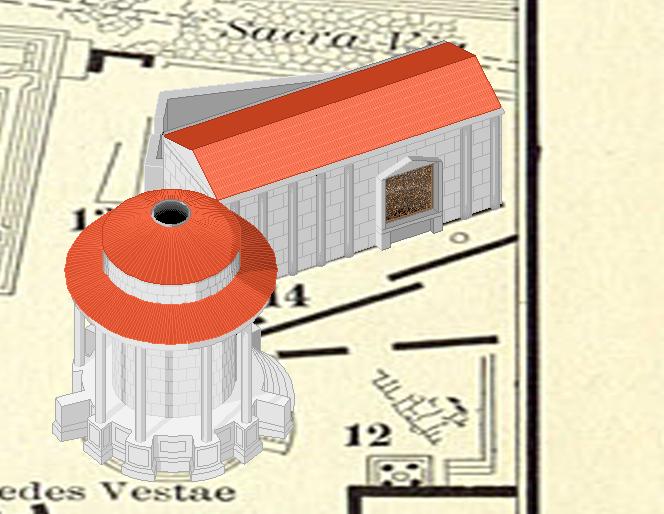 Well, that's the "Acceptable" level for now, for the Regia. Obviously needs a tad more work on it, but I'll do that when I have more time.
Wikipedia wrote: The Regia was a structure in Ancient Rome, located in the Roman Forum. It was originally the residence of the kings of Rome or at least their main headquarters, and later the office of the Pontifex Maximus, the high priest of Roman religion. It occupied a triangular patch of terrain between the Temple of Vesta, the Temple of Divus Julius and Temple of Antoninus and Faustina.
Actually, the two last temples (Julius and Antonius+Faustina) weren't built at the time of 200BCE, so they won't be in.
Wikipedia wrote: The West Room was the shrine of Mars, sacrarium Martis, in which the ancilia (shields) of Mars were stored. Here, too, stood the lances that were consecrated to Mars, the hastae Martiae.

The East Room contained a sanctuary of Ops Consiva, so sacred that only the pontifex maximus and the Vestal Virgins were allowed to enter it.
So, for such a small building, it's actually quite interesting.
---
Atrium Vestae
In any case, I'll be moving onto the House of the Vestals next, which looks a little something like this (The Aedes Vestae is also visible as a cut-away by the stairs);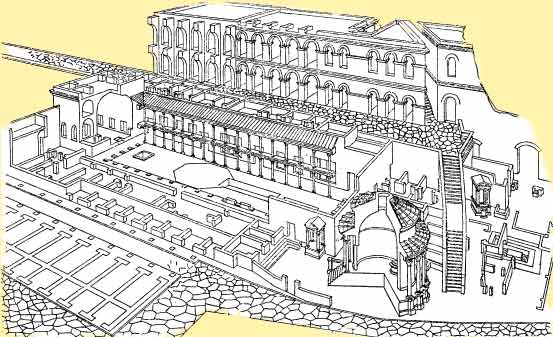 To be noted: The player actually views the construction from the other side, so we won't see as much of the detail =[.
Actually, I'm thinking of giving it a seperate area, for itself. So, you walk up to the building, and then you enter a new area which is the Atrium Vestae "twisted" around, or moreso, the viewpoint of the player is twisted around, to view the front instead of the back of the building.
And that's pretty much it for this update. Not much more to tell!
---
Fan Q&A
I said I'd be answering any Questions people have in this update, but I actually received none. Nethertheless, I'll keep copy-pasting this section in future Dev Updates, in the case that somebody does send in a Question!