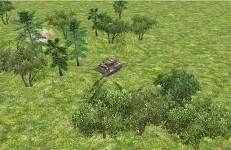 The engine was once a potential candidate for Rogue Republic, a modern warfare mod, but their advance failed due to limited engine support for modern vehicles like planes, tanks and troop transports.
Sander overcame these hurdles in an astounding feature rush early this year. In parts unfortunately rejected in 0AD, Radagast put it to good use in 0BC, the 0AD extending fork, creating a proof of concept tank with the help of blenderartist Heinzelnisse.
From there on Radagast implemented some improvements and unified the unfinished code design of the TurretHolder component by Sander.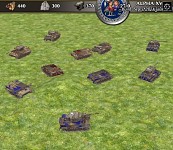 The result turned out better than expected. It was the first demonstration that battles with modern tanks and other target-tracking and composite vehicles (stacked entities ontop of each other) are possible in 0BC.
More will follow, some of the next concepts to check are several kinds of planes and artillery. Some coding will be required to introduce logistics, like supply lines, too as those played a major role in all decisive actions over the course of history.
Some demonstration of Sander's stackable entities that will be heavily used in 0BC can also be found in the 0BC Addon Aristeia, which the Magic Philosphers at the same time try to keep fully compatible with the game 0AD. An example is mountable horses and chariots.